Though it was his first time on the ice with the Kings, Andrej Sekera's acclimation to his new teammates was largely routine. He took part in an optional morning skate, moved the puck and got up and down the ice in transition drills before leaving the playing surface to speak with reporters in the visiting dressing room at the Honda Center. Apart from joining a new team, there was little to differentiate this day from the countless other game days in his 470-game NHL career.
"It's a good feeling. I'm looking forward to [tonight's game]," Sekera said. "I got a little sweat in and I'm ready to roll tonight."
But because of the systems play he'll be expected to perform within, and because he's now playing for a team in the thick of a playoff race rather than one in the Connor McDavid-Jack Eichel sweepstakes, there are expectations that separate Los Angeles from the Buffalo and Carolina teams he had previously played for.
"It feels good to come to a culture that is all about winning," he said. "Losing is not an option here, and it's an honor for me and also a big challenge for me."
Last night, Sekera sat upstairs and watched the Kings' 1-0 loss to the Ottawa Senators alongside Andy Andreoff and Tanner Pearson so that the two young forwards were able to "hopefully talk through some of the zones and what to expect in terms of team play," according to Associate Coach John Stevens, who works with the team's defensemen.
"So he had a chance to watch us play last night, and we just sat down this morning and walked through the three zones and just went over our style of play, what's expected, a little bit of detail on how we play. But I think the challenge with a new guy is if you give him too much information, then he becomes a hesitant player," Stevens continued. "We try to give him the information, direction, but it's not rocket science. There are some things he needs to be aware of, but at the end of the day, we know he's a good player. We want him to use his skill set. He's a good skating, puck-moving defender, and that's what we want him to do. So we're giving him the information, but at the end of the day, we want him to relax and play and trust his instincts."
It's something that has come naturally to Sekera, a player who shouldn't have trouble familiarizing himself with his new teammates and the opportunities that come with playing for a team that has won 10 playoff series over the last three seasons.
"Yeah, you can tell when you're talking to somebody and he understands things right away, and again, a lot of the stuff's just probably familiar with the way he's played before," Stevens said. "I mean, every team does things a little bit differently, but at the end of the day, it's still about defending one-on-one, it's about making plays, it's about talking on the ice and being a good support guy. So we know what we're getting with him. He's got lots of experience in the league, and he's a good player in the league, so we just want him to come in and play."
As would be expected in a player's first game with a new team, the old hockey adage of "keeping things simple" comes into play.
"I see a guy who is open, I pass the puck," he said.
"Hopefully it's the guy with the jersey that's the same I have, and we'll go from there."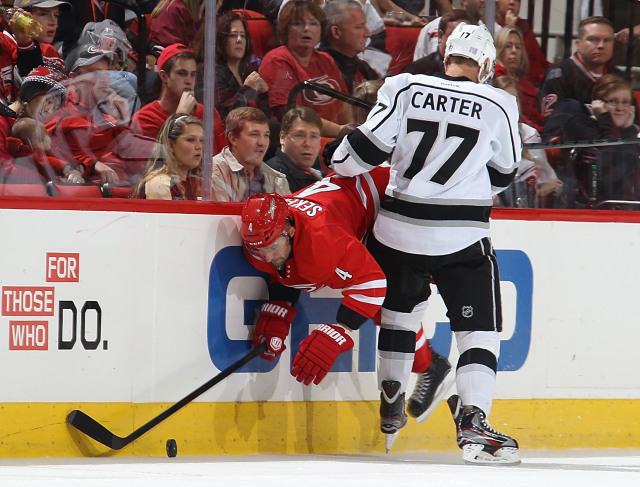 Andrej Sekera, on his focus for tonight's game:
Move my feet, keep the game simple, help the guys on the ice and play good defense.
Sekera, on the Kings with whom he is already familiar:
I played with Robyn in Buffalo, Brayden McNabb, a little bit with Trevor Lewis, Marian Gaborik. So I know a lot of guys, a little bit of the guys here and when you play against LA, you know the guys but not personally, you know who they are.
Sekera, on whether he has spoken with Darryl Sutter:
Yeah, I talked to coach a little bit. [Reporter: Any particular things just to focus on or encouragement?] He just told me to keep my game, play the game simple and just work hard, basically.
Sekera, on whether he was often paired with Robyn Regehr in Buffalo:
I played a lot. That year, we were rotating everybody everywhere. So it was kind of weird but we played together for a little bit of a long time down there.
Sekera, on whether his style meshes with Robyn Regehr's:
Keep the game simple, nothing crazy. Move the puck and move the puck to the forwards so they can do their job.
Sekera, on whether he expects extra adrenaline in his first Kings-Ducks game:
Yeah, I've heard about it and I'm looking forward to it. It should be exciting. [Reporter: What did you hear?] It's a rivalry game. It'll be a full house.