Los Angeles Kings (29-19-12) at Anaheim Ducks (38-17-7)
Friday, February 27, 2015, 7:00 p.m. PT
Honda Center, Anaheim, CA
Referees: #5 Chris Rooney, #29 Ian Walsh
Linesmen: #89 Steve Miller, #78 Brian Mach
KCOP-13, KABC 790 AM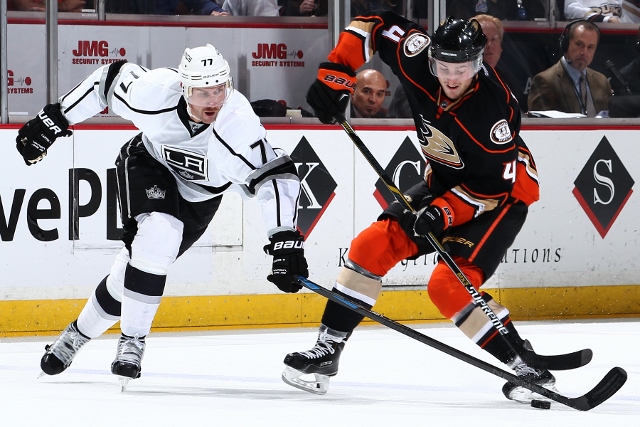 Los Angeles Projected Starting Goaltender – Martin Jones
2014-15: 11 GP (9 GS) / 4-3-2 record / 2.20 GAA / .908 Sv% / 3 SHO
Career vs Anaheim: 2 (2) / 1-1-0 / 1.95 / .917 / 0
Last Game vs Anaheim: 3/15/14 / 59 MP / 18-20 / 1-2 L
2014-15, Away: 5 (5) / 2-2-1 / 2.37 / .908 / 2
Anaheim Projected Starting Goaltender – John Gibson
2014-15: 12 GP (11 GS) / 6-5-0 record / 2.69 GAA / .915 Sv% / 1 SHO
Career vs Los Angeles: First appearance
Last Game vs Los Angeles: First appearance
2014-15, Home: 5 (5) / 2-3-0 / 2.99 / .899 / 0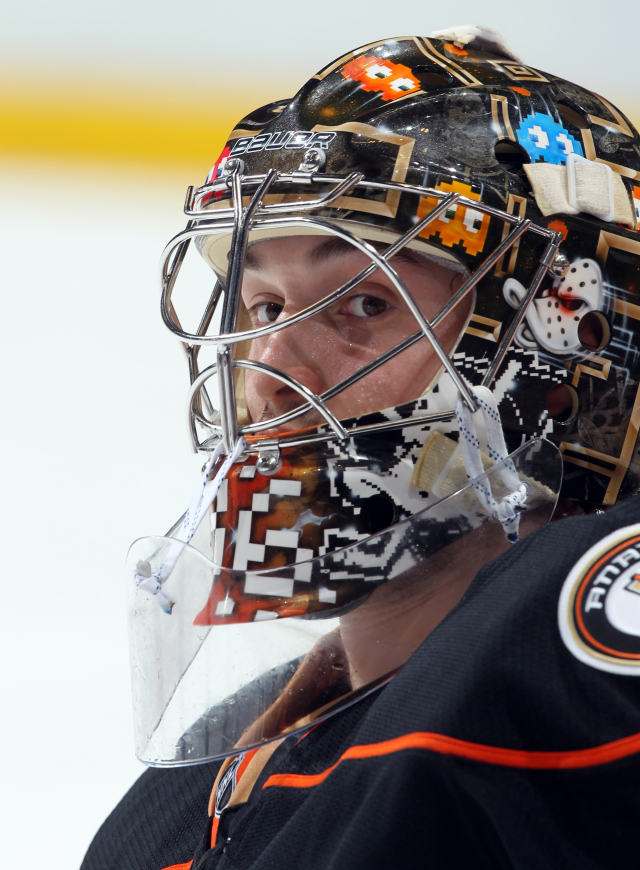 2014-15 Los Angeles Leaders
Total Points: Jeff Carter (18-28=46)
Goals: Tyler Toffoli (19-19=38)
Assists: Anze Kopitar (12-32=44)
Plus/Minus: Tyler Toffoli (+20; 19-19=38)
Penalty Minutes: Kyle Clifford (66; 3-7=10)
Time On Ice: Drew Doughty (29:29; 5-30=35)
Corsi-For Percentage: Anze Kopitar (58.8%; 12-32=44)
2014-15 Anaheim Leaders
Total Points: Ryan Getzlaf (19-39=58)
Goals: Corey Perry (24-17=41)
Assists: Ryan Getzlaf (19-39=58)
Plus/Minus: Hampus Lindholm (+19; 6-22=28)
Penalty Minutes: Tim Jackman (84; 5-2=7)
Time On Ice: Francois Beauchemin (22:45; 7-9=16)
Corsi-For Percentage: Matt Beleskey* (54.1%; 21-9=30)
*On Injured Reserve; active leader is Patrick Maroon (52.9%; 7-21=28)
Rankings and Statistics
Goals/Game: LAK – 18 / 2.68; ANA – 11 / 2.81
Goals Against/Game: LAK – 6 / 2.43; ANA – 20 / 2.73
Power Play: LAK – t-16 / 18.3%; ANA – 20 / 17.5%
Penalty Kill: LAK – 22 / 80.1%; ANA – 14 / 81.8%
Shots/Game: LAK – t-5 / 31.3; ANA – 16 / 29.8
Shots Against/Game: LAK – 2 / 27.4; ANA – t-13 / 29.3
Faceoffs: LAK – t-10 / 51.3%; ANA – t-10 / 51.3%
Save Percentage: LAK – t-12 / .911; ANA – t-19 / .907
Corsi-For Percentage: LAK – 1 / 54.9%; ANA – 15 / 50.8%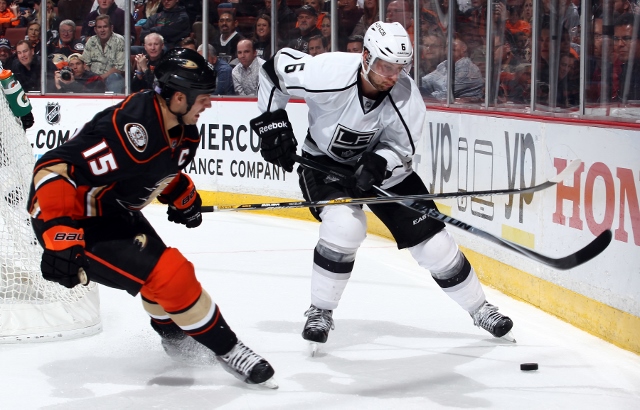 Los Angeles Projected Lines
Marian Gaborik – Anze Kopitar – Dustin Brown
Dwight King – Jeff Carter – Tyler Toffoli
Trevor Lewis – Jarret Stoll – Justin Williams
Kyle Clifford – Nick Shore – Jordan Nolan
Jake Muzzin – Drew Doughty
Robyn Regehr – Andrej Sekera
Brayden McNabb – Matt Greene
Martin Jones
Jonathan Quick
Level of confidence in projected lines: C+. Andrej Sekera will make his Kings debut, though it's not clear who he'll replace in the lineup. Because the team underwent an optional morning skate and not enough players were available for line rushes, tonight's alignment will be learned during line rushes in warm-ups. Sekera has experience playing with Robyn Regehr, and a Regehr-Sekera pairing allows for two pairings of players who have experience playing together in Muzzin-Doughty and McNabb-Greene. Martin Jones was the first to leave the ice at the morning skate.
Notes and milestones: Los Angeles is 53-43-21 all-time against Anaheim, a record that includes an away mark of 21-26-12. … The Kings have killed 19 penalties in a row and have not allowed a power play goal since David Jones' second period goal in Los Angeles' 5-3 win over Calgary on February 12. This is the club's longest streak of the season, surpassing the 18 consecutive kills from October 12-26, 2014. … With six goals, Jake Muzzin is one goal from tying his career-high (7 / 2012-13). With five points (0-5=5), he leads all skaters in scoring in the season series. … Darryl Sutter will coach his 1,100th career game tonight. … The Kings are 2-12 in games that extend past 60 minutes. … Los Angeles has allowed only one shorthanded goal this season, tied for the fewest allowed in the league. … Anze Kopitar has 50 points (21-29=50) in 48 career games against Anaheim.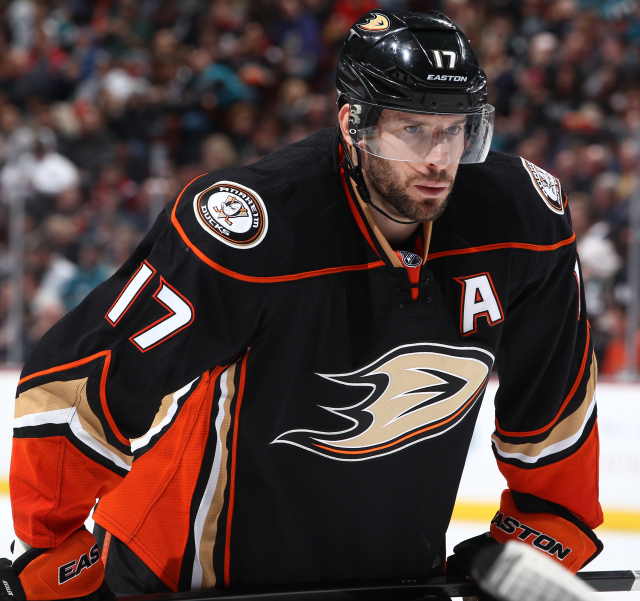 Anaheim Projected Lines
Kyle Palmieri – Ryan Getzlaf – Corey Perry
Andrew Cogliano – Ryan Kesler – Jakob Silfverberg
Jiri Sekac – Rickard Rakell – Emerson Etem
Patrick Maroon – Chris Wagner – Tim Jackman
Cam Fowler – Ben Lovejoy
Hampus Lindholm – Francois Beauchemin
Clayton Stoner – Josh Manson
John Gibson
Frederik Andersen
Notes and milestones: Lines via NHL.com correspondent Curtis Zupke … Via Zupke, Sami Vatanen (IR / leg), Matt Beleskey (IR / shoulder) and Nate Thompson (lower-body) are injured, while Eric Brewer and Rene Bourque are expected to be scratched. … The Ducks are 26-0-7 in one-goal games and 12-17 in games decided by more than one goal. Each of the last five regular season games between the teams has been decided by one goal. … Anaheim has scored and given up 117 goals during five-on-five play. … The Ducks are 8-5 in shootouts this season, with Jakob Silfverberg (9-for-13) leading all shooters). Their 13 overtime/shootout wins lead the NHL. … All three games between the teams this season have gone past regulation, with Anaheim winning twice in shootouts and Los Angeles winning on a Jarret Stoll overtime game-winner. … Andrew Cogliano is expected to tie Samuel Pahlsson's franchise record by playing in his 275th consecutive game with the Ducks. Cogliano, who has never been scratched in an NHL game, has played 602 consecutive games to begin his NHL career. … Ryan Getzlaf leads the league with 27 primary assists and ranks fourth in even-strength scoring (17-27=44). … Since the start of 2013-14, the Ducks have the league's top regular season record (92-37-15). … Emerson Etem is expected to play his 99th career game.