Los Angeles Kings (28-18-12) vs Detroit Red Wings (33-14-11)
Tuesday, February 24, 2015, 7:30 p.m. PT
Staples Center, Los Angeles, CA
Referees: #5 Chris Rooney, #37 Kyle Rehman
Linesmen: #57 Jay Sharrers, #79 Kiel Murchison
Fox Sports West, Sportsnet, KABC 790 AM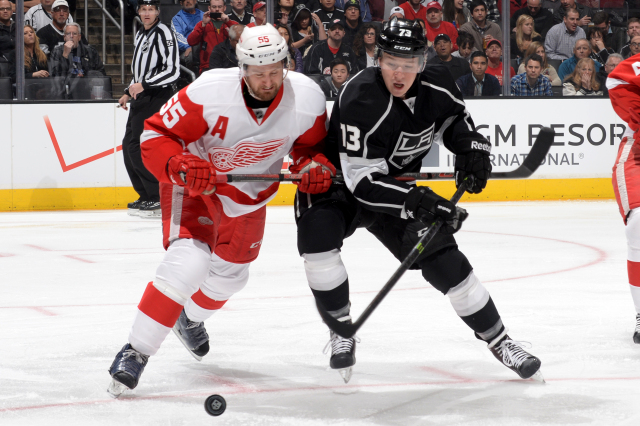 Los Angeles Projected Starting Goaltender – Jonathan Quick
2014-15: 50 GP (49 GS) / 24-15-10 record / 2.43 GAA / .913 Sv% / 3 SHO
Career vs Detroit: 20 (20) / 6-13-1 / 3.12 / .901 / 1
Last Game vs Detroit: 10/31/14 / 59 MP / 30-34 / 2-5 L
2014-15, Home: 28 (27) / 17-5-5 / 2.19 / .919 / 3
Detroit Projected Starting Goaltender – Jonas Gustavsson
2014-15: 4 GP (3 GS) / 2-1-1 record / 2.18 GAA / .910 Sv% / 1 SHO
Career vs Los Angeles: 1 (1) / 0-1-0 / 4.10 / .875 / 0
Last Game vs Los Angeles: 1/26/10 / 59 MP / 28-32 / 3-5 L
2014-15, Away: 3 (2) / 1-1-1 / 3.28 / .854 / 0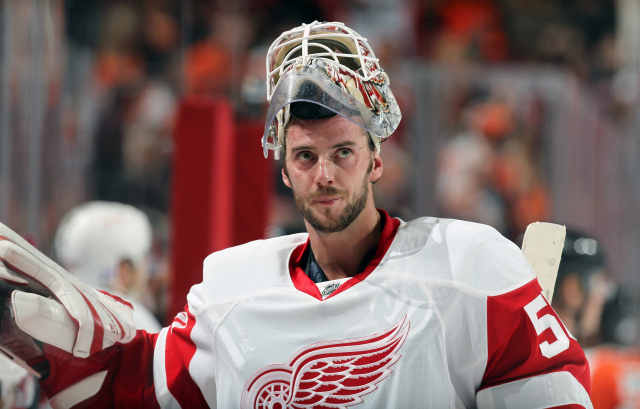 2014-15 Los Angeles Leaders
Total Points: Jeff Carter (18-28=46)
Goals: Tyler Toffoli (19-19=38)
Assists: Anze Kopitar (12-31=43)
Plus/Minus: Tyler Toffoli (+20; 19-19=38)
Penalty Minutes: Kyle Clifford (66; 2-7=9)
Time On Ice: Drew Doughty (29:28; 5-30=35)
Corsi-For Percentage: Marian Gaborik (57.3%; 17-16=33)
2014-15 Detroit Leaders
Total Points: Pavel Datsyuk (21-28=49), Henrik Zetterberg (15-34=49)
Goals: Tomas Tatar (24-20=44)
Assists: Henrik Zetterberg (15-34=49)
Plus/Minus: Tomas Tatar (+12; 24-20=44)
Penalty Minutes: Kyle Quincey (+55; 3-10=13)
Time On Ice: Niklas Kronwall (23:46; 7-28=35)
Corsi-For Percentage: Pavel Datsyuk (59.0%; 21-28=49)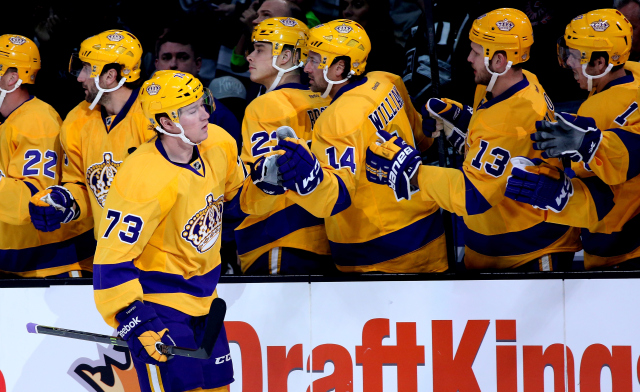 Rankings and Statistics
Goals/Game: LAK – 17 / 2.76; DET – 6 / 2.93
Goals Against/Game: LAK – 9 / 2.50; DET – 8 / 2.48
Power Play: LAK – 14 / 18.5%; DET – 1 / 25.8%
Penalty Kill: LAK – 24 / 79.2%; DET – t-7 / 83.3%
Shots/Game: LAK – 5 / 31.2; DET – t-17 / 29.7
Shots Against/Game: LAK – t-3 / 27.6; DET – t-3 / 27.6
Faceoffs: LAK – t-11 / 51.1%; DET – 4 / 52.9%
Save Percentage: LAK – t-15 / .909; DET – t-13 / .910
Corsi-For Percentage: LAK – 1 / 54.1%; DET – 4 / 53.1%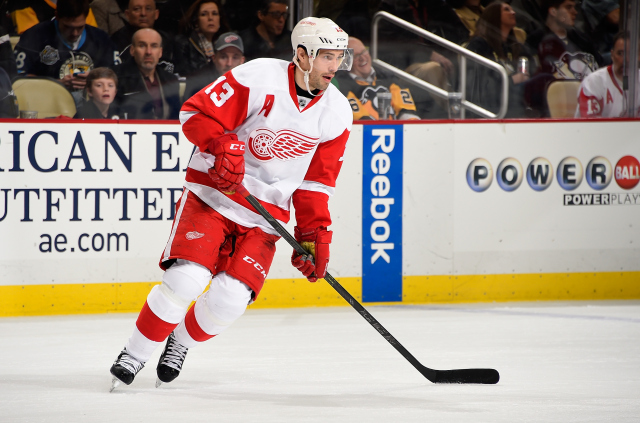 Los Angeles Projected Lines
Marian Gaborik – Anze Kopitar – Dustin Brown
Dwight King – Jeff Carter – Tyler Toffoli
Trevor Lewis – Jarret Stoll – Justin Williams
Kyle Clifford – Nick Shore – Jordan Nolan
Robyn Regehr – Drew Doughty
Jake Muzzin – Matt Greene
Brayden McNabb – Jamie McBain
Jonathan Quick
Martin Jones
Level of confidence in projected lines: A. Jonathan Quick left the ice first at the morning skate and is expected to make his 15th consecutive start in net. Derek Forbort and Andy Andreoff remained on the ice for extra work with Martin Jones, so they're unlikely to play tonight. Otherwise, the lines will be the same as they were during yesterday's practice.
Notes and milestones: Los Angeles is 81-80-32 all-time against Detroit, a record that includes a home mark of 47-34-15. The Kings are 2-7-1 against the Red Wings over their last 10 meetings. … Los Angeles has won seven consecutive games, which is tied for the fifth-longest streak in team history (fourth time) and the longest streak since the Kings won eight in a row from February 6 to March 10, 2014. … By winning Saturday night in Santa Clara, Jonathan Quick became the 76th goalie in NHL history and first Kings goalie to reach 200 wins. … The Kings, who have averaged three goals per game in February (27 G / 9 GP), have scored at least three goals in six of seven games. … Los Angeles has killed off 10 consecutive penalties and 18-of-20 penalties in February. The Kings have limited opponents to three power plays or less in each of the last 10 games. … Los Angeles has 44 points at home this season (19-6-6), the most points through 31 home games in franchise history. … Jeff Carter has recorded points in six consecutive games (4-6=10). … Dwight King, Jeff Carter and Tyler Toffoli have combined for 33 points in the 11 games since the All-Star Break. … Jonathan Quick has stopped 185-of-198 shots (.934 Sv%) during the seven-game winning streak. … Drew Doughty has logged at least 30 minutes of ice time in 27 of the team's 58 games and leads the NHL with an average of 29:28. His 32:01 of ice time in Saturday's win in Santa Clara set a record for the most minutes in an NHL regular season outdoor game. … With six goals, Jake Muzzin is one goal from tying his career-high (7 / 2012-13). … Jamie McBain is expected to play in his 300th NHL game.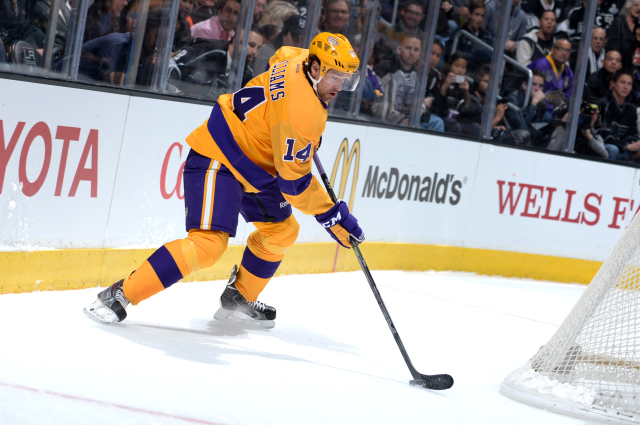 Detroit Projected Lineup
Tomas Tatar – Pavel Datsyuk – Darren Helm
Gustav Nyquist – Riley Sheahan – Justin Abdelkader
Drew Miller – Luke Glendening – Tomas Jurco
Daniel Cleary – Stephen Weiss – Teemu Pulkkinen
Niklas Kronwall – Jonathan Ericsson
Danny Dekeyser – Jakub Kindl
Brendan Smith – Alexey Marchenko
Jonas Gustavsson
Jimmy Howard
Notes and milestones: Red Wings lines via Curtis Zupke of NHL.com … Detroit is expected to be without Johan Franzen (IR / concussion), Kyle Quincey (foot) and Henrik Zetterberg (head). … The Red Wings have won four straight games against the Kings. … Two of Detroit's assistant coaches, Tony Granato (1989-96) and Jim Hiller (1992-93) are former Kings. Granato, who will be honored during tonight's Legend's Night ceremony, totaled 305 points (148-157=305) in 380 games with Los Angeles, while Hiller had 12 points (6-6=12) in 40 games before he was included in the trade that sent Paul Coffey to Detroit and Jimmy Carson to Los Angeles in January, 1993. … With 853 career points (293-560=853), Pavel Datsyuk is tied with Vyacheslav Kozlov for fifth place on the all-time points list amongst Russian skaters. He trails Sergei Fedorov (1,179), Alexander Mogilny (1,032), Alexei Kovalev (1,029) and Alex Ovechkin (875). … With a record of 448-212-102 behind Detroit's bench, Mike Babcock is two standings points shy of 1,000. He is the longest tenured NHL head coach and has 246 more points than the second-longest tenured coach, Boston's Claude Julien. … The Red Wings are 4-1-1 in the second game of back-to-back sets this season. Detroit lost 4-3 in a shootout in Anaheim last night. … The Red Wings are 11-1-0 when Justin Abdelkader scores a goal and 19-2-2 when Abdelkader records a point. … Since Mike Babcock became head coach in 2005-06, Detroit has won a league-best 448 regular season games and 64 playoff games.