Adjustments will need to be made for today's Stadium Series game between the Los Angeles Kings and San Jose Sharks – and we're not only talking about the ice quality or the titanic surroundings at the 68,500-person capacity Levi's Stadium.
We're talking about playing in white pants. Are they sleek, or a fashion faux-pas?
"That's my wife's department," Matt Greene said. "Leave me out of it."
Fair, we'll move on. The ice surface at the temporary rink isn't pristine. As we've learned from Dan Craig, Northern California's humidity added an extra wrinkle into the construction and maintenance of the playing surface and will raise the temperature near ice level to a smidgen above what the players are comfortable playing at.
In other words, keep the water and Gatorade handy.
"I didn't notice [the heat] being as bad at Dodger [Stadium] to be honest, but we should be fine," Drew Doughty said. "It shouldn't be a big deal, but you definitely have to stay hydrated because it's hot."
Of course, the heat near the ice and the ice quality is the same for both teams, so there's no real advantage. Players are often instructed by coaches to simplify their games, an axiom that will take on extra urgency tonight.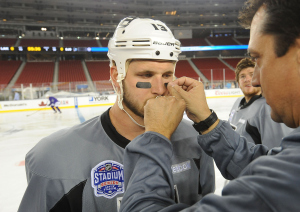 "Yeah, pucks are bouncing obviously a little bit more than usual," Doughty said. "Shots are kind of going [awry]. But the one thing we have to do definitely tomorrow is shoot pucks at the net. If you're trying to make those pretty passing plays, it's not going to connect well. [Saturday], one of our focuses will be just to get pucks on net and try to bang in rebounds and tips."
As for the sightlines, the players showed nearly as much support as did those who will be covering the game from higher elevations.
"It's not bad. It's pretty good all around," Trevor Lewis said. "I think the ice was pretty decent and the boards are pretty fast. So it should make for a good game."
For the goaltenders, there may be an adjustment period at the start of the game, but it may take a shift or two to build up comfort in all new buildings – and again, it's something that affects both teams.
"Maybe a little bit just getting used to it at the start," Martin Jones said about the sightlines from the goal crease. "Just not having anything right behind the glass there (is different), but once you get used to it, it's fine."
Martin Jones on whether the temperature near the ice was warmer than usual:
It was a little warm out there, yeah. Last year, it was pretty similar I think. It's pretty similar to being in an indoor arena, but we'll see tomorrow. It was a little warm out there today.
Matt Greene, on whether he'll wear eye black with additional vision aids:
I just wanted to try it with and without the eye black. I really can't tell the difference. I don't know what I'm going to do tomorrow.