Los Angeles Kings (27-18-12) at San Jose Sharks (30-22-8)
Saturday, February 21, 2015, 7:00 p.m. PT
Levi's Stadium, Santa Clara, CA
Referees: #19 Gord Dwyer, #13 Dan O'Halloran
Linesmen: #59 Steve Barton, #96 David Brisebois
NBC Sports Network, CBC, KABC 790 AM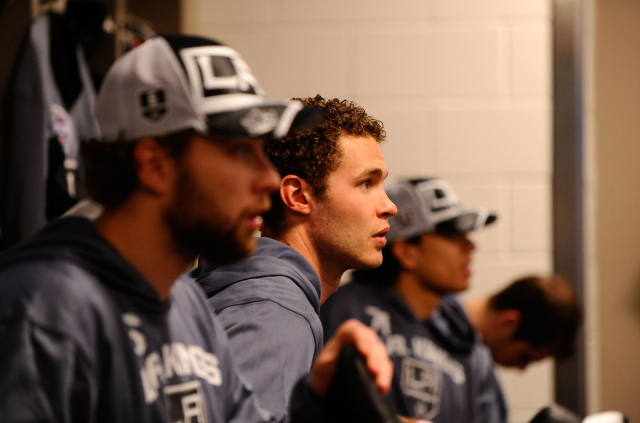 Los Angeles Projected Starting Goaltender – Jonathan Quick
2014-15: 49 GP (48 GS) / 23-15-10 record / 2.46 GAA / .912 Sv% / 3 SHO
Career vs San Jose: 24 (24) / 12-6-5 / 2.51 / .910 / 3
Last Game vs San Jose: 1/21/15 / 57 MP / 21-24 / 2-4 L
2014-15, Away: 21 (21) / 6-10-5 / 2.78 / .903 / 0
San Jose Projected Starting Goaltender – Antti Niemi
2014-15: 45 GP (45 GS) / 24-14-7 record / 2.62 GAA / .912 Sv% / 4 SHO
Career vs Los Angeles: 25 (25) / 14-7-3 / 2.36 / .924 / 3
Last Game vs Los Angeles: 1/21/15 / 60 MP / 26-28 / 4-2 W
2014-15, Home: 24 (24) / 11-8-5 / 2.79 / .898 / 2
2014-15 Los Angeles Leaders
Total Points: Jeff Carter (18-27=45)
Goals: Tyler Toffoli (19-19=38)
Assists: Anze Kopitar (12-31=43)
Plus/Minus: Tyler Toffoli (+20; 19-19=38)
Penalty Minutes: Kyle Clifford (66; 2-7=9)
Time On Ice: Drew Doughty (29:26; 5-30=35)
Corsi-For Percentage: Marian Gaborik (57.5%; 16-16=32)
2014-15 San Jose Leaders
Total Points: Joe Pavelski (31-24=55)
Goals: Joe Pavelski (31-24=55)
Assists: Joe Thornton (12-39=51)
Plus/Minus: Marc-Edouard Vlasic (+12; 7-11=18)
Penalty Minutes: Brent Burns (+55; 15-29=44)
Time On Ice: Brent Burns (24:15; 15-29=44)
Corsi-For Percentage: Joe Thornton (56.4%; 12-39=51)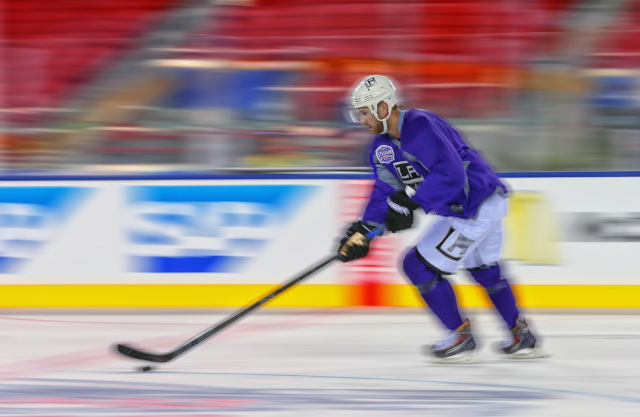 Rankings and Statistics
Goals/Game: LAK –15 / 2.77; SJS – 12 / 2.80
Goals Against/Game: LAK – 9 / 2.53; SJS – t-22 / 2.78
Power Play: LAK – 13 / 18.7%; SJS – 7 / 20.9%
Penalty Kill: LAK – 25 / 78.9%; SJS – 20 / 80.1%
Shots/Game: LAK – 4 / 31.3; SJS – t-10 / 31.0
Shots Against/Game: LAK – 2 / 27.5; SJS – t-18 / 29.8
Faceoffs: LAK – 11 / 51.1%; SJS – 8 / 51.5%
Save Percentage: LAK – t-15 / .908; SJS – t-19 / .907
Corsi-For Percentage: LAK – 1 / 54.1%; SJS – 13 / 50.7%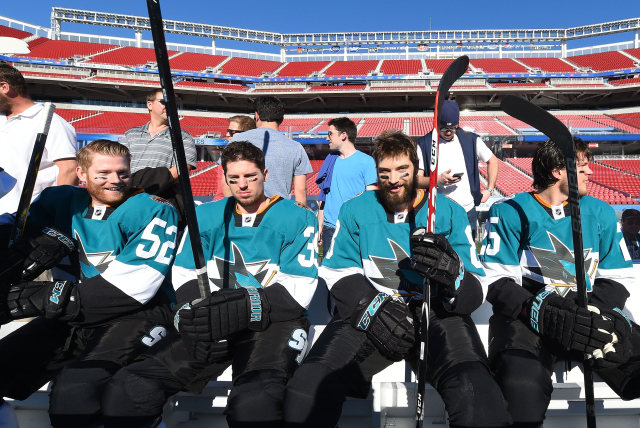 Los Angeles Projected Lines
Marian Gaborik – Anze Kopitar – Dustin Brown
Dwight King – Jeff Carter – Tyler Toffoli
Trevor Lewis – Jarret Stoll – Justin Williams
Kyle Clifford – Nick Shore – Jordan Nolan
Robyn Regehr – Drew Doughty
Jake Muzzin – Matt Greene
Brayden McNabb – Jamie McBain
Jonathan Quick
Martin Jones
Level of confidence of projected lines: A-. These were the lines the Kings showed at practice yesterday, and without a morning skate today, they're the projected lines for tonight's game. Nick Shore went through the first cycle of line rushes with Clifford and Nolan, so he's likely in ahead of Andy Andreoff. Derek Forbort is yet to make his NHL debut; don't expect him to usurp Brayden McNabb in a game played in front of nearly 70,000 fans. Expect the Kings' full available contingent – a group that does not include Alec Martinez, who did not travel – to take the ice for warm-ups. Puck drop is scheduled for 7:15.
Notes and milestones: Los Angeles is 58-57-17 all-time against San Jose, a record that includes a road mark of 21-34-12. The Kings are 1-2-0 thus far in the five-game season series; the teams will conclude the series at Staples Center on April 11, the 82nd game of the season for both squads. Home teams are 15-2-1 in the last 18 regular season games between the teams. … Los Angeles has tied a season high with six consecutive wins. The Kings have scored at least three goals in all six games and have averaged 3.1 goals per game in February (25 G / 8 GP). … Los Angeles has won a season-high three consecutive road games. … The Kings are 16-7-9 against the Western Conference and 8-3-6 against the Pacific Division. … Los Angeles has killed off 15-of-17 penalties in February. … The Kings have limited opponents to three power plays or less in each of the last nine games. … Dwight King has recorded points in a career-long five consecutive games (3-5=8). … Jeff Carter has recorded points in five consecutive games (4-5=9). … Since returning from his six-game absence due to mononucleosis, Tyler Toffoli has 11 points (7-4=11) in 10 games. … King, Carter and Toffoli have combined for 32 points in the 10 games since the All-Star Break. … Jonathan Quick has stopped 154-of-166 shots during the six-game winning streak (.928 Sv%). With 199 career wins, he is one win shy of 200. … Drew Doughty (30:07 TOI) has logged at least 30 minutes of ice time in 26 of the team's 57 games and leads the NHL with an average of 29:26 per game. He will play in his 500th career game tonight, surpassing Lubomir Visnovsky for sixth place amongst Kings defensemen in all-time games played. … Jamie McBain is expected to play in his 299th career game. … Brayden McNabb appeared in the 2011 Rockstar Outdoor Classic, a game between his Kootenay Ice and the Spokane Chiefs at Spokane's Avista Stadium. McNabb was held scoreless in a game in which Jared Cowen and Tyler Johnson both scored for the Chiefs. … Away teams are 10-3-1 all-time in NHL outdoor games, though the Washington Capitals defeated the Chicago Blackhawks 3-2 at Nationals Park in Washington, DC on January 1.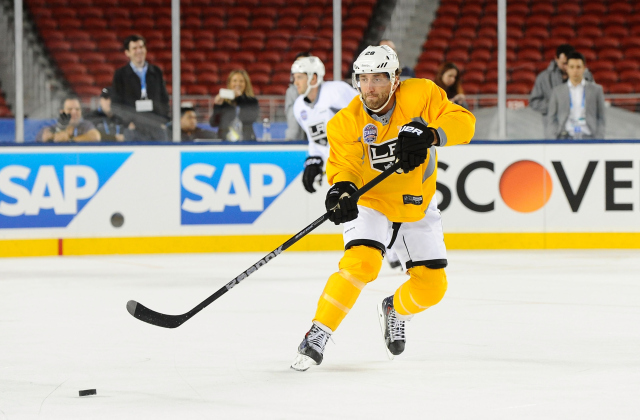 San Jose Projected Lineup
Melker Karlsson – Joe Thornton – Joe Pavelski
Patrick Marleau – Logan Couture – Matt Nieto
Tomas Hertl – James Sheppard – Tommy Wingels
John Scott – Andrew Desjardins – Tyler Kennedy
Marc-Edouard Vlasic – Brent Burns
Brenden Dillon – Justin Braun
Matt Irwin – Scott Hannan
Antti Niemi
Alex Stalock
Notes and milestones: Lines via Kevin Kurz of CSNBayArea.com … Tonight's game is the 15th regular season outdoor NHL game. San Jose will become the 19th NHL franchise to play in an outdoor regular season NHL game. Scott Hannan (2011 / Washington) and Tyler Kennedy (2008, 2011 / Pittsburgh) are the two Sharks to have played in an NHL outdoor game. … Tonight's game is expected to be played in front of a crowd of more than 69,000 fans. The three largest crowds to see an NHL game are 105,491 (Detroit-Toronto / January 1, 2014 / Michigan Stadium), 71,217 (Buffalo-Pittsburgh / January 1, 2008 / Ralph Wilson Stadium) and 68,111 (January 1, 2011 / Pittsburgh-Washington / Heinz Field). … Patrick Marleau became the youngest player in NHL history to appear in 1,300 NHL games in San Jose's 5-1 win at Vancouver on February 5. He is the 56th player in NHL history to appear in 1,300 games. … Joe Pavelski ranks second in the NHL with 16 power play goals. Since 2010-11, only Alex Ovechkin (77) has scored more power play goals than Pavelski's 56 (tied with Steven Stamkos). … The Sharks are 22-11-5 against the Western Conference and 12-7-4 against the Pacific Division.