Los Angeles Kings (26-18-12) at Colorado Avalanche (24-22-11)
Wednesday, February 18, 2015, 7:00 p.m. PT
Pepsi Center, Denver, CO
Referees: #19 Gord Dwyer, #17 Frederick L'Ecuyer
Linesmen: #92 Mark Shewchyk, #73 Vaughan Rody
NBC Sports Network, KABC 790 AM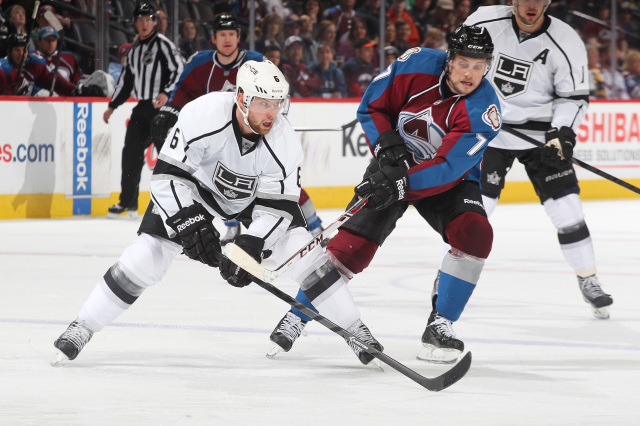 Los Angeles Projected Starting Goaltender – Jonathan Quick
2014-15: 48 GP (47 GS) / 22-15-10 record / 2.49 GAA / .910 Sv% / 3 SHO
Career vs Colorado: 15 (15) / 9-4-1 / 2.54 / .901 / 2
Last Game vs Colorado: 4/11/13 / 60 MP / 26-28 / 3-2 W
2014-15, Away: 20 (20) / 5-10-5 / 2.87 / .898 / 0
Colorado Projected Starting Goaltender – Semyon Varlamov
2014-15: 37 GP (37 GS) / 16-14-7 record / 2.59 GAA / .920 Sv% / 4 SHO
Career vs Los Angeles: 8 (8) / 5-2-1 / 1.83 / .937 / 1
Last Game vs Los Angeles: 12/21/13 / 65 MP / 37-39 / 3-2 SOL
2014-15, Home: 18 (18) / 11-6-1 / 2.14 / .930 / 3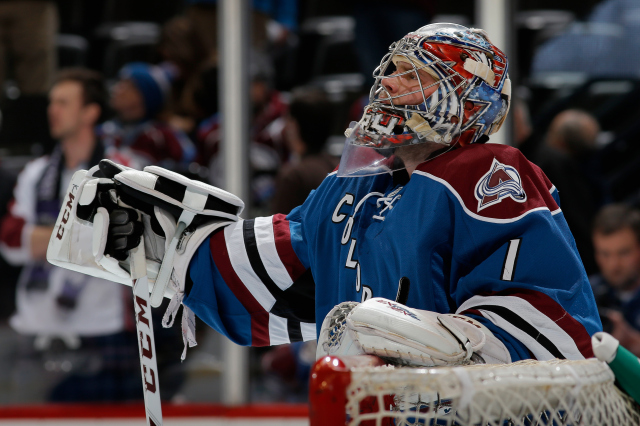 2014-15 Los Angeles Leaders
Total Points: Jeff Carter (16-27=43)
Goals: Tyler Toffoli (18-18=36)
Assists: Anze Kopitar (12-30=42)
Plus/Minus: Tyler Toffoli (+19; 18-18=36)
Penalty Minutes: Kyle Clifford (66; 2-7=9)
Time On Ice: Drew Doughty (29:25; 5-28=33)
Corsi-For Percentage: Anze Kopitar (58.6%; 12-30=42)
2014-15 Colorado Leaders
Total Points: Jarome Iginla (18-22=40)
Goals: Jarome Iginla (18-22=40)
Assists: Tyson Barrie (7-25=32)
Plus/Minus: Alex Tanguay (+7; 15-23=38)
Penalty Minutes: Cody McLeod (140; 5-4=9)
Time On Ice: Erik Johnson* (24:25; 12-11=23)
Corsi-For Percentage: Nathan MacKinnon (49.4%; 9-23=32)
*On Injured Reserve; Jan Hejda is the active leader (21:26; 1-8=9)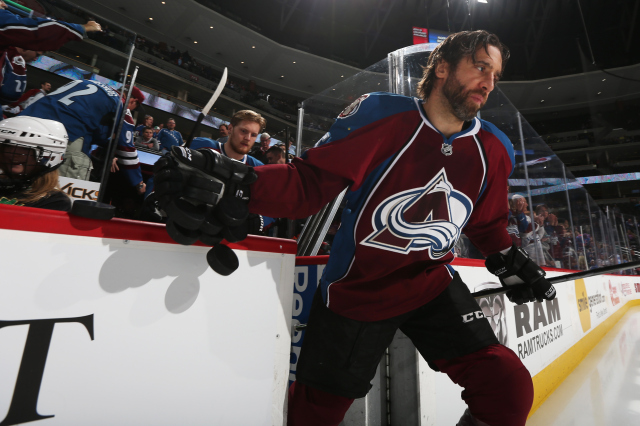 Rankings and Statistics
Goals/Game: LAK – 16 / 2.75; COL – 24 / 2.49
Goals Against/Game: LAK – 10 / 2.55; COL – 20 / 2.75
Power Play: LAK – 14 / 18.6%; COL – 29 / 12.4%
Penalty Kill: LAK – 26 / 78.5%; COL – 12 / 82.8%
Shots/Game: LAK – t-5 / 31.4; COL – 24 / 28.6
Shots Against/Game: LAK – 2 / 27.2; COL – 28 / 33.1
Faceoffs: LAK – 9 / 51.5%; COL – t-15 / 49.8%
Save Percentage: LAK – t-20 / .906; COL – 6 / .917
Corsi-For Percentage: LAK – 1 / 55.0%; COL – 29 / 44.1%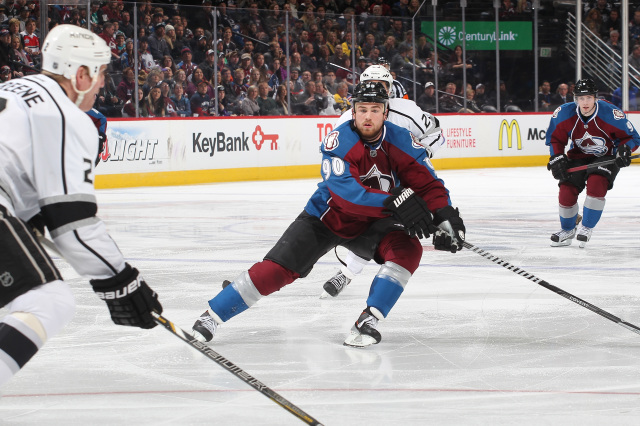 Los Angeles Projected Lineup
Marian Gaborik – Anze Kopitar – Trevor Lewis
Dwight King – Jeff Carter – Tyler Toffoli
Dustin Brown – Jarret Stoll – Justin Williams
Kyle Clifford – Nick Shore – Jordan Nolan
Robyn Regehr – Drew Doughty
Jake Muzzin – Matt Greene
Brayden McNabb – Jamie McBain
Jonathan Quick
Martin Jones
Level of confidence in projected lines: A. The Kings aren't expected to adjust the lineup five games into a winning streak. Andy Andreoff and Derek Forbort remained on the ice for extra work, so they're likely out tonight. Jonathan Quick left the ice first at the morning skate and is expected to draw his 13th straight start in net.
Notes and milestones: Los Angeles is 60-47-12 all-time against the Colorado franchise, a record that includes a road mark of 25-29-4. The Kings have earned points in five consecutive games against the Avalanche (4-0-1) since a 3-1 setback on January 22, 2013. Tonight marks the teams' first meeting since a 6-4 L.A. win at the Pepsi Center on February 26, 2014. Because Martin Jones started that game and the two previous games between the teams took place in late November and December, this is Jonathan Quick's first start against Colorado since April 11, 2013, a 3-2 Los Angeles win.… The Kings are 15-7-9 against the Western Conference and 7-4-3 against the Central Division. … Los Angeles has won five consecutive games, the second longest active streak (behind Nashville's six straight wins) in the NHL. The Kings' longest winning streak of the season was six games, set between October 12-26. … Dwight King (3-4=7) has recorded points in a career-long four consecutive games. … Jeff Carter has recorded points in four consecutive games (2-5=7). … Since returning from his six-game absence for mononucleosis, Tyler Toffoli has nine points (6-3=9) in nine games. … King, Carter and Toffoli have combined for 27 points in the nine games since the All-Star Break. … Jonathan Quick has stopped 112-of-123 shots during the five-game winning streak (.911 SV%) and holds a 2.20 GAA over that span. … Jordan Nolan has three goals over his last eight games and two goals in his last three games. … Drew Doughty has logged at least 30 minutes of ice time in 25 of the team's 56 games and leads the NHL with an average of 29:25 per game. … Los Angeles has recorded 1,858 hits, second in the league behind the New York Islanders' 1,888 hits. The Islanders have played two more games than the Kings. … Since the All-Star Break, Los Angeles leads the league with a 57.6% Fenwick-close. … By playing his 499th career game tonight, Drew Doughty will move into a tie with Lubomir Visnovsky for sixth place amongst Kings defensemen in all-time games played. Doughty's 29 power play goals rank two behind Visnovsky for third place amongst all-time club defensemen, while his 64 goals rank six behind Visnovsky for fourth place amongst all-time club defensemen. Doughty has 15 points (5-10=15) and a plus-eight rating in 21 career games against Colorado. … Anze Kopitar has 31 points (13-18=31) in 30 career games against Colorado.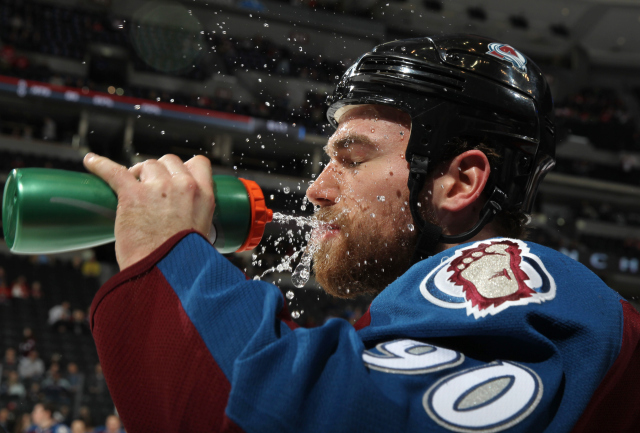 Colorado Projected Lines
Gabriel Landeskog – Ryan O'Reilly – Nathan MacKinnon
Maxime Talbot – Matt Duchene – Jarome Iginla
Alex Tanguay – John Mitchell – Dennis Everberg
Cody McLeod – Marc-Andre Cliche – Paul Carey
Jan Hejda – Zach Redmond
Nate Guenin – Tyson Barrie
Brad Stuart – Nick Holden
Semyon Varlamov
Reto Berra
Notes and milestones: Avalanche lineup via NHL.com correspondent Rick Sadowski … Colorado has scored 15 goals over the last four games. … The Avalanche's power play is a league-worst 12-for-98 (12.2%) at home. … Colorado allowed a season-low 17 shots on goal in a 5-2 win over Arizona on Monday. They did not allow a shot on goal in the second period. … Matt Duchene has 300 points (120-180=300) through 394 games in his NHL career. … With two assists on Monday, Jarome Iginla moved into sole possession of 45th place in the NHL's all-time scoring list with 1,207 points. He is two points shy of Bernie Nicholl's 1,209 points. Iginla's 578 goals rank 19th all-time. He has 60 points (29-31=60) in 64 career games against Los Angeles. … Semyon Varlamov is expected to make his 14th consecutive start. He has started 21 of Colorado's last 22 games. … Nathan MacKinnon has one assist and a minus-four rating in three career games against Los Angeles.