Good afternoon from El Segundo, where the Kings took the ice shortly after 10:00 a.m. Considering the first players often trickle out 15 minutes before the scheduled practice time, today's practice began on the late side.
Notes!
-Jeff Carter was not present at practice due to a passing in his family and should rejoin the team tomorrow, "weather pending," per Darryl Sutter. All of our condolences and thoughts are to the Carter family.
-Because of Carter's absence, pay no attention to today's alignment (which include groups of Gaborik-Kopitar-Lewis, King-Shore-Toffoli, Brown-Stoll-Williams and Clifford-Andreoff). I believe Jordan Nolan was also part of the Clifford-Andreoff group. Again, it doesn't really matter; let's revisit lines at tomorrow's morning skate, which should feature a full group.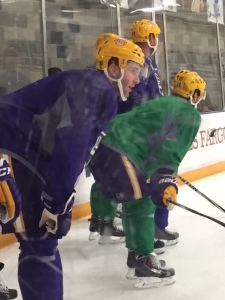 -Derek Forbort practiced with the team, and I'll have a story about him up this afternoon. He had boarded a flight to Columbus on Monday that remained grounded on the tarmac in Boston for an hour and a half due to wintry conditions, by his estimation. It wasn't the best feeling to learn from the pilot that his first NHL call-up would be delayed. "I was about to drive," he joked. Next year, should he see time with the Kings' highest affiliate, he'll have that opportunity.
-Speaking of which, the new Ontario Reign logo and jerseys will be unveiled at 4:00 p.m. this afternoon.
-Alec Martinez did not practice with the team today. He remains "day-to-day," as noted by Darryl Sutter on Sunday. It remains highly unlikely that he'll play against Calgary Thursday night.
-Robyn Regehr practiced – he also took a few quick loops around the ice in advance of the team skate – though is not a hundred percent recovered from the illness that affected him earlier in the week. He's powering through his discomfort.
-The team continued to break in its Legends Night equipment. The Kings will debut their gold jerseys tomorrow as part of a Legends Night devoted to former coach Barry Melrose. A limited number of tickets are still available for tomorrow's Legends Luncheon at Fleming's Prime Steakhouse and Wine Bar at L.A. Live.