The Los Angeles Kings were honored by President Barack Obama at the White House on Monday in celebration of the club's second Stanley Cup championship in three seasons. In commemoration of the event, the Kings presented President Obama with a silver hockey stick and a miniature Stanley Cup.
"This is even better than a veto pen," President Obama joked.
"You don't want to mess with somebody's who's got one of these."
The blade of the stick was personalized for the President: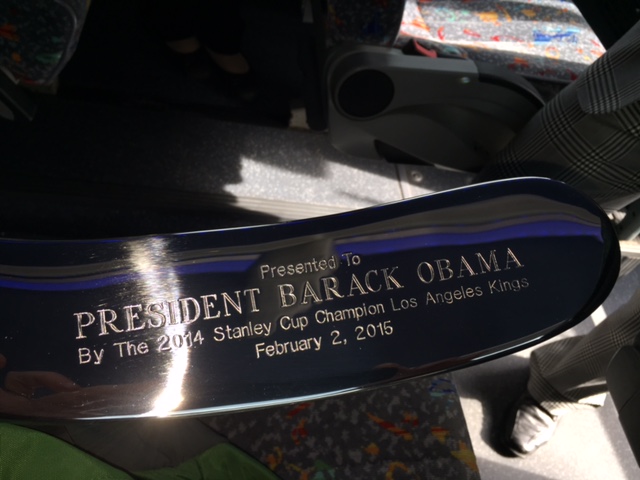 The engraved miniature Stanley Cup: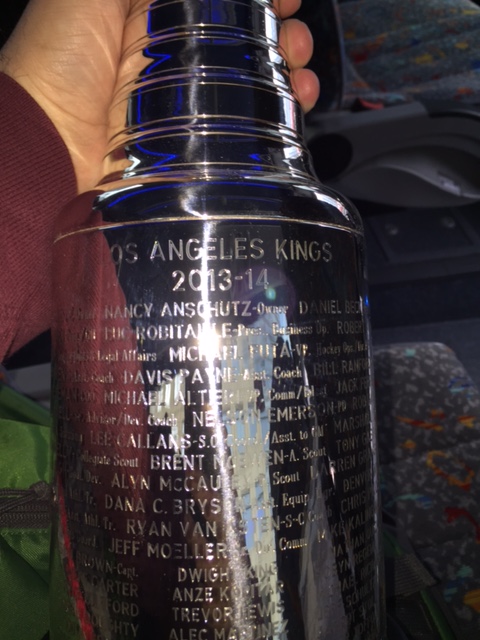 The Commander in Chief is a passionate sports fan, so there were naturally references to the Kings beating his hometown Blackhawks in the Western Conference Final, as well as the second ceremony honoring both the Kings and the MLS champion Los Angeles Galaxy in three seasons.
"As a Chicago fan, I'm a little resentful," President Obama said. "You guys have an embarrassment of riches."
It was only natural that today's ceremony was held on February 2.
"Today feels a little like Groundhog Day. If you're feeling a little déjà vu, you're not alone. Two years ago we had the Galaxy and the Kings here together, so if you see Bill Murray playing piano in the foyer, you know something weird's going on and we're probably going to do this again."
For some players and members of the staff, however, this was the first time they stood behind President Obama at the White House. While Tyler Toffoli was sat in the crowd two years ago, he was on stage with his teammates on Monday. Along with several members of the team's staff, Jake Muzzin, Robyn Regehr, Marian Gaborik, Martin Jones, Jeff Schultz and Tanner Pearson also shook the President's hand for the first time prior to the ceremony.
"It's actually a really cool experience, but not just with a handshake," Regehr said. "It's just being involved with the entire day. Having to get bused in here and then to go through the security clearances and getting to see a few parts of the White House and a picture on the South Lawn and things like that. So I think all of the experience is really neat. It's been really enjoyable. It was nice to shake his hand and he came around the Blue Room and met all the players and members of our organization. [He] looked everyone in the eye and shook their hand. That was really cool that way because you have someone that is, if not the most, right up there for the most influential people the entire world right now. So that's not every day you get a chance to do something like that and be a part of that."
Said Gaborik: "Obviously he walked in and there is a pretty unique aura around him. It was pretty cool. That doesn't happen every day, and we really enjoyed it."
If this goes a long way towards closing the book on the Kings' Stanley Cup victory lap, it was an honorable and memorable way to do so – and the team wouldn't mind replicating the 2011-12 and 2013-14 teams' success.
"I kind of liked winning that Cup," Assistant Coach Davis Payne said. "If I'm going to rank them, this is up there, but I like that trophy."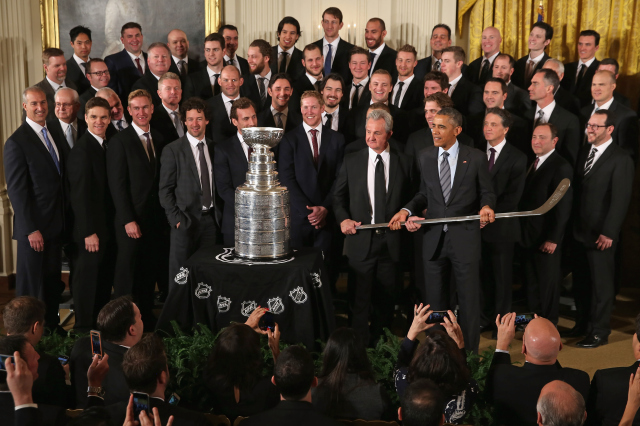 President Obama's remarks towards the Los Angeles Kings:
Like the Galaxy the Kings needed overtime to win their championship. They needed two of them, in fact, and that was the easy part. Just to get to the finals the Kings had to win three straight Game 7s, all on the road. They dug themselves out of a three-zero hole against San Jose in the first round. They're laughing, because they're thinking 'Man, let's try to do it easier next time.' In the conference final they beat my Blackhawks, which is unfortunate. I mean, first of all, in LA, there's not even any ice, really. So you'd think, like Chicago, where it's probably 10 degrees below zero today, at least we'd get some hockey. But we've won a couple, so I can't complain. The Kings have done the unthinkable: they have turned a city with no snow and no ice and no winter into a hockey town, complete with an outdoor game in Dodger Stadium. They've done it with a team that L.A. fans have embraced – guys like goalie Jonathan Quick, playoff MVP Justin Williams, the first line of Brown, and Kopitar and Gaborik, and Jeff Carter and his hockey smile, and of course Coach Sutter and his one-liners with the press. I've tried those one-liners, by the way, with the press, and it never seems to work. I've also got to mention that in the middle of their season, a lot of these guys played for their national teams at Sochi, and we were proud to have Jonathan Quick and Dustin Brown wearing the red, white and blue on behalf of Team USA. Very proud of them. And that's just one example of how these teams represent more than the colors they wear for the Kings or the Galaxy. Both teams are major supporters of Childrens Hospital Los Angeles. The Kings have partnered with Discovery Cube L.A., a local museum, on an exhibit called The Science of Hockey to give kids a mental and physical workout. The Galaxy players served meals to more than 2,000 families at Thanksgiving, and the organization built a soccer field for the community to use in South L.A. And, finally, I want to recognize what Robbie Rogers of the Galaxy has done for a lot of people by blazing a trail as one of professional sports' first openly gay players. My guess is that as an athlete, Robbie wants to win first and foremost. That's what competition's all about. But, Robbie, you've also inspired a whole lot of folks here and around the world, and we're very proud of you. So, where's Robbie? There he is. So, congratulations to both these teams, to the city of Los Angeles and its fans, and best of luck when you are not playing Chicago. Thank you, everybody.