Los Angeles Kings (21-15-12) at Boston Bruins (26-26-7)
Saturday, January 31, 2015, 4:00 p.m. PT
TD Garden, Boston, MA
Referees: #11 Kelly Sutherland, #35 Marc Joannette
Linesmen: #90 Andy McElman, #93 Brian Murphy
Fox Sports West, NHL Network, KABC 790 AM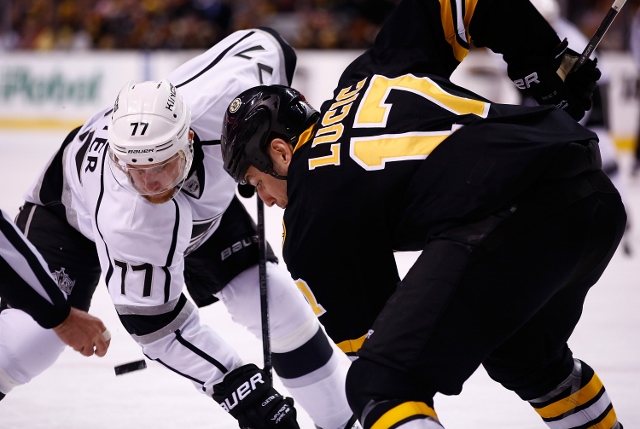 Los Angeles Projected Starting Goaltender – Jonathan Quick
2014-15: 40 GP (39 GS) / 17-12-10 record / 2.48 GAA / .911 Sv% / 3 SHO
Career vs Boston: 10 (10) / 7-3-0 / 2.04 / .925 / 2
Last Game vs Boston: 12/2/14 / 60 MP / 31-31 / 2-0 W
2014-15, Away: 15 (15) / 3-7-5 / 2.89 / .899 / 0
Boston Projected Starting Goaltender – Tuukka Rask
2014-15: 40 GP (39 GS) / 21-11-7 record / 2.34 GAA / .920 Sv% / 2 SHO
Career vs Los Angeles: 2 (2) / 1-1-0 / 2.20 / .949 / 1
Last Game vs Los Angeles: 1/9/14 / 22 MP / 15-18 shots / 2-4 L
2014-15, Home: 23 (23) / 14-5-4 / 2.15 / .922 / 2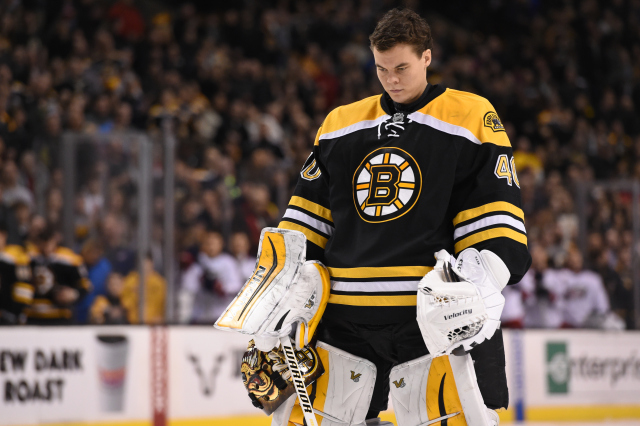 2014-15 Los Angeles Leaders
Total Points: Anze Kopitar (11-27=38)
Goals: Marian Gaborik (15-12=27)
Assists: Anze Kopitar (11-27=38)
Plus/Minus: Tyler Toffoli (+18; 13-16=29)
Penalty Minutes: Kyle Clifford (50; 2-7=9)
Time On Ice: Drew Doughty (29:23; 4-25=29)
Corsi-For Percentage: Trevor Lewis (57.9%; 6-5=11)
2014-15 Boston Leaders
Total Points: Patrice Bergeron (12-21=33)
Goals: Brad Marchand (13-12=25)
Assists: Patrice Bergeron (12-21=33), Carl Soderberg (10-21=31)
Plus/Minus: Kevan Miller (+14; 2-4=6)
Penalty Minutes: Milan Lucic (71; 10-18=28)
Time On Ice: Zdeno Chara (22:51; 3-9=12)
Corsi-For Percentage: Patrice Bergeron (59.3%; 12-21=33)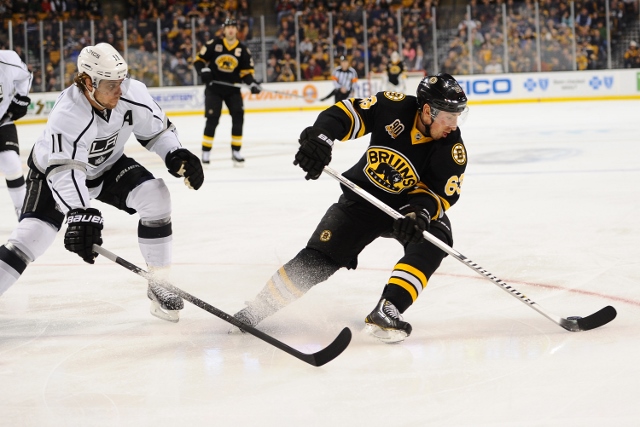 Rankings and Statistics
Goals/Game: LAK – 15 / 2.75; BOS – 21 / 2.63
Goals Against/Game: LAK – 13 / 2.54; BOS – 6 / 2.41
Power Play: LAK – 10 / 19.6%; BOS – 17 / 18.1%
Penalty Kill: LAK – 25 / 77.7%; BOS – 9 / 82.8%
Shots/Game: LAK – 8 / 31.1; BOS – t-12 / 30.1
Shots Against/Game: LAK – t-5 / 27.5; BOS – t-17/ 29.6
Faceoffs: LAK – t-10 / 51.4%; BOS – 4 / 53.2%
Save Percentage: LAK – t-18 / .908; BOS – t-4 / .919
Corsi-For Percentage: LAK – t-2 / 54.4%; BOS – 8 / 52.2%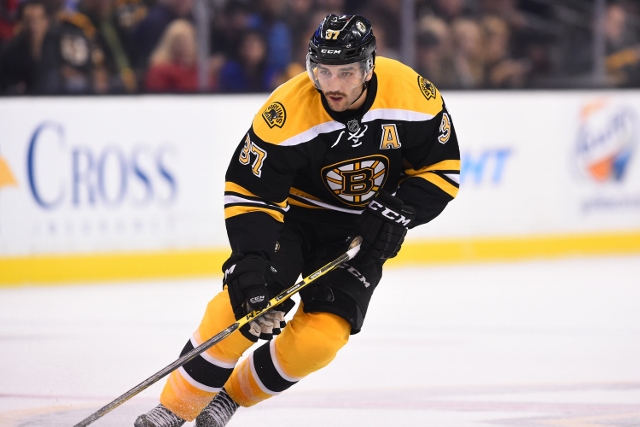 Los Angeles Projected Lines
Kyle Clifford – Anze Kopitar – Dustin Brown
Dwight King – Jeff Carter – Tyler Toffoli
Marian Gaborik – Jarret Stoll –Trevor Lewis
Jordan Nolan – Nick Shore – Justin Williams
Jake Muzzin – Drew Doughty
Robyn Regehr – Alec Martinez
Brayden McNabb – Matt Greene
Jonathan Quick
Martin Jones
Level of confidence of projected lines: B+. Though Jordan Nolan took rushes alongside Nick Shore and Justin Williams, he remained on the ice for extra work with Jamie McBain, Andy Andreoff and Martin Jones, so there could be a change in the club's depth forwards.
Notes and Milestones: Los Angeles is 40-80-14 all-time against Boston, a record that includes a road mark of 15-46-6. The Kings are 7-4-0 in their last 11 games overall against the Bruins. … Los Angeles is 7-7-3 against the Eastern Conference and 5-3-1 against the Atlantic Division. … In the 24 games since December 1, Los Angeles has recorded a 57.3% Corsi-for percentage in five-on-five play (1174 Corsi for / 874 Corsi against). … Over the last 24 games, the Kings and their opponents have both scored 68 non-shootout goals. Los Angeles has scored at least three goals in 12 of their last 20 games. … The Kings have outscored their opponents 95-73 in second and third periods this season. … The Kings are 2-12 in games that extend past 60 minutes and 6-6-12 in one-goal games. … Los Angeles leads the league in total team hits (1,571) … The Kings' road penalty kill ranks 28th in the league at 72.3% (47-for-65). … Marian Gaborik has recorded at least a point in 14 of his last 17 games (11-8=19) … With 98 goals as a King, Justin Williams is two goals from 100. … With Mike Richards' assignment to AHL-Manchester, Jarret Stoll holds the club's new Iron Man streak. Tonight will mark his 110th consecutive regular season game. … With 496 career points (269-227=496), Jeff Carter is four points from 500 in his career. … Brayden McNabb has three points (0-3=3) in two career games against Boston.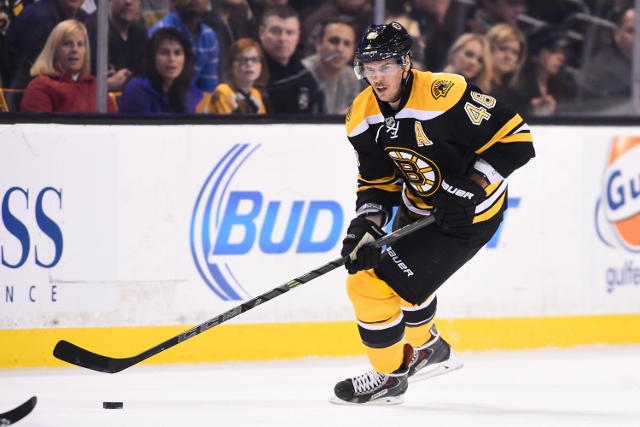 Boston Projected Lineup
Milan Lucic – David Krejci – Reilly Smith
Brad Marchand – Patrice Bergeron – Loui Eriksson
Chris Kelly – Carl Soderberg – David Pastrnak
Daniel Paille – Gregory Campbell – Craig Cunningham
Zdeno Chara – Dougie Hamilton
Dennis Seidenberg – Adam McQuaid
Torey Krug – Kevan Miller
Tuukka Rask
Malcolm Subban
Notes and Milestones: Lines via NHL.com's Matt Kalman … Niklas Svedberg was loaned to AHL Providence yesterday on a conditioning stint. Malcolm Subban was recalled. … Boston is 8-7-2 against the Western Conference and 4-3-0 against the Pacific Division. … The Bruins have points in 12 of their last 13 games, going 8-1-4. … Boston is 6-1-3 in their last 10 on home ice. … The Bruins have outscored the Kings 541-417 all-time in head-to-head match-ups. … 10 of the last 11 meetings in the series have been decided by one goal or two goals. … Boston has 10 players with 20-or-more points, which is tied with Chicago for the most in the league. … The Bruins are the only team that has not allowed a shorthanded goal this season.