The Los Angeles Kings entered the third period with a one-goal lead over the Anaheim Ducks, and at some point over the final 20 minutes, the Kings were going to need a penalty kill to preserve the win. As good as their kill looked during the game – the Ducks had hardly a sniff at the net in their two attempts – they didn't get it. Anaheim scored on its only power play shot of the game, another cruelly deflected puck that changed trajectory off Matt Greene, providing the big goal that the Ducks needed in the third period. Perhaps Vatanen was given too much space to creep towards the top of the right faceoff circle, but the Dwight King / Jeff Carter PK pairing turned in an otherwise flawless performance on the night, which included a first period kill in which a red hot Anaheim power play hardly had time to set up in the offensive zone. The goal was emblematic of the teams' seasons to this point; the Ducks, who have relied on opportune goals, are 22-0-6 in one-goal games, while the Kings are 5-6-11.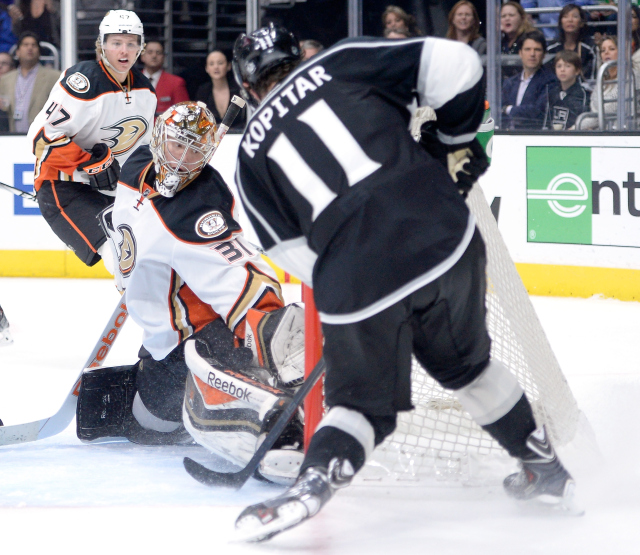 There's really not much to differentiate between these teams, especially in their even head-to-head match-ups. One team has an .893 points percentage in one-goal games, the other has a .477 points percentage. Even with all their shootout losses – the Kings have now lost seven shootouts in a row – they still have a plus-six goal differential, while the Ducks, who are 11-6 when games extend past 60 minutes, have a plus-11 goal differential. Make no mistake, Anaheim is an excellent hockey club that has the assets to reinforce its defense and perhaps add another top six forward via trade, should it choose to do so, but the difference between these two teams is much, much closer than the 15-point edge in the standings. The season series, in which all three games to this point have extended past 60 minutes, is a reflection of this. Players and coaches in both dressing rooms will tell you that these teams are mostly very even.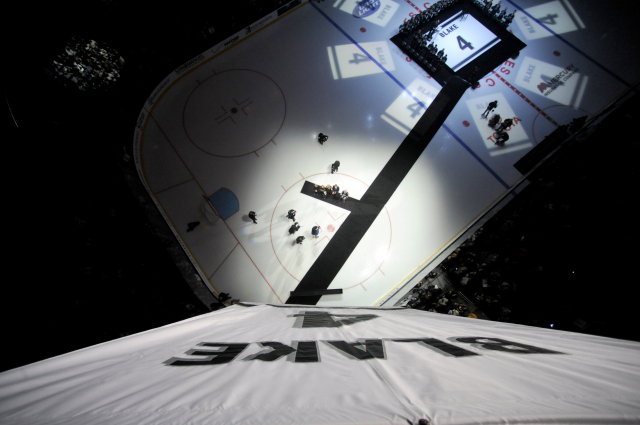 Unlike their 6-0-0 home stand in October, Los Angeles did not take advantage of a long string of home games. With a 1-2-3 record heading into Monday's important clash with Calgary, the last two weeks can be seen as a disappointing inability to collect two points regularly at a friendly site in which the Kings have mostly been very good this season. The loss to New Jersey was the stinger, though perhaps the most frustrating aspect is that the Kings have held leads in five of the six games to this point, including third period leads in a pair of games that turned into shootout losses. It's an odd development for a club that has established itself as a superior third period team and will enter Monday's game having outscored opponents 44-27 in third periods this season. Having been unable to secure their footing in the standings on this home stand, Los Angeles will face a taller task of having to do so on an impending post-All-Star Break road trip in which their opponents are a combined 28-15-7 over their previous 10 games, entering Sunday's action.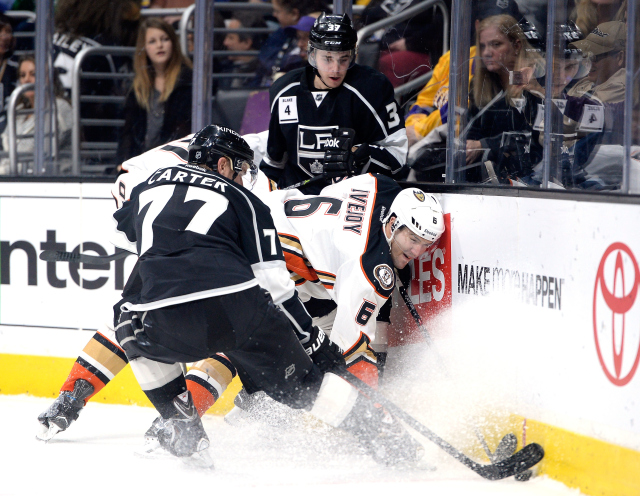 Bear with a slight delay on the blog this afternoon; I have a personal event that will keep me away from the team's practice. Alex Kinkopf of LAKings.com will be there to gather quotes on my behalf. After James posts The View from Anaheim at 1:00 p.m., there may be a two to three-hour delay before the next story drops. Thank you for your patience, and, as always, for visiting LA Kings Insider.