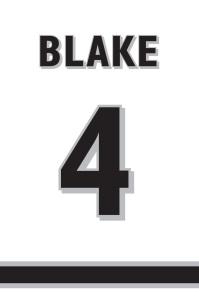 Rob Blake's jersey will be retired prior to Saturday's Kings-Ducks game, and in an era where many of the best defensemen in the sport are versatile players who can skate, battle, play physically and provide offense, it's worth remembering that Blake was one of those players who helped define and inspire the modern era National Hockey League defenseman.
Drew Doughty, no closet Kings fan growing up but rather an unabashed white-silver-and-black supporter who greatly admired the defenseman who was inducted into the Hall of Fame in November, spoke earlier this week about one of his major influences in the sport. "I loved him as a player," Doughty said.
"He was one of my favorite defensemen growing up. I was obviously a Kings fan. So watching their games, I got to see him, Gretzky, Robitaille, Kelly Hrudey, all of them play. Rob was definitely my favorite defenseman at that time. It's going to be great to be a part of one of my idols getting his jersey retired. Besides such an amazing career – without a doubt he deserves to have his number retired – he's just someone that I can look up to and hopefully be close to the player that he was one day."
The Kings defenseman is already well on his way to establishing himself as a generational talent, but for several younger players, Blake still provides the model mix of leadership, physicality and offensive and defensive zone awareness that establishing players can look to as a fine example.
Brayden McNabb grew up a big fan of the Colorado Avalanche and noted that Patrick Roy was among his favorite players growing up. But considering McNabb's physical attributes – he's 6-foot-4, 208 pounds and has established himself as an aggressive open ice hitter – and his leadership qualities – he captained the Kootenay Ice to a 2011 WHL Championship – there are many of Blake's characteristics that one would think would be intrinsically linked to the young and developing Los Angeles defenseman.
"Well he's a Hall of Famer, but you definitely try and look up to him and try and play like he did, especially with my physical element," McNabb said. So it's something that I can learn from him and he's an intelligent person and he knows the game of hockey. So anything I can take from him is great."
"I remember waking up every morning and checking the scores of [Avalanche] games. It's pretty cool that Blakey is here looking back at it now."
But Saturday's ceremony isn't to honor Blake's accomplishments throughout the sport, as his Hall of Fame induction did. Cognizant and thoroughly appreciative of his work with Hockey Canada, Colorado and San Jose, this will be the organization's opportunity to honor an individual whose Los Angeles legacy is such that it should be reminded to everyone who comes through the doors into Staples Center.
"I was thinking about it, looking at it the last anthem, because we get to see that end always," Darryl Sutter said on Wednesday. "I was thinking about it the other night. [It's good] they get "4" to go up there."
"He was a great competitor, and I think his leadership skills were evident every time he was on the ice. He played the game whichever way anybody wanted, which meant that there was not really a lot of space for anybody out there, and he could also create his own."
And, of course, he could throw his weight around with one of the game's all-time great hipchecks.
"Yeah, Drew does that now. It's still a little bit in the game. I mean, lots of guys did it. It's rare now. You probably remember it just because of the highlights, but it was a pretty prevalent part of the game not so long ago."
Darryl Sutter, on whether the skill sets of modern defensemen such as Drew Doughty, Marc-Edouard Vlasic and Alex Pietrangelo have roots in Rob Blake's versatility:
I'm sure Blakey's going to tell you that he had somebody that he emulated. I'm sure there's somebody that he said, whether he grew up idolizing Bobby Orr or somebody from the Leafs. It's hard to say. [Reporter: When you were a kid, did you have defensemen that you liked over, say, forwards?] You know what? With a family of boys, we were each a guy. I was Bobby Hull. Brent was Bobby Orr. We each had a guy, and we always had our teams. We each had a player, that was your hero. And then there were fewer teams. That's a six-team league for the most part, so Brian was Gordie Howe, I was Bobby Hull. That's how we were. Even when we played, that's who we pretended we were.
Drew Doughty, on whether he liked Blake's hip check or shot more:
I liked that he was good both ways. That's what I really liked. Yeah, he had that big hip check that I kind of do as well. He was good defensively, then put up a lot of points offensively. He won a Stanley Cup. He won a gold medal I think and he won a Norris and I still want to win that Norris. That's something I could talk to him about.
Doughty, on whether he asks Blake for advice:
Oh yeah, all the time. I love going upstairs to Blakey. [Reporter: Does he give you any good advice about throwing a hip check?] No, we don't talk about that. We just talk about how I'm playing in general, things I can do to help the team get better, ways I can improve my leadership and stuff like that. Whenever I go up there, it's always a lot of positive talk from Blakey. He knows what I'm like as a player and he always has a lot of positive feedback.
Brayden McNabb, on whether Blake influenced him as a young player:
Yeah, that Colorado team with Blakey and Forsberg, Sakic and all those guys. I was a big fan of that team and he was a defenseman that I liked. When I was younger, I was big into forwards and goalies but he was definitely one of my favorite players to watch.
McNabb, on who his favorite members of the star-studded Colorado teams were:
They were great from top to bottom there. I was actually a big goalie fan, Patrick Roy, but I appreciated the whole team.
Jake Muzzin, on whether he followed Blake growing up:
Getting into high school hockey because he had played for the Stratford Cullitons, the Junior B team, and I was getting scouted to play there. That's when I heard about him and I followed him when he was in Colorado a little bit. He was obviously really, really good.
Muzzin, on whether he sees himself as a versatile defenseman in Blake's style:
Yeah, I like to be solid defensively and provide offense when I can and provide on the power play. For me, individually and personally, I have a lot improve on defensively and continue getting better on that and continue working on my offensive strengths.