Los Angeles Kings (19-13-9) vs Winnipeg Jets (20-14-7)
Saturday, January 10, 2015, 7:00 p.m. PT
Staples Center, Los Angeles, CA
Referees: #11 Kelly Sutherland, #37 Kyle Rehman
Linesmen: #55 Shane Heyer, #75 Derek Arnell
FOX Sports West, Sportsnet Hockey Night in Canada, KABC 790 AM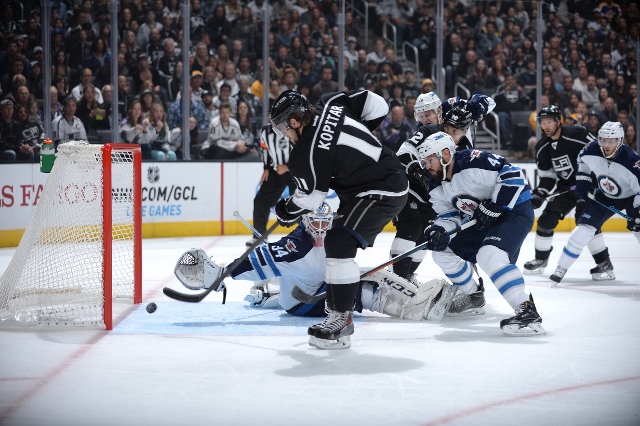 Los Angeles Projected Starting Goaltender – Jonathan Quick
2014-15: 34 GP (34 GS) / 16-10-7 record / 2.40 GAA / .915 Sv% / 3 SHO
Career vs Winnipeg: 6 (6) / 3-2-0 / 3.15 / .887 / 0
Last Game vs Winnipeg: 3/29/14 / 60 MP / 24-26 shots / 4-2 W
2014-15, Home: 20 (20) / 13-4-2 / 2.05 / .926 / 3
Winnipeg Projected Starting Goaltender – Michael Hutchinson
2014-15: 17 GP (15 GS) / 10-4-2 record / 1.88 GAA / .936 Sv% / 1 SHO
Career vs Los Angeles: 1 (1) / 0-1-0 / 8.16 / .769 / 0
Last Game vs Los Angeles: 10/12/14 / 22 MP / 10-13 shots / 1-4 L
2014-15, Away: 9 (8) / 6-1-2 / 1.84 / .940 / 1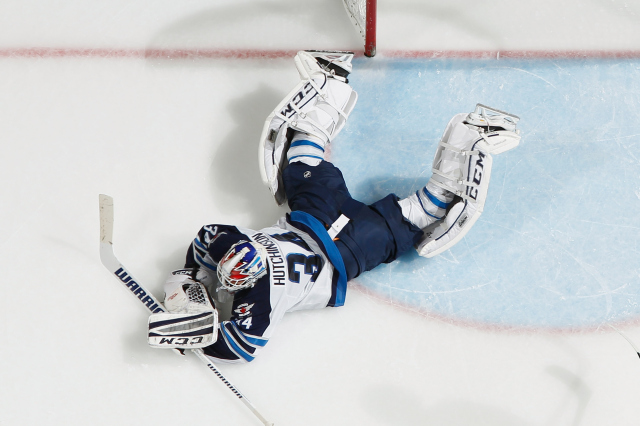 2014-15 Los Angeles Leaders
Total Points: Jeff Carter (11-19=30), Anze Kopitar (8-22=30)
Goals: Tyler Toffoli (12-15=27), Marian Gaborik (12-8=20), Tanner Pearson (12-4=16)
Assists: Anze Kopitar (8-22=30)
Plus/Minus: Tyler Toffoli (+16; 12-15=27)
Penalty Minutes: Mike Richards (39; 5-9=14)
Time On Ice: Drew Doughty (29:14; 4-20=24)
Corsi-For Percentage: Trevor Lewis (59.9%; 6-4=10)
2014-15 Winnipeg Leaders
Total Points: Andrew Ladd (15-18=33)
Goals: Andrew Ladd (15-18=33), Bryan Little (15-16=31)
Assists: Blake Wheeler (11-19=30)
Plus/Minus: Blake Wheeler (+8; 11-19=30)
Penalty Minutes: Dustin Byfuglien (65; 9-13=22)
Time On Ice: Toby Enstrom (25:07; 1-8=9)
Corsi-For Percentage: Blake Wheeler (56.2%; 11-19=30)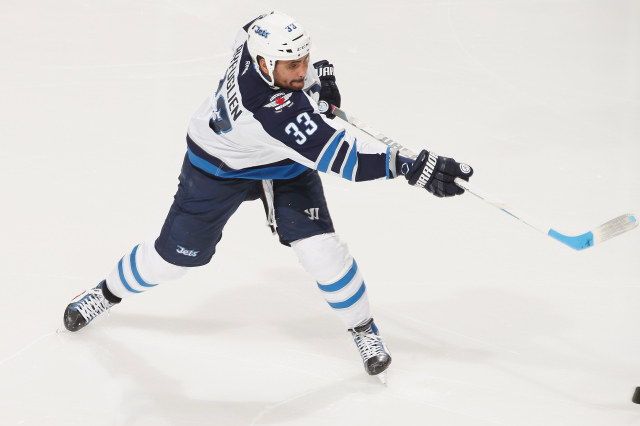 Rankings and Statistics
Goals/Game: LAK – 14 / 2.78; WPG – 24 / 2.49
Goals Against/Game: LAK – t-9 / 2.49; WPG – t-6 / 2.37
Power Play: LAK – t-11 / 19.7%; WPG – 20 / 17.1%
Penalty Kill: LAK – t-22 / 79.0%; WPG – 9 / 83.7%
Shots/Game: LAK – 4 / 31.8; WPG – t-14 / 30.0
Shots Against/Game: LAK – t-8 / 28.0; WPG – 10 / 28.3
Faceoffs: LAK – 10 / 51.2%; WPG – 21 / 48.7%
Save Percentage: LAK – 14 / .911; WPG – t-7 / .916
Corsi-For Percentage: LAK – 2 / 54.6%; WPG – 9 / 52.3%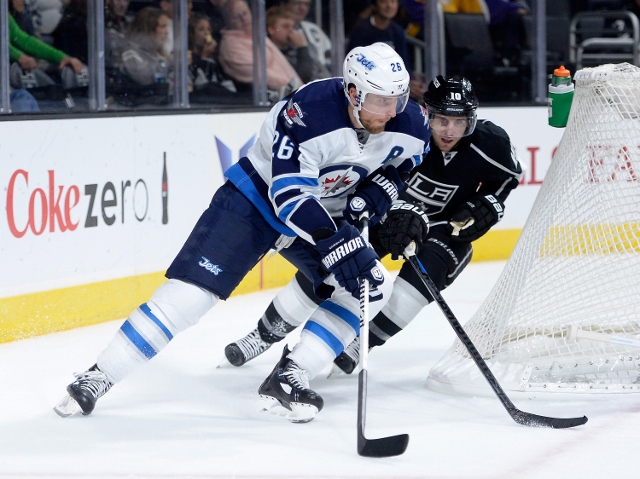 Los Angeles Projected Lineup
Marian Gaborik – Anze Kopitar – Dustin Brown
Tanner Pearson – Jeff Carter – Tyler Toffoli
Dwight King – Jarret Stoll – Justin Williams
Kyle Clifford – Mike Richards – Trevor Lewis
Brayden McNabb – Drew Doughty
Jeff Schultz – Alec Martinez
Jake Muzzin – Matt Greene
Jonathan Quick
Martin Jones
Level of confidence in projected lines: B-. Mike Richards is likely to play after skating as an extra yesterday, but there are still questions about how the defense will align. It's tough to predict pairings different from Muzzin-Doughty and Martinez-Greene, but if yesterday'spractice was an indication, it appears as though Brayden McNabb could skate to the left of Drew Doughty. As always, lines and pairings change over the course of the game, and it's still likely that we'll see some of the more familiar partnerships. Jonathan Quick left the ice first and is expected to draw the start.
Notes and milestones: Los Angeles is 11-3-4 all-time against the Winnipeg/Atlanta franchise, a record that includes a 7-0-2 home mark. These teams will conclude their season series on March 1 at the MTS Centre in Winnipeg; The Kings are 1-0-0 after having defeated the Jets 4-1 at Staples Center on October 12. … Los Angeles is 0-1-1 during a season-long seven-game homestand (OTL vs NSH, L vs NYR, 1/10 vs WPG, 1/12 vs TOR, 1/14 vs NJD, 1/17 vs ANA, 1/19 vs CGY). … The Kings are 13-6-6 against the Western Conference and 6-4-2 against the Central Division. … Los Angeles has won five of 20 one-goal games (5-6-9). … The Kings have a 57.7% Corsi-for rating in five-on-five play over the last 21 games (1109 CF / 802 CA). They haven't been outshot over the last 17 games (7-6-4) and have averaged 34.9 shots per game over that span (593 shots / 17 GP). … Los Angeles is 3-for-7 on the penalty kill over the last three games. … The Kings have allowed three goals within a six-minute span six times in the last 12 games. … Los Angeles is 2-9 in games that extend past 60 minutes and has lost five consecutive shootouts. L.A. shooters are 2-for-21 on the season in the shootout and have been denied on the last 15 attempts since Marian Gaborik's shootout goal in Anaheim on November 12. … With 899 home wins, the Kings will be vying for the 900th home win in franchise history. … Anze Kopitar has points in eight of the last 10 games (2-14=16). … Jeff Carter has 11 points in the last 10 games. He is slated to play his 100th consecutive regular season game. … Jonathan Quick has an .882 save percentage (335 saves / 380 shots) over his last 17 games. … Marian Gaborik has 25 points (10-15=25) in 23 career games against Winnipeg/Atlanta. … Anze Kopitar has nine points (5-4=9) in nine career games against Winnipeg/Atlanta. … Tyler Toffoli has three points (2-1=3) in three career games against Winnipeg. … Tanner Pearson has three points (1-2=3) in two career games against Winnipeg. … Dustin Brown has recorded assists in three straight games (0-4=4).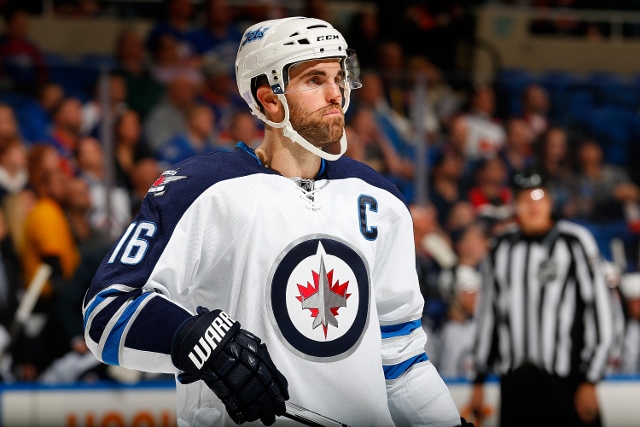 Winnipeg Projected Lineup
Andrew Ladd – Bryan Little – Blake Wheeler
Mathieu Perreault – Mark Scheifele – Michael Frolik
Evander Kane – Adam Lowry – Matt Halischuk
Chris Thorburn – Jim Slater – Anthony Peluso
Toby Enstrom – Zach Bogosian
Ben Chiarot – Dustin Byfuglien
Mark Stuart – Jay Harrison
Michael Hutchinson
Ondrej Pavelec
Notes and milestones: Lines via NHL.com correspondent Curtis Zupke … Earlier today, Winnipeg assigned forward Patrice Cormier and defenseman Keaton Ellerby to AHL-St. John's and activated defensemen Tobias Enstrom (lower body / IR retroactive to November 24 / missed 19 games) and Mark Stuart (lower body / IR retroactive to December 17 / missed 9 games) and forward Evander Kane (lower body / IR retroactive to December 17 / missed 9 games). … The Jets, who play tomorrow in Anaheim, are 2-2-0 in the first game of back-to-back sets. Los Angeles and Winnipeg are tied for the fewest back-to-back sets in the NHL with 10. … The Jets are 5-1-3 in their last nine road games. … Winnipeg is a cumulative 36-26-12 under Paul Maurice, who was hired on January 12, 2014. Maurice has 498 wins as an NHL head coach. … The Jets are 9-10-3 against the Western Conference and 2-6-1 against the Pacific Division. … Winnipeg averages 14.0 penalty minutes per game, the second highest average in the league. … Captain Andrew Ladd has points in four straight games (3-3=6). … Since the beginning of December, Mathieu Perreault has 15 points (8-7=15) in 16 games. … With 199 career assists, Blake Wheeler's next assist will be the 200th of his career. … Evander Kane, selected one spot before the Kings took Brayden Schenn fifth overall in 2009, has nine points (4-5=9) in six career games against Los Angeles. … Forward Mark Scheifele was a teammate of Tanner Pearson with the OHL's Barrie Colts from 2010-12. … Goaltender Michael Hutchinson appeared in 28 games with ECHL-Ontario last season.