In addition to Darryl Sutter and members of the coaching and equipment staffs, the Los Angeles Kings will send three players to All-Star Weekend, held January 24-25 in Columbus, Ohio.
Drew Doughty and Anze Kopitar were selected by the NHL to participate in the All-Star Game on Sunday, January 25, while both, as well as rookie Tanner Pearson, will compete in the skills competition the prior evening. Pearson was one of six rookies selected by NHL hockey operations and will not take part in the actual All-Star Game.
Kopitar will participate in his third All-Star Game; Doughty's nomination is his first. The Kings haven't sent multiple players to the All-Star Game since 2002, when they hosted the event and Jaroslav Modry and Ziggy Palffy represented the club.
Doughty enters tonight with four goals and 24 points in 41 games, while Kopitar has eight goals and 30 points in 38 games. Amongst rookies, Pearson ranks seventh with 16 points and fourth with 12 goals.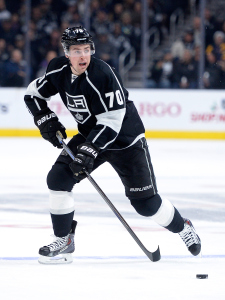 Along with several other reporters, I spoke earlier today with Pearson about a hypothetical inclusion in the rookie skills competition portion of the All-Star Game.
"I was a big hockey fan growing up obviously and I watched every year and I kind of looked forward to watching how good these guys are," he said.
And many experienced All-Star Game viewers will tell you that the skills competition on the eve of the game is the best part of the entire weekend.
"Oh, 100-percent, I think it still is," Pearson said. "I think, especially when you're a younger kid, you watch and you see how good these guys really are at whether it's skating or skills or stick handling. It's pretty cool watching these guys."
Which player has the hardest shot? Whose shots are the most accurate? Three years ago, when the last All-Star Game held, we learned the very important piece of information that Jonathan Quick was, well, quicker on skates than Jimmy Howard.
The potential of playing in the skills competition struck up some of Pearson's fond childhood memories.
"The sports stores always sold the targets that they used [in the accurate shot contest] and every five pucks you were back putting them back up. It was kind of annoying, but I don't know what I would want to do. It's probably something along shooting accuracy. I don't think I'd want to do fastest skater."
I'll catch up with Kopitar and Doughty in the coming days to get their perspectives, but before then, here's more of Sutter's thoughts of his upcoming Columbus trip.
Darryl Sutter, on coaching in the All-Star Game:
You know, I've said this – it's got nothing to do with me as a coach. I've said it lots. The best four coaching staffs are the last four standing every year, and they don't get any recognition for it. The guys who get recognized are guys who have a Cinderella year or guys who are good interviews or something like that. They're the guys who get that. But just look at next door with Paul (Maurice), how many playoff games he's coached. That's what it's all about. The playoff games that coaches have are what only makes it worthwhile. So anything like the All-Star Game in it, it's for the last year. I mean, there hasn't been one for three or four years. I think all our players should be on the team. They played more hockey than anybody else for three years since there was one. Everybody in this dressing room, and guys who have been on it, whether they're Willie in Florida or Simon in Boston, all those guys – Colin Fraser – all those guys should get to play in the All-Star Game, because unless you've done it, you don't understand. What I'll be interested in is in the All-Star Games, how many guys have actually won it, when you look at it? It's a big thing. How many guys have won the Stanley Cup. And you even look at a boy like Drew, who plays 30 minutes, and I think he was on a selection – meaning at the end of the year – being named to the All-Star team, but for somebody like Drew, who should play in the All-Star Game, I don't know if he's played in one. And he should. I know it's the way it's worked because of the lockout and because of the Olympics that there hasn't been one, but still, you know what? For somebody like me to go there as an older guy, I'd probably learn something. And maybe some of the guys who've never won a championship that are going there, maybe they can learn something, too.
2015 NHL All-Stars:
Forwards
Ryan Getzlaf, Anaheim Ducks
Patrice Bergeron, Boston Bruins
Zemgus Girgensons, Buffalo Sabres
Corey Crawford, Chicago Blackhawks
Patrick Kane, Chicago Blackhawks
Duncan Keith, Chicago Blackhawks
Brent Seabrook, Chicago Blackhawks
Jonathan Toews, Chicago Blackhawks
Nick Foligno, Columbus Blue Jackets
Ryan Johansen, Columbus Blue Jackets
Tyler Seguin, Dallas Stars
Ryan Nugent-Hopkins, Edmonton Oilers
Anze Kopitar, Los Angeles Kings
Patrik Elias, New Jersey Devils
John Tavares, New York Islanders
Rick Nash, New York Rangers
Bobby Ryan, Ottawa Senators
Claude Giroux, Philadelphia Flyers
Jakub Voracek, Philadelphia Flyers
Sidney Crosby, Pittsburgh Penguins
Evgeni Malkin, Pittsburgh Penguins
Vladimir Tarasenko, St. Louis Blues
Steven Stamkos, Tampa Bay Lightning
Tyler Johnson, Tampa Bay Lightning
Phil Kessel, Toronto Maple Leafs
Radim Vrbata, Vancouver Canucks
Alex Ovechkin, Washington Capitals
Defensemen
Oliver Ekman-Larsson, Arizona Coyotes
Mark Giordano, Calgary Flames
Justin Faulk, Carolina Hurricanes
Erik Johnson, Colorado Avalanche
Drew Doughty, Los Angeles Kings
Ryan Suter, Minnesota Wild
Shea Weber, Nashville Predators
Brent Burns, San Jose Sharks
Kevin Shattenkirk, St. Louis Blues
Dustin Byfuglien, Winnipeg Jets
Goaltenders
Sergei Bobrovsky, Columbus Blue Jackets
Jimmy Howard, Detroit Red Wings
Roberto Luongo, Florida Panthers
Carey Price, Montreal Canadiens
Pekka Rinne, Nashville Predators
Rookies
Johnny Gaudreau, Calgary Flames
Aaron Ekblad, Florida Panthers
Tanner Pearson, Los Angeles Kings
Filip Forsberg, Nashville Predators
Mike Hoffman, Ottawa Senators
Jonathan Drouin, Tampa Bay Lightning
Kings at the All-Star Game:
1968 – Eddie Joyal (did not play), Terry Sawchuk
1969 – Bill White
1970 – Bill White
1971 – Bill Flett
1972 – Ross Lonsberry
1973 – Bob Berry, Terry Harper, Gilles Marotte, Rogie Vachon
1974 – Bob Berry
1975 – Terry Harper, Bob Murdoch, Rogie Vachon
1976 – Marcel Dionne
1977 – Marcel Dionne
1978 – Marcel Dionne, Rogie Vachon
1979 – No Game (Marcel Dionne represented Los Angeles in the Challenge Cup)
1980 – Marcel Dionne, Butch Goring (replaced injured Charlie Simmer), Mike Murphy (replaced injured Dave Taylor)
1981 – Marcel Dionne, Mario Lessard, Charlie Simmer, Dave Taylor
1982 – Dave Taylor
1983 – Marcel Dionne
1984 – Bernie Nicholls (replaced injured Marcel Dionne), Charlie Simmer
1985 – Marcel Dionne
1986 – Dave Taylor
1987 – No Game (Rendes-Vouz '87 replaced the All-Star Game; no Kings participated)
1988 – Luc Robitaille
1989 – Steve Duchesne, Wayne Gretzky, Bernie Nicholls, Luc Robitaille
1990 – Steve Duchesne, Wayne Gretzky, Bernie Nicholls, Luc Robitaille
1991 – Wayne Gretzky, Luc Robitaille, Tomas Sandstrom
1992 – Wayne Gretzky, Larry Robinson, Luc Robitaille
1993 – Wayne Gretzky, Jari Kurry, Luc Robitaille
1994 – Rob Blake, Wayne Gretzky, Dave Taylor
1995 – No Game
1996 – Wayne Gretzky
1997 – Dmitri Khristich (replaced an injured Rob Blake)
1998 – None
1999 – Rob Blake, Mattias Norstrom, Luc Robitaille
2000 – Rob Blake
2001 – Rob Blake, Ziggy Palffy, Luc Robitaille
2002 – Jaroslav Modry, Ziggy Palffy
2003 – Mathieu Schneider
2004 – Mattias Norstrom (replaced injured Ziggy Palffy)
2005 – No Game
2006 – No Game
2007 – Lubomir Visnovsky
2008 – Anze Kopitar
2009 – Dustin Brown
2010 – No Game
2011 – Anze Kopitar
2012 – Jonathan Quick
2013 – No Game
2014 – No Game
2015 – Anze Kopitar, Drew Doughty, Tanner Pearson (Rookie Skills Competition)
Bolded All-Star Games were hosted by the Kings. The only King to be named an All-Star Game MVP was Wayne Gretzky in 1989.