While we're on the subject of the All-Star Game, there was this piece of information, which surfaced yesterday: Jordan Weal, Nick Shore, Brian O'Neill and Colin Miller will represent the Eastern Conference at the 2015 AHL All-Star Classic, which like the NHL All-Star Game will take place the weekend of January 25-26. The AHL event will be held at the Utica Memorial Auditorium, home of the Utica Comets (Vancouver Canucks).
While Manchester led all AHL teams with four players selected, there was the curious omission of J.F. Berube, who is 19-4-2 with a 1.99 goals-against average and .923 save percentage for the Monarchs, who lead the AHL with 52 points. The bemusement was shared by the club's hockey operations staff when we chatted yesterday, though there was pride in the fact that four skaters will represent the team on a high stage.
Those skaters:
Jordan Weal
Position: C
Birthdate: April 15, 1992
Birthplace: North Vancouver, BC
Last Amateur Club: Regina Pats
Height, Weight: 5'10, 171 pounds
Drafted: 2010 (3rd / 70th)
2014-15 AHL Stats: 35 GP, 11 G, 22 A, 33 Pts, +4
Career AHL Stats: 183 GP, 49 G, 88 A, 137 Pts, +40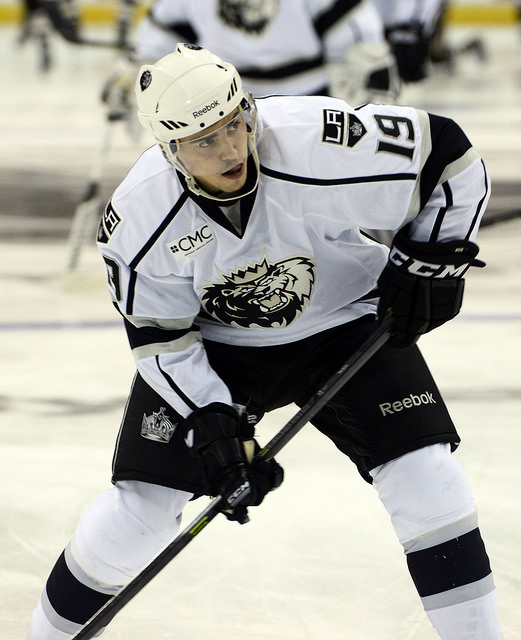 Brian O'Neill
Position: RW
Birthdate: June 1, 1988
Birthplace: Yardley, PA
Last Amateur Club: Yale Bulldogs
Height, Weight: 5'8, 165 pounds
Drafted: Undrafted
2014-15 AHL Stats: 35 GP, 10 G, 32 A, 42 Pts, +17
Career AHL Stats: 156 GP, 40 G, 66 A, 106 Pts, +49
-O'Neill leads all AHL Skaters in points and assists.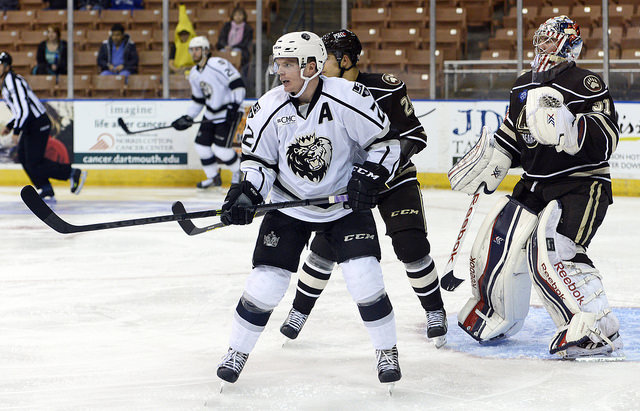 Colin Miller
Position: D
Birthdate: October 29, 1992
Birthplace: Sault Ste. Marie, ON
Last Amateur Club: Soo Greyhounds
Height, Weight: 6'0, 195 pounds
Drafted: 2012 (5th / 151st)
2014-15 AHL Stats: 30 GP, 7 G, 15 A, 22 Pts, +3
Career AHL Stats: 95 GP, 12 G, 27 A, 39 Pts, +8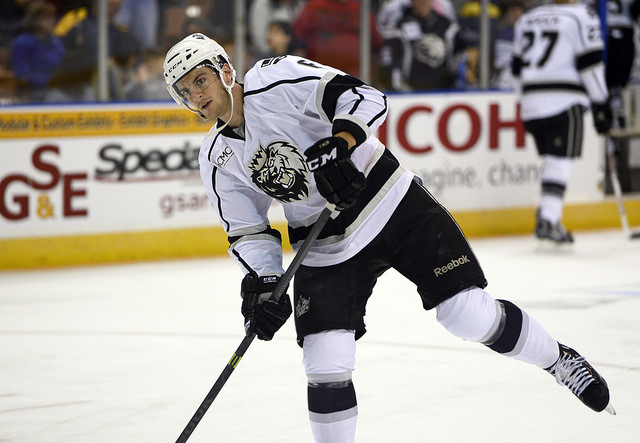 Nick Shore
Position: C
Birthdate: September 26, 1992
Birthplace: Denver, CO
Last Amateur Club: Denver University
Height, Weight: 6'1, 195 pounds
Drafted: 2011 (3rd / 82nd)
2014-15 AHL Stats: 36 GP, 19 G, 19 A, 38 Pts, +23
Career AHL Stats: 104 GP 33 G, 43 A, 76 Pts, +41
-Photos via Blake Gumprecht