Los Angeles Kings (12-6-5) vs Chicago Blackhawks (14-8-1)
Saturday, November 29, 2014, 7:00 p.m. PT
Staples Center, Los Angeles, CA
Referees: #3 Mike Leggo, #43 Tom Chmielewski
Linesmen: #55 Shane Heyer, #84 Tony Sericolo
Fox Sports West, NHL Network, KABC 790 AM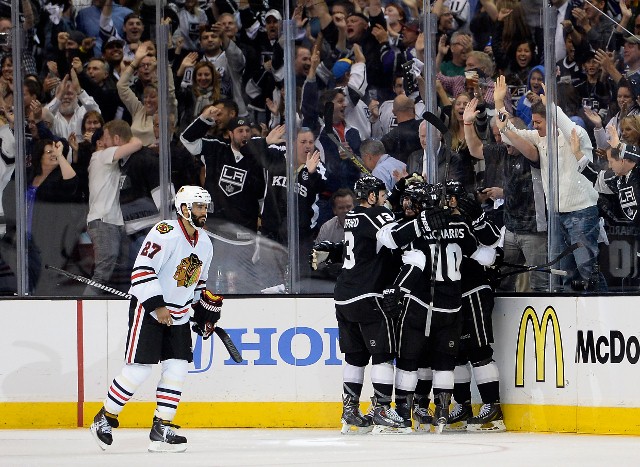 Los Angeles Projected Starting Goaltender – Jonathan Quick
2014-15: 18 GP (18 GS) / 10-4-4 record / 2.22 GAA / .932 Sv% / 2 SHO
Career vs Chicago: 19 (18) / 6-12-1 / 2.76 / .910 / 2
Last Game vs Chicago: 2/3/14 / 59 MP / 25-30 shots / 3-5 L
2014-15, Home: 11 (11) / 9-1-1 / 1.47 / .951 / 2
Chicago Projected Starting Goaltender – Corey Crawford
2014-15: 17 GP (17 GS) / 11-5-1 record / 1.92 GAA / .928 Sv% / 1 SHO
Career vs Los Angeles: 9 (9) / 6-3-0 / 2.74 / .906 / 0
Last Game vs Los Angeles: 2/3/14 / 60 MP / 31-34 shots / 5-3 W
2014-15, Away: 9 (9) / 6-3-0 / 2.00 / .931 / 1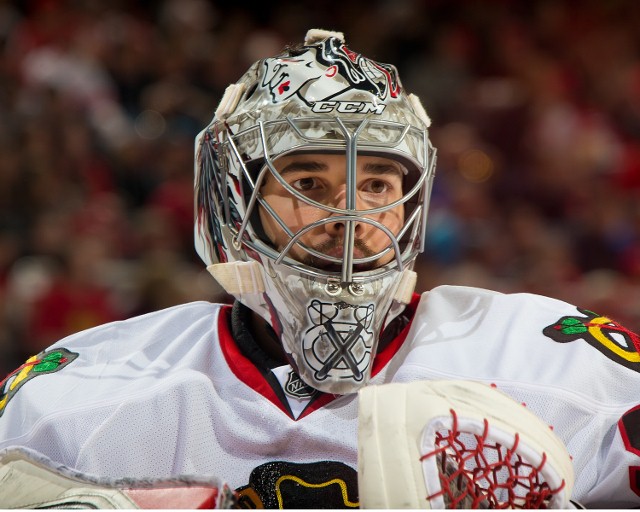 2014-15 Los Angeles Leaders
Total Points: Tyler Toffoli (9-10=19)
Goals: Tyler Toffoli (9-10=19), Tanner Pearson (9-3=12)
Assists: Jeff Carter (7-11=18), Drew Doughty (2-11=13)
Plus/Minus: Tyler Toffoli (+13; 9-10=19)
Penalty Minutes: Matt Greene (36; 1-1=2)
Time On Ice: Drew Doughty (29:01; 2-11=13)
Corsi-For Percentage: Jake Muzzin (60.5%; 1-9=10)
2014-15 Chicago Leaders
Total Points: Patrick Kane (10-13=23)
Goals: Patrick Kane (10-13=23), Patrick Kane (10-9=19)
Assists: Patrick Kane (10-13=23)
Plus/Minus: Kris Versteeg (+8; 7-9=16), Niklas Hjalmarsson (+8; 1-5=6)
Penalty Minutes: Andrew Shaw (19; 5-4=9)
Time On Ice: Duncan Keith (25:29; 5-10=15)
Corsi-For Percentage: Patrick Sharp (68.6%; 3-6=9)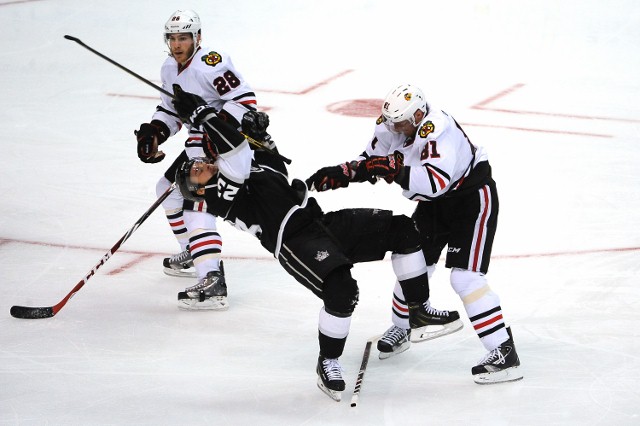 Rankings and Statistics
Goals/Game: LAK – 13 / 2.74; CHI – t-8 / 2.91
Goals Against/Game: LAK – 5 / 2.17; CHI – 2 / 2.04
Power Play: LAK – 20 / 17.1%; CHI – 13 / 19.6%
Penalty Kill: LAK – t-10 / 83.9%; CHI – 1 / 90.9%
Shots/Game: LAK – 16 / 30.0; CHI – 1 / 36.6
Shots Against/Game: LAK – 23 / 31.7; CHI – 5 / 27.7
Faceoffs: LAK – 9 / 51.9%; CHI – t-4 / 52.4%
Save Percentage: LAK – 1 / .931; CHI – t-4 / .925
Corsi-For Percentage: LAK – 17 / 50.0%; CHI – 1 / 57.4%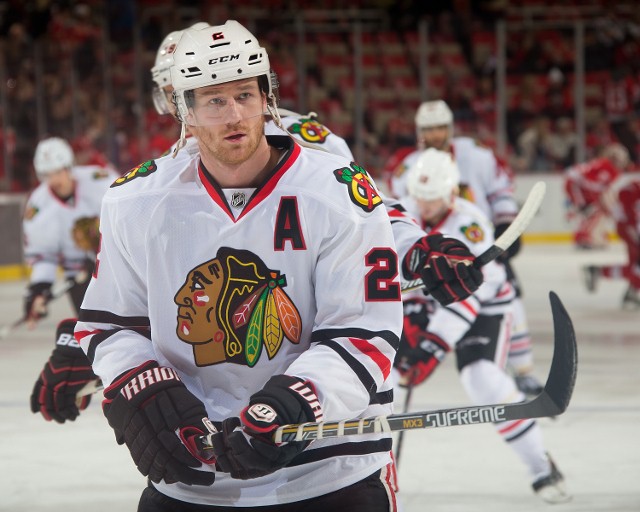 Los Angeles Projected Lines
Marian Gaborik – Anze Kopitar – Tyler Toffoli
Tanner Pearson – Jeff Carter – Trevor Lewis
Dustin Brown – Jarret Stoll – Justin Williams
Kyle Clifford – Mike Richards – Dwight King
Jake Muzzin – Drew Doughty
Brayden McNabb – Matt Greene
Robyn Regehr – Jamie McBain
Jonathan Quick
Martin Jones
Level of confidence in projected lines: B. Martin Jones was the only goalie on the ice at the morning skate, so no hints were left as to who would start tonight. Jones is coming off a shutout, but Darryl Sutter had said the plan was to get Quick a full six nights off before returning to action, so I'm projecting Quick. Jeff Carter and Drew Doughty did not take the ice for the morning skate, so no real line rushes were held. Alec Martinez has been drawing closer, though Tuesday is a likelier target for his return. Don't expect much of a change in personnel or alignment following a 4-0 road win.
Notes and milestones: The Kings are 77-84-22 against the Blackhawks, a record that includes a home mark of 40-39-11. This is the first meeting between the teams since last season's seven-game Western Conference Final series; they'll meet again on January 28 in Los Angeles and March 30 in Chicago. … The Kings are 8-3-3 against the Western Conference and 5-2-1 against the Central Division. … Los Angeles has averaged 3.56 over the last nine games (32 GF / 9 GP). … The Kings have the most points (21) and wins (10) at home in the NHL. … Tyler Toffoli has points in 10 of 15 regular season and playoff games against the Blackhawks, totaling 13 points (7-6=13). He has a 57.3% Corsi-for percentage versus Chicago (188 CF; 140 CA) over that span. … Justin Williams has points in six straight games (3-4=7). … Brayden McNabb has a career-long three-game point/assist streak (0-3=3). … Jamie McBain (1-1=2) has points in two straight games. … Dustin Brown and Anze Kopitar are one game-winning goal from surpassing Mike Murphy and Butch Goring for fifth place on the club's all-time list and tying Rob Blake for fourth place. … Drew Doughty (61-173=234) is tied with Marty McSorley for fifth place on the club's all-time defensemen scoring list . … With 198 career assists, Mike Richards is two assists from 200 in his career.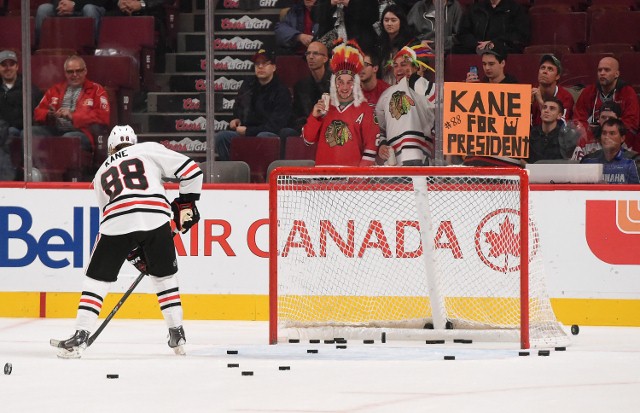 Chicago Projected Lines
Brandon Saad – Jonathan Toews – Marian Hossa
Kris Versteeg – Brad Richards – Patrick Kane
Bryan Bickell – Andrew Shaw – Daniel Carcillo
Joakim Nordstrom – Marcus Kruger – Ben Smith
Duncan Keith – Brent Seabrook
Johnny Oduya – Niklas Hjalmarsson
Michal Rozsival – David Rundblad
Corey Crawford
Antti Raanta
Notes and milestones: Patrick Sharp (knee) and Trevor Van Riemsdyk (knee) are injured. … The Blackhawks are 7-5-1 against the Western Conference and 4-2-1 against the Pacific Division. … Chicago is 4-1-0 on their six-game road trip through the Western Conference. … The Blackhawks, who defeated the Ducks yesterday, are 1-2-0 on the second game of back-to-back sets. … Chicago swept the regular season series last year (3-0-0). … The Blackhawks' +23 goal differential is the best in the Western Conference. … Chicago's 7.5 penalty minutes per game trails only Nashville (7.2). … Six of the Blackhawks' eight regulation losses have been by one goal. … Patrick Kane has recorded at least two points in four of five games on the current road trip. … Brent Seabrook has a career-high seven-game point streak (2-5=7). … Kris Versteeg has nine points (3-6=9) over the past six games. … Brandon Saad is slated to play in his 150th career game. … With 148 career assists, Kris Versteeg is two assists shy of 150. …Daniel Carcillo recorded two points (1-1=2) in 26 games with Los Angeles in 2013-14.