Regression. Is it happening? Yeah, it looks like it's happening. Sure, the Kings beat some impressive teams as part of the first 6-0-0 home stand in club history, but let's face it, it wasn't the best six-game home stretch in club history. The team was able to shelter some of its players who were still sanding off some of the sharper edges in their game and banked on several performances from individuals who were going to face tougher sledding without the benefit of the last line change. As Darryl Sutter famously remarked, "It's not always whether you win or lose. It's whether you're winning or losing." The Kings weren't playing particularly poorly on the home stand, but they weren't quite playing at a 6-0-0 level. So, let's talk PDO.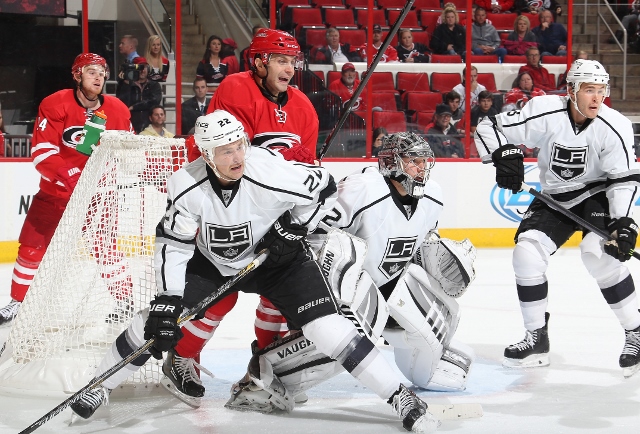 What is PDO? PDO is the very basic addition of a team's even strength shooting percentage and save percentage. It can be used to evaluate the fortunes of when an individual player is on the ice as well as a team's performance over any swath of games. It could be the most accurate statistic applicable to calculating how "lucky" a player or team is, if that's even possible. It's not my favorite of the #fancystats, but it's worth keeping an eye on every now and then, and it certainly foretold the Toronto Maple Leafs' plummet last season (not that you needed an advanced stat to measure that, considering how that team was getting heavily out-shot virtually every game).
Anyway, take a look at the Kings' PDO between the home stand and the current trip:
WPG – 109.6
EDM – 120.0
STL – 100.0 (1.000% Sv% + 0.0% Sh% = 100.0)
MIN – 110.1
BUF – 105.1
CBJ – 110.2
___________________________________________
@ PHI – 98.0
@ PIT – 87.0
@ DET – 92.6
@ CAR – 96.9
That's not to say that the Kings are "unlucky" on this trip. The Kings' recent swing can be traced to several factors, among them:
1) They were getting away with some suspect play on the home stand through their ability to protect certain players through match-ups and Jonathan Quick's outstanding play
2) There are still quite a few players whose individual performances have not yet rounded into form
Yesterday I asked Sutter whether the team's offensive challenges were due in part to not generating second and third chances, and his response was "We've got a lot of guys that haven't scored this year." Forwards who haven't scored: Marian Gaborik, Kyle Clifford, Andy Andreoff, Trevor Lewis, Jarret Stoll, Jordan Nolan. Forwards with one goal: Justin Williams, Dustin Brown, Dwight King.
Sutter will also be one to remind you that it's hard to win when allowing three goals in any game. We all remember his "six, seven, four, three, zero, one" response when asked what he attributed the Kings' first round turnaround to prior to Game 7 in San Jose. This trip? Three, three, five, three. When Team X allows three goals a game, it's going to lose more than 50% of the time. When the Kings allow three goals in a game – and are still trying to enhance individual performances early in the season – they're going to struggle stringing together wins.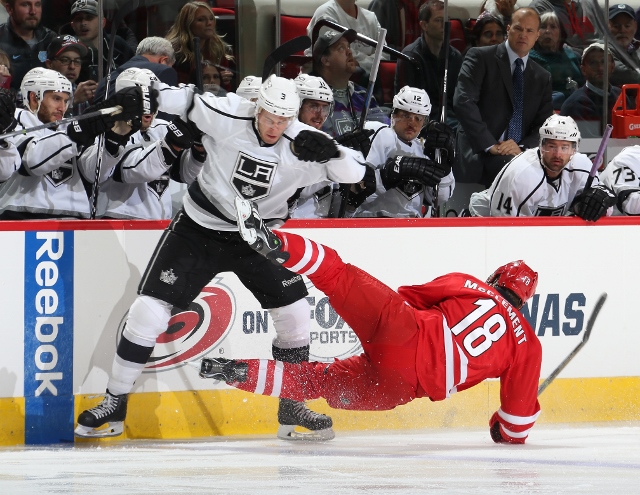 It's going to take some time for Marian Gaborik and Anze Kopitar to rekindle what they had built up last spring. A frustrating aspect about Gaborik's recent injury was that it had appeared that he was beginning to take a step forward after an injury-halted preseason; in the Winnipeg game he was consistently dangerous and led the team with seven shot attempts, and then he was immediately back on the mend and then Anze Kopitar was out for a week and the Kings were back to square one. The two were dangerous on their first shift and had their moments, but it's going to take some time for them to build up what they're capable of.