Los Angeles Kings (6-1-2) at Pittsburgh Penguins (5-2-1)
Tuesday, October 30, 2014, 4:00 p.m. PT
CONSOL Energy Center, Pittsburgh, PA
Referees: #40 Steve Kozari, #18 Greg Kimmerly
Linesmen: #52 Shandor Alphonso, #93 Brian Murphy
FOX Sports West, NHL Network, KABC 790 AM
Kings Weekly to follow Kings Live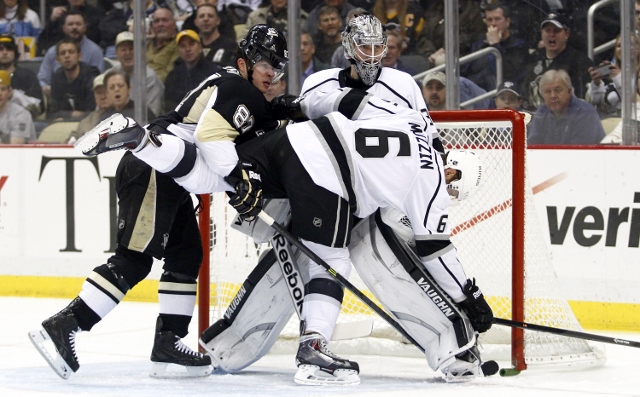 Los Angeles Projected Starting Goaltender – Martin Jones
2014-15: 2 GP (1 GS) / 1-0-0 record / 0.75 GAA / .970 Sv% / 0 SHO
Career vs Pittsburgh: 2 (1) / 1-0-0 / 1.80 / .942 / 0
Last Game vs Pittsburgh: 3/27/14 / 60 MP / 35-37 shots / 3-2 W
2014-15, Away: First game
Pittsburgh Projected Starting Goaltender – Marc-Andre Fleury
2014-15: 7 GP (7 GS) / 5-2-0 record / 2.44 GAA / .912 Sv% / 1 SHO
Career vs Los Angeles: 6 (6) / 4-2-0 / 2.26 / .927 / 0
Last Game vs Los Angeles: 11/5/11 / 65 MP / 24-26 shots / 3-2 W
2014-15, Home: 5 (5) / 3-2-0 / 3.01 / .895 / 0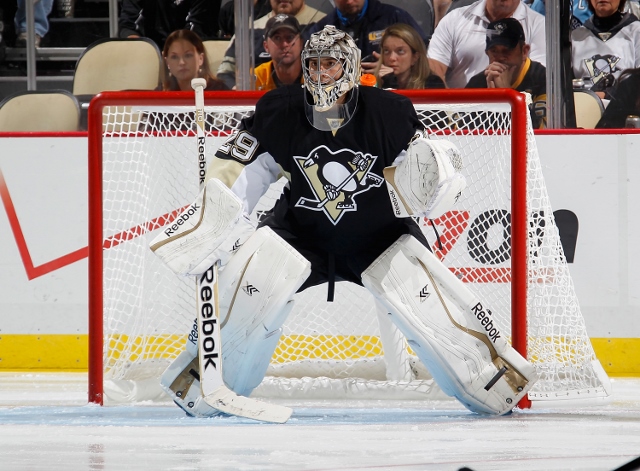 2014-15 Los Angeles Leaders
Total Points: Tyler Toffoli (5-8=13)
Goals: Tanner Pearson (7-2=9)
Assists: Tyler Toffoli (5-8=13)
Plus/Minus: Jeff Carter (+13; 5-7=12)
Penalty Minutes: Mike Richards (25; 1-2=3)
Time On Ice: Drew Doughty (27:19; 0-5=5)
Corsi-For Percentage: Jake Muzzin (62.7%; 0-0=0)
2014-15 Pittsburgh Leaders
Total Points: Sidney Crosby (7-7=14)
Goals: Sidney Crosby (7-7=14)
Assists: Sidney Crosby (7-7=14), Evgeni Malkin (4-7=11)
Plus/Minus: Christian Ehrhoff (+5; 0-2=2)
Penalty Minutes: Steve Downie (21; 1-3=4)
Time On Ice: Kris Letang (24:24; 0-5=5)
Corsi-For Percentage: Patric Hornqvist (66.0%; 5-6=11)
Sidney Crosby, on whether he expects a physical game tonight:

Rankings and Statistics
Goals/Game: LAK – 18 / 2.56; PIT – 1 / 4.12
Goals Against/Game: LAK – t-1 / 1.67; PIT – 17 / 2.78
Power Play: LAK – 18 / 17.2%; PIT – 1 / 40.6%
Penalty Kill: LAK – 6 / 86.7%; PIT – t-12 / 81.8%
Shots/Game: LAK – 23 / 28.6; PIT – 7 / 32.1
Shots Against/Game: LAK – 27 / 34.7; PIT – 9 / 28.1
Faceoffs: LAK – 9 / 51.6%; PIT – 6 / 53.1%
Save Percentage: LAK – 1 / .952; PIT – 19 / .902
Corsi-For Percentage: LAK – 18 / 49.7%; PIT – 7 / 52.1%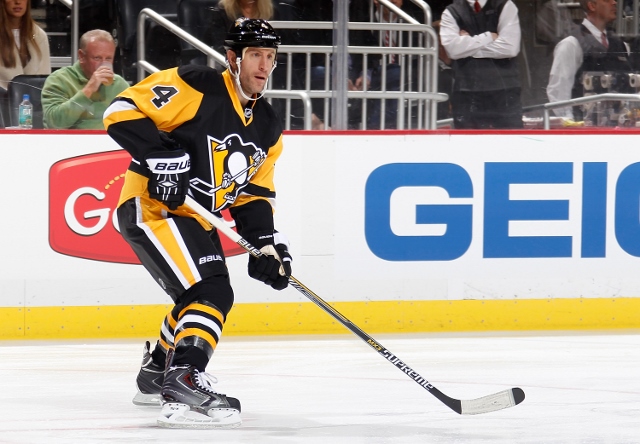 Los Angeles Projected Lines
Tanner Pearson – Jeff Carter – Tyler Toffoli
Dwight King – Mike Richards – Dustin Brown
Kyle Clifford – Jarret Stoll – Justin Williams
David Van der Gulik – Andy Andreoff – Jordan Nolan
Jake Muzzin – Drew Doughty
Robyn Regehr – Alec Martinez
Brayden McNabb – Matt Greene
Martin Jones
Jonathan Quick
Level of confidence in projected lines: A. Martin Jones left the ice first at the morning skate, so he's expected to draw the start in net. Anze Kopitar (upper-body), Trevor Lewis (upper-body) and Marian Gaborik (upper-body) remained on the ice for extra work, so they're almost certainly out. Kopitar and Lewis took part in line rushes as extras, while Gaborik was confined to the neutral zone during rushes.
Notes and milestones: The Kings are 71-58-21 all-time against the Penguins, a record that includes an away mark of 26-40-11. The teams will conclude the season series at Staples Center on March 7, 2015. …. Los Angeles has points in eight straight games (6-0-2). … The Kings have killed off 21 of their last 22 shorthanded situations since Oliver Ekman-Larsson's overtime game-winning power play goal on October 11. Over that span, they have outscored their opponents 2-1 while shorthanded. … Tyler Toffoli has points in four straight games (3-5=8), is tied for third in the league with 13 points (5-8=13), ranks second in the league with a plus-12 rating, and leads the league with two shorthanded goals. … Drew Doughty has points/assists in three straight games (0-3=3). … The line of Tanner Pearson, Jeff Carter and Tyler Toffoli has combined for 34 points (17-17=34) with a plus-34 rating in the last eight games. All three players have had an even-or-better rating in all nine games this season. … Martin Jones has allowed one goal on 33 shots in 79:54 this season. … Dean Lombardi is one point from surpassing Dave Taylor (685 points) for the most points attained as Kings General Manager in club history. … Los Angeles is 0-0-1 on the front end of back-to-back sets this season. They will play in Detroit tomorrow night.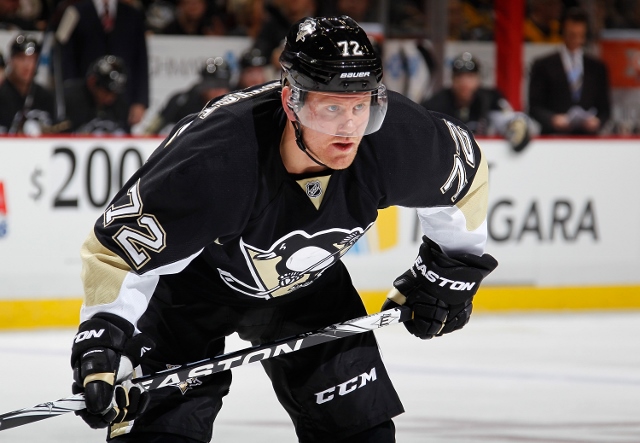 Pittsburgh Projected Lines

Chris Kunitz – Sidney Crosby – Patric Hornqvist
Pascal Dupuis – Evgeni Malkin – Blake Comeau
Nick Spaling – Brandon Sutter – Steve Downie
Zach Sill – Marcel Goc – Craig Adams
Kris Letang – Olli Maatta
Paul Martin – Christian Ehrhoff
Simon Despres – Rob Scuderi
Marc-Andre Fleury
Thomas Greiss

Notes and milestones: Lines via Seth Rorabaugh of the Pittsburgh Post-Gazette … The Penguins have killed off 18 straight penalties over the last five games. … Pittsburgh's plus-11 goal differential through eight games leads the Eastern Conference. … Evgeni Malkin has points in eight straight games this season (4-7=11). … Chris Kunitz has goals in four straight games against Los Angeles. … Seven different Penguins recorded multi-point efforts in an 8-3 win over New Jersey on October 28. … Forward Beau Bennett, a Gardena native and former L.A. Junior King, is expected to miss tonight's game with a lower-body injury. … Penguins defenseman Olli Maatta will undergo surgery next week to remove a tumor from his neck that could be low-grade thyroid cancer. Maatta has been cleared to play until the surgery and could miss up to four weeks. In eight games, the 20-year-old has six points (1-5=6). … In five career games against Los Angeles, Sidney Crosby has seven points (1-6=7). … Defenseman Rob Scuderi appeared in 285 games with the Kings between 2009-13, totaling 47 points (4-43=47) and a plus-four rating.