Good morning, Pittsburgh, and good morning to perhaps the best view out of any hotel room on the NHL circuit.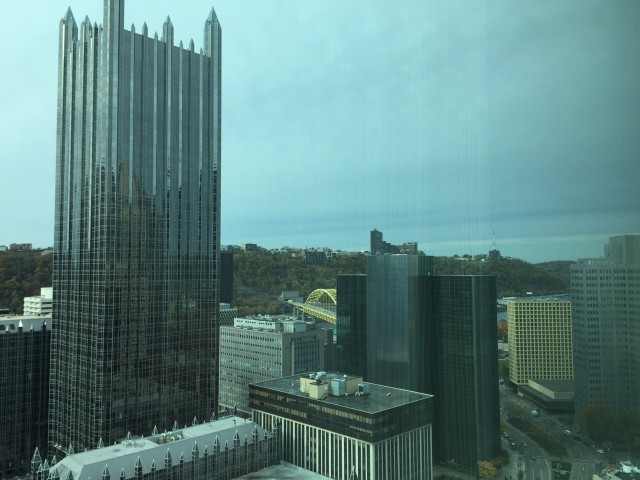 The Kings arrived in Steel City shortly before midnight following a 40-or-so minute flight from Philadelphia. For reasons I did not understand and did not inquire about (some blogger I am), we did not enter downtown Pittsburgh through the Fort Pitt tunnel (which provides a breathtaking view of the three rivers and the Pittsburgh skyline), instead opting for a route through a suburban neighborhood and across a bridge I wasn't as familiar with. We arrived to our wonderful view, only with more flickering lights.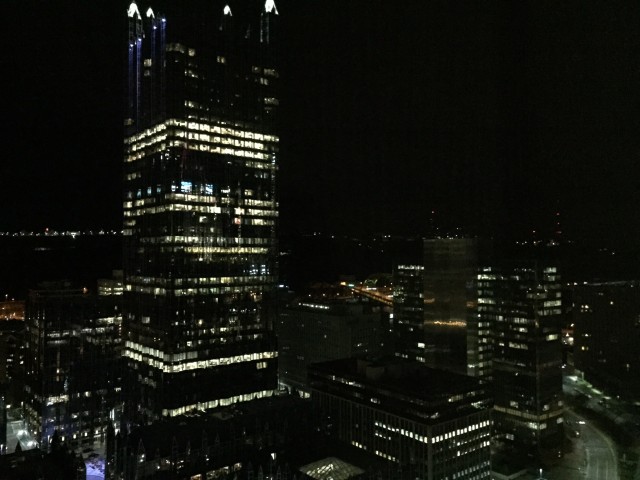 Pittsburgh is a terrific sports city, and we'll have the pleasure of setting up shop somewhere later this evening to watch Game 7 of the World Series. We generally haven't viewed too many major sporting events on the road. I keep looking back at the early spring of 2013 and catching important March Madness games at establishments in St. Paul and Dallas – and I know that in 2012 the club caught Super Bowl XLVI from Tampa – but the broadcasting and production portion of the traveling staff hasn't gathered together to watch a game of this magnitude since then. For what it's worth, we'll almost certainly be in Washington for this year's Super Bowl, which falls on February 1 – one day before the team's likely (at this point unannounced) trip to the White House.
Is there any Treehouse of Horror story better than Citizen Kang? I could literally post any quote from the episode and it would be the best quote out of any Simpsons Halloween special.
After a late arrival, the Kings won't take the ice at the Consol Energy Center until 1:00 p.m. today. As always, LA Kings Insider will have reports from the rink, and we'll see if we can get a prediction on Game 7 from noted baseball fan Darryl Sutter.