Los Angeles Kings (6-1-1) vs Philadelphia Flyers (3-3-2)
Tuesday, October 28, 2014, 4:00 p.m. PT
Wells Fargo Center, Philadelphia, PA
Referees: #49 TJ Luxmore, #13 Dan O'Halloran
Linesmen: #75 Derek Arnell, #77 Tim Nowak
FOX Sports West, KABC 790 AM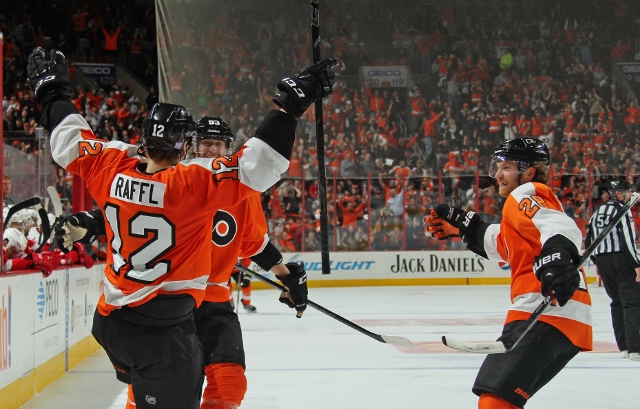 Los Angeles Projected Starting Goaltender – Jonathan Quick
2014-15: 7 GP (7 GS) / 5-1-1 record / 1.61 GAA / .953 Sv% / 2 SHO
Career vs Philadelphia: 7 (6) / 4-2-0 / 1.69 / .938 / 1
Last Game vs Philadelphia: 3/24/14 / 60 MP / 30-32 shots / 3-2 W
2014-15, Away: 1 (1) / 0-0-1 / 2.78 / .925 / 0
Philadelphia Projected Starting Goaltender – Ray Emery
2014-15: 4 GP (3 GS) / 3-0-1 record / 2.60 GAA / .914 Sv% / 0 SHO
Career vs Los Angeles: 6 (4) / 2-1-1 / 1.70 / .947 / 0
Last Game vs Los Angeles: 3/24/14 / 59 MP / 38-41 shots / 2-3 L
2014-15, Home: 2 (2) / 1-0-1 / 2.40 / .933 / 0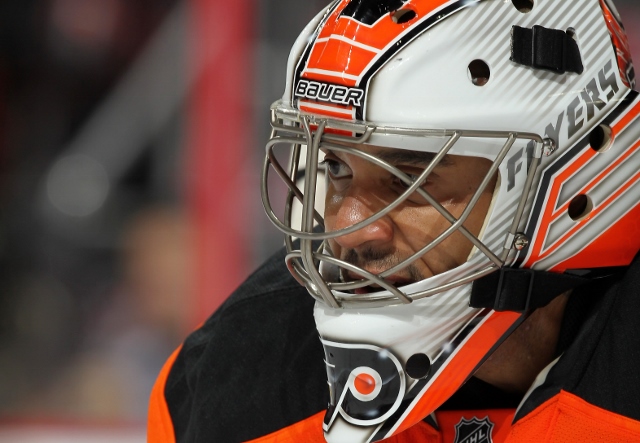 Jarret Stoll, on facing the Flyers:

Wayne Simmonds, on whether he's excited to face the Kings:

2014-15 Los Angeles Leaders
Total Points: Jeff Carter (5-7=12), Tyler Toffoli (4-8=12)
Goals: Tanner Pearson (7-2=9)
Assists: Tyler Toffoli (4-8=12)
Plus/Minus: Jeff Carter (+12; 5-7=12)
Penalty Minutes: Mike Richards (23; 0-2=2)
Time On Ice: Drew Doughty (27:03; 0-4=4)
Corsi-For Percentage: Jake Muzzin (62.50%; 0-0=0)
2014-15 Philadelphia Leaders
Total Points: Jakub Voracek (2-9=11)
Goals: Wayne Simmonds (5-2=7)
Assists: Jakub Voracek (2-9=11)
Plus/Minus: Wayne Simmonds (+5; 5-2=7)
Penalty Minutes: RJ Umberger (7; 1-2=3), Luke Schenn (7; 0-1=1)
Time On Ice: Mark Streit (23:20; 2-6=8)
Corsi-For Percentage: Wayne Simmonds (66.78%; 5-2=7)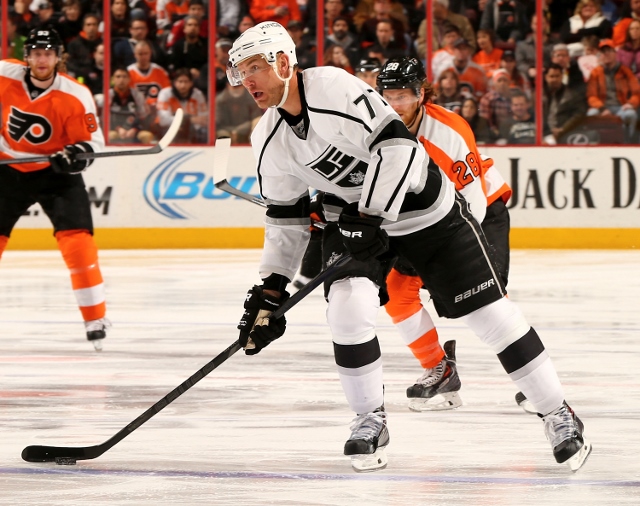 Rankings and Statistics
Goals/Game: LAK – t-15 / 2.62; PHI – t-5 / 3.25
Goals Against/Game: LAK – 1 / 1.50; PHI – t-28 / 3.50
Power Play: LAK – 18 / 18.5%; PHI – 5 / 25.8%
Penalty Kill: LAK – 8 / 85.7%; PHI – 24 / 77.3%
Shots/Game: LAK – 26 / 27.1; PHI – 8 / 31.5
Shots Against/Game: LAK – 26 / 33.6; PHI – 22 / 31.6
Faceoffs: LAK – t-13 / 50.8%; PHI – t-13 / 50.8%
Save Percentage: LAK – 1 / .955; PHI – t-25 / .889
Corsi-For Percentage: LAK – 21 / 49.01%; PHI – 19 / 49.74%
Los Angeles Projected Lines
Tanner Pearson – Jeff Carter – Tyler Toffoli
Dwight King – Mike Richards – Dustin Brown
Kyle Clifford – Jarret Stoll – Justin Williams
Andy Andreoff – x – Jordan Nolan
Jake Muzzin – Drew Doughty
Robyn Regehr – Alec Martinez
Brayden McNabb – Matt Greene
Jonathan Quick
Martin Jones
Level of confidence in projected lines: A-. Because of injuries to Anze Kopitar, Marian Gaborik and Trevor Lewis, and because Slava Voynov's indefinite suspension, the Kings are likely to dress 19 players tonight and would be eligible to apply for an emergency call-up in advance of Thursday's game in Pittsburgh. Jonathan Quick left the ice first at the morning skate and is expected to draw the start against Philadelphia.
Notes and milestones: The Kings are 41-82-16 all-time against the Flyers, a record that includes an away mark of 19-41-8. Los Angeles is currently on a franchise record-tying three-game road winning streak in Philadelphia. The teams will conclude the season series at Staples Center on December 6. … The Kings have won six consecutive games (October 12-26) and have earned points in seven straight (October 11-26). … Los Angeles has tied the most wins (six) and points (13) through their first eight games in team history. … The line of Tanner Pearson, Jeff Carter and Tyler Toffoli has combined for 33 points (16-17=33) and a plus-32 rating in the last seven games. All players have posted an even-or-better rating in all eight games this season. … Jonathan Quick has allowed four goals in his last five games (0.69 GAA) and stopped 165-of-169 shots (.976 SV%). He has also won five consecutive games. … By playing his 362nd game with the Kings tonight, Matt Greene will move past Garry Galley for 14th place overall on the club's all-time games played list by a defenseman.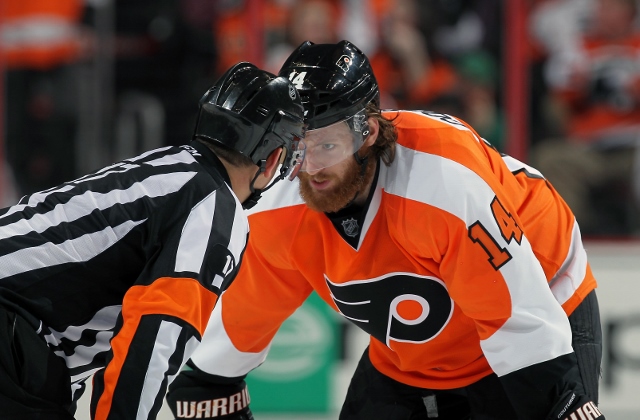 Philadelphia Projected Lines
Michael Raffl – Claude Giroux – Jakub Voracek
Brayden Schenn – Pierre-Edouard Bellemare – Wayne Simmonds
R.J. Umberger – Sean Couturier – Matt Read
Zac Rinaldo – Chris VandeVelde – Jason Akeson
Nicklas Grossmann – Mark Streit
Michael Del Zotto – Nick Schultz
Shayne Gostisbehere – Luke Schenn
Ray Emery
Steve Mason
Notes and milestones: Lines via Adam Kimmelman of NHL.com … The Flyers are without Chris Pronger (LTIR), Kimmo Timonen (LTIR), Ryan White (LTIR), Braydon Coburn (lower-body), Vincent Lecavalier (lower-body) and Andrew MacDonald (lower-body). … Defenseman Shayne Gostisbehere made his NHL debut in a win over Detroit on Saturday. A 2014 NCAA champion with Union College, Gostisbehere recorded one shot in 12:27 of ice time. With a 12-letter last name, Gostisbehere sits behind only John Vanbiesbrouck (13 letters) for the longest last name in Flyers history. … The most penalized team in the NHL last season, Philadelphia has been the second-fewest penalized team in 2014-15, averaging 7.8 penalty minutes per game. … The Flyers have come from behind to tie the game in six of their eight games this season. … Claude Giroux has six points (1-5=6) in seven career games against Los Angeles.