The Kings piled on another win to the Mother Of All Homestands with a 2-0 triumph over the Buffalo Sabres on Thursday in a game that could have featured a wider margin of victory if not for some fine goaltending by Jhonas Enroth and a few missed nets in the first period. Instead of sitting back on a multi-goal lead against an offensively challenged opponent, Los Angeles continued taking the fight to Buffalo with a strong third period in which they piled on an additional 15 shots on goal and continued to dominate the pace and direction of the action. Even though the Kings scored both of their goals on the power play (on only three power play shots), they were the far superior team at even strength; against a team that ranked last in the league by directing only 38.8% of all shot attempts to the attacking net entering the game, this didn't exactly come as a surprise. The game featured a simple and effective first shift. After Dwight King, Anze Kopitar and Dustin Brown worked exclusively in the offensive end and won several boards battles, Kopitar drew an immediate hooking call on Tyler Myers. Seven seconds into his first shift of the game and 36 seconds into the first period, Jeff Carter wristed the puck past Enroth with a screen in front to establish an early lead that the Kings would not relinquish for 59:24 of game action. Draw a penalty, win a faceoff, screen, shot, goal. Simple hockey.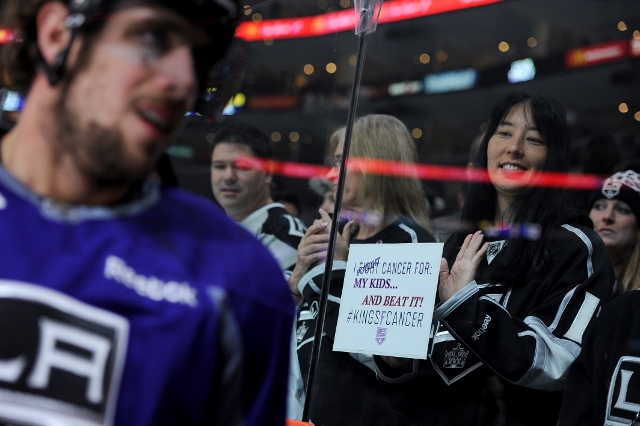 If you've recalled frequent editorials such as Hey Guys This Jake Muzzin Might Be Something, Jeff Carter Is Much More Than Just A Scorer and Dustin Brown Is Unlucky And His Shooting Percentage Should Eventually Rise, you know that WUWTK often repeats itself over the span of eight months. Here's something I feel I'll probably be writing about from time to time in 2014-15: Tyler Toffoli now has the poise and wherewithal that allows his significant creativity to emerge at the NHL level. And I'm not talking about I'm-going-to-tomahawk-this-nine-foot-high-puck-out-of-mid-air-and-see-if-we-could-get-a-goal-out-of-it creativity as we saw in the second period last night. There are some real gifts in his game, and like Carter, he's so much more than just a scorer. His playmaking abilities are coming to light by virtue of the profound chemistry he has built with his linemates, and his soft touch to set up Tanner Pearson for a high quality attempt in the slot during the third period last night was an example of his offensive awareness and the ability to get the puck to areas on the ice where goals are scored. Don't forget this is a player who totaled 170 assists in 252 OHL games and has more assists than goals at the NHL level. Toffoli also has a penalty killing background, and it will be interesting to see if he continues to rise in shorthanded usage amongst the well-populated list of penalty killers at Darryl Sutter's disposal.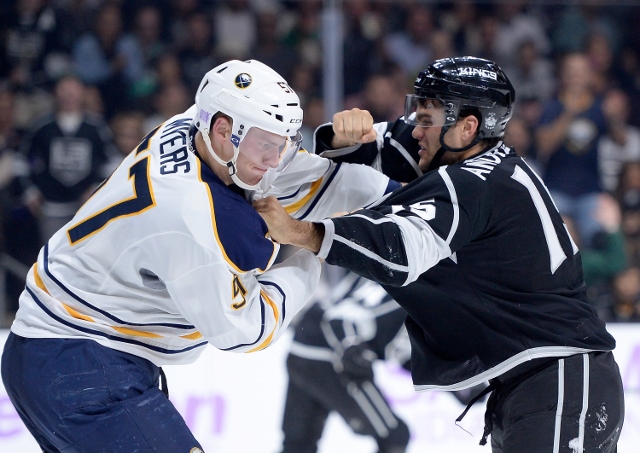 The power play units that saw the most ice time last night? Kopitar-Doughty, Pearson-Carter-Toffoli, and Muzzin-Martinez, King-Richards-Brown.
So, a power play pairing of Kopitar and Doughty, eh?
FWIW, Darryl noted that Kopitar's usage on the point was to keep him on the power play, and that he's still comfortable playing the half-wall on that side of the ice when used as such. He manned the point at times during Slovenia's power plays in Sochi. The Andreoff-Stoll-Williams line also earned a power play shift but didn't threaten much.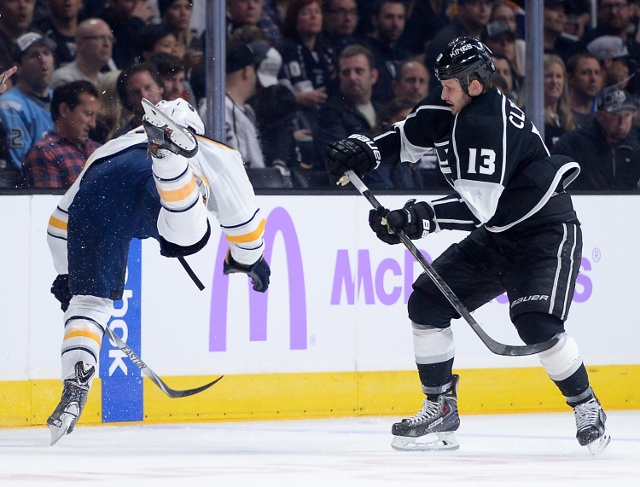 Congratulations on your 33rd career shutout, Jonathan Quick. Another record in the Kings' books, another Dustin Brown reference to "Quickie being Quickie," and another postgame press conference in which the humble and extraordinarily talented goaltender deferred credit to those around him. There were more references to Sunday's game against Columbus than there were to his individual performance against Buffalo, so he's obviously in mid-season parking-and-riding form. The next club record to fall would appear to be Rogie Vachon's 389 games played by a Kings goalie. With 341 games under his belt, he should reach that mark by mid-to-late winter, should he remain healthy.