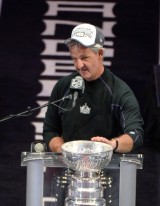 For all the talk of the Kings being a team built for the playoffs, they've won regular season games more consistently under Darryl Sutter than any other coach in club history.
"It's part and parcel with the team, not with me," Sutter said. "It's a good team."
While that's certainly true, there have been other talented teams in Kings history guided by other quality coaches. But Sutter's .613 winning percentage as Kings coach is the highest registered mark amongst all qualifying coaches in club history and is above his winning percentages with Chicago (.569), San Jose (.529) and Calgary (.581).
His next win will be his 100th as a King. The Kings coach to reach 100 wins faster than any other coach was Terry Murray, who recorded his 100th win in his 197th game. With a cumulative record of 99-58-25, Tuesday's game against the Edmonton Oilers will be his 183rd game in Los Angeles.
"I think his whole thing is attitude and emotion," Matt Greene said. "That's what he tries to push off for us and it was a big change when he came in, just in terms of that – his attitude and the way he approaches the game and the way he approaches practices. But in terms of X's and O's, [there's] nothing drastically different, just the emotional side of things."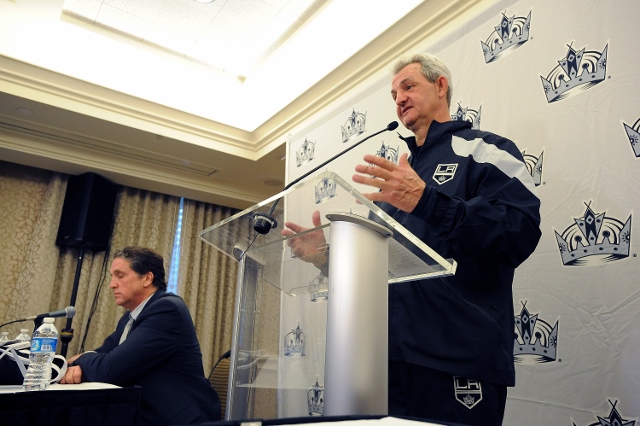 Emotion. Pace of play. The Kings get up and down the ice faster in practices and with a greater purpose, a higher energy. The Kings experienced successful regular seasons under Murray, but under Sutter, there's a greater impetus to work quickly, to practice quickly.
"He's intense. That's it," Matt Greene said. "I think that's what you need when you have a coaching change. The guy is going to come in and establish his personality and I think he did that. He just brought some intensity to the skates."
Said Sutter: "It's something that I think's important is the pace of your practice…I think that was one of the biggest adjustments that I know when I came here that I wanted the team to practice at a higher pace, so that means there's a fast lane and a slow lane, and I get over in that [slow lane]."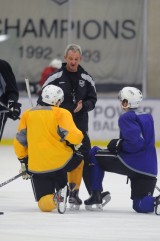 He noted that his first practice with the Kings, his biggest concern was "stay out of the way." It had been four and a half seasons since he had previously run an NHL practice, and he hadn't been on the ice for quite some time.
"I was trying to stay behind some of them big guys until I got to know the guys that once in a while have their own course. I still watch out for a couple of 'em," he joked.
The Kings won his first game as a head coach, a 3-2 shootout win against Anaheim on December 22, 2011. They recorded points in each of his first eight games behind the bench, going 5-0-3 through the first week of January.
"We went to San Jose and then came home and then went to Chicago, Winnipeg," Sutter recalled. "I just remember being in Chicago right away. And it was the fathers' trip. That was good for me, to meet the dads. That was more important, I think."
But the Kings scuffled after returning home from the All-Star Break, and by February 28, Sutter was only 13-9-8 in his first 30 games.
Of course no one remembers that, and it's not important anyway. The Kings returned to the playoffs as an eight seed, eliminated Presidents Trophy-winning Vancouver, and built up 3-0 series leads in each of their four series en route to the Stanley Cup. The Kings doubled their Cup haul this past spring.
"It's crazy," Greene said. "We've had a good run here and it's good to see him cross off some milestones."
Robyn Regehr, on how Darryl Sutter's coaching style has evolved:
I think he has mellowed a little bit in his coaching style. But I think the important things, the fundamentals that he believes in as a coach that players and teams need to do, that hasn't changed. But he has adapted certain ways that he goes about things and that's important because the game continues to evolve. You need to adapt. There are rule changes that happen almost every single year now and things like that. For someone to stay static and not change, you get left behind. I think he's done a really good job at adapting, but also keeping those core beliefs and fundamentals as a coach.
Regehr, on whether Sutter conducts practices in the same way he did in Calgary:
No, Darryl has always been one where he's looking ahead. We faced different systems like when I was in Calgary for example, we played Vancouver a lot and they played this 1-3-1 neutral zone system that's different from the 1-2-2 trap that is played now. So leading up to playing Vancouver we would practice what we needed to do to break that for one or two practices, whatever we could get in in order to do that. So it's always geared towards what we need to do. What we need to improve or looking back and analyzing. Maybe there is a trend in the previous three, five, eight, ten games, whatever you want to look at, there is a trend there saying maybe our special teams need to be better. So we work on that. Or maybe our defensive zone coverage or goals against need to be better, or offensive. So they're always looking at those types of things too.