Colorado Avalanche 2, Los Angeles Kings 1
Final – Shootout
LAK starters: G Jonathan Quick, D Brayden McNabb, D Drew Doughty, LW Dustin Brown, C Anze Kopitar, RW Justin Williams
COL starters: G Semyon Varlamov, D Erik Johnson, D Brad Stuart, LW Jarome Iginla, C Nathan MacKinnon, RW Gabriel Landeskog
Referees: #14 Dennis LaRue, #23 Brad Watson
Linesmen: #79 Kiel Murchison, #86 Brad Lazarowich
THIRD PERIOD
20:00 – 1:15 remains on the Stoll minor.
18:45 – Avs don't threaten over the remainder of the power play.
17:03 – Quick Clifford release from the right circle gloved by Varlamov.
14:53 – AVS GOAL. 2-2. Duchene (Iginla), 5:07.
Avs three-on-two is broken up, but Duchene flicks the loose puck towards the Kings net and beats Quick up high with a quick release. 2-2.

— Jon Rosen (@lakingsinsider) October 5, 2014

13:13 – AVS PENALTY. Interference on Stuart.
11:13 – Penalty over. Kings threaten for the first 70 seconds – Pearson had the best look on a redirection of a Richards pass – but no dice. Surprisingly, no shots on goal on the man advantage.
10:20 – Biiiiiiig hit by Wilson on Clifford.
10:06 – Nice open ice hit by Voynov on Tanguay.
9:45 – Johnson elects to shoot from the right wing on a 2-on-1. Quick save.
9:10 – Doughty can't elevate a Williams feed on a three-on-two. The pass was there. Count on Doughty burying that in the regular season.
6:24 – Heading downstairs. There will be a Blog Delay.
SHOOTOUT
-Nathan MacKinnon netted the shootout-winning goal.
SECOND PERIOD
20:00 – 27 seconds remain on the Colorado penalty.
19:33 – Penalty over. Avs back at full strength.
18:14 – KINGS GOAL. 1-0. Toffoli (Pearson, Richards), 1:46.
Pearson-to-Toffoli. One-timer from a sharp angle beats a vulnerable Varlamov. 1-0 #LAKings.

— Jon Rosen (@lakingsinsider) October 5, 2014

15:05 – KINGS GOAL. 2-0. Toffoli (Richards, Pearson), 4:55.
Toffoli again. Avs turn the puck over, Richards receives it down low. Feeds Toffoli in the slot, top shelf, 2-0 #LAKings.

— Jon Rosen (@lakingsinsider) October 5, 2014

11:14 – AVALANCHE GOAL. 2-1. Everberg (Rendulic, Duchene), 8:46. Avs score their ninth preseason goal in their eighth game. Moments after Duchene clanked one off the right post, Everberg snaps the puck past quick from the slot.
7:54 – Toffoli, clearly the most dangerous player on the ice tonight, offers a quick release from the right circle that gets Varlamov moving but misses wide.
7:35 – Pearson shoots over the net on a breakaway.
6:54 – Heading downstairs for a FSW interview. @LAKings is taking over until I return. See you soon.
4:15 – Kings kill of the Avs power play. Shots now COL 25 to LA 11
3:52 – Goalie interference. No go for the Kings.
2:47 – Technical difficulties, and not just on Jon's 100 year old laptop. Glass problems here at the MGM Garden arena.
41.9sec – Avs back on the power play, Stoll for holding.
0:00 – End of 2 here in Vegas. USC lost. UCLA is down 14-7. Dodgers up 2-0.
FIRST PERIOD
20:00 – Okay, sir, you're a Lebowski, I'm a Lebowski.
19:58 – Good hustle off the hop by Justin Williams to get in on an early forecheck.
18:30 – Good hit by Stoll on Noted King Killer Ryan O'Reilly.
17:29 – Puck pops loose to Tyler Toffoli in the high slot. He had two Avs on him and couldn't get a clean snipe off it. Varlamov saves his hard, low snapper and covers up.
11:50 – Iginla finds a shooting lane from the left wing and puts it where he wants it. Quick's left pad save leads to a rebound that is cleared out of danger.
10:13 – Stoll feeds Martinez, who activated on a late-developing three-on-two. It leads to a high quality opportunity, but the defenseman missed the net with a wristshot.
9:18 – McNabb wristshot from above the left circle deflects up and out of play.
9:00 – End-to-end. Landeskog's shot from the left wing on a three-on-two rebounds all the way to the neutral zone, where Clifford tried to feed a stretch pass to a breaking Andreoff. The pass doesn't connect, but on the the hustle into the Colorado zone, Clifford makes a big hit behind the Avs net.
8:16 – Nice save by Quick, apparently. I was blogging; missed it.
8:00 – Richards feeds Pearson for a redirection that misses wide. The puck is worked to the right point, where Voynov unleashed a heavy shot that was smothered by Varlamov. The Vezina finalist looked behind him for a moment but held on.
5:24 – PENALTY LAK. McNabb whistled for interference. Missed it because I was distracted by the huge moth that has been terrorizing the arena.
3:24 – Penalty over. Best look came at the conclusion of the power play on MacKinnon's wraparound attempt. Quick holds on for a whistle.
2:40 – Kopitar hit on Everberg gets the crowd going.
1:33 – PENALTY COL. Interference on Ryan Wilson.
0:00 – Period over.
Martinez scored on Varlamov off a one-timer, but it was clearly after the whistle. It upsets a lubed up Vegas crowd.

— Jon Rosen (@lakingsinsider) October 5, 2014
PREGAME PHOTOS, VIDEOS AND NOTES
-Pia Toscano will sing the national anthem.
-Tonight's game is broadcast on FOX Sports West and carried by the NHL Network. Bob Miller and Jim Fox have the call, while Patrick O'Neal hosts and Sean O'Donnell will serve as an analyst. I'll provide interviews during the pre-game show, after the second period and following the game's conclusion.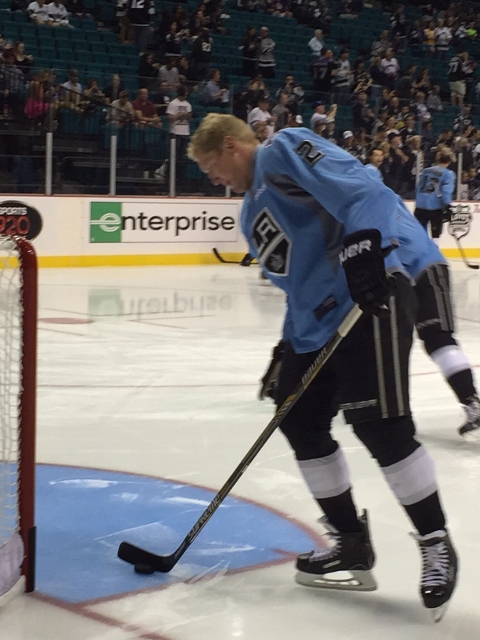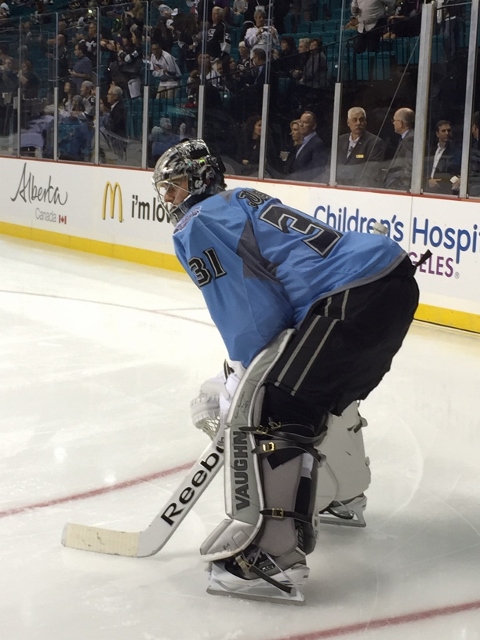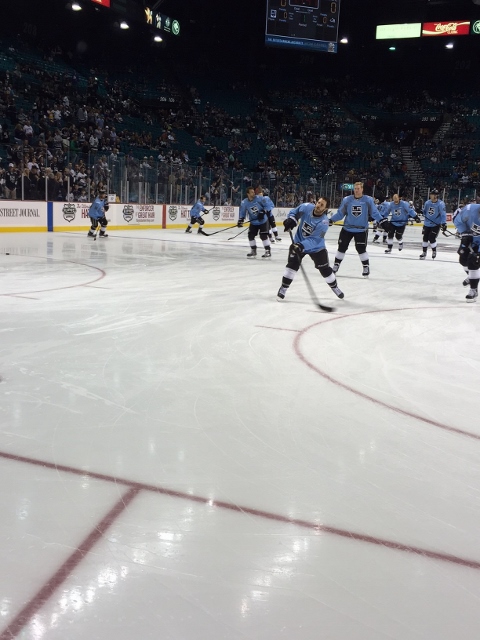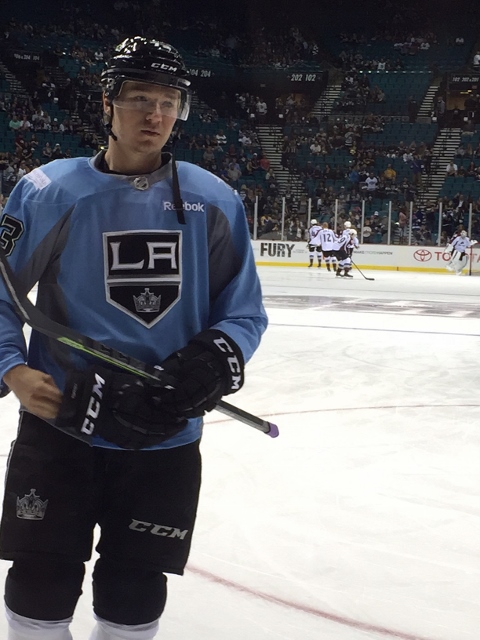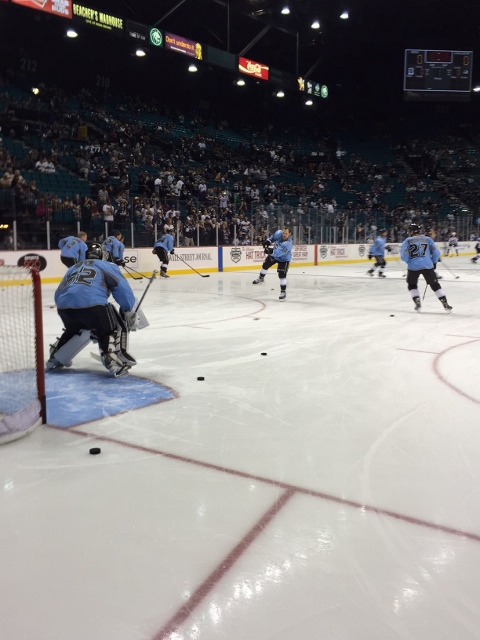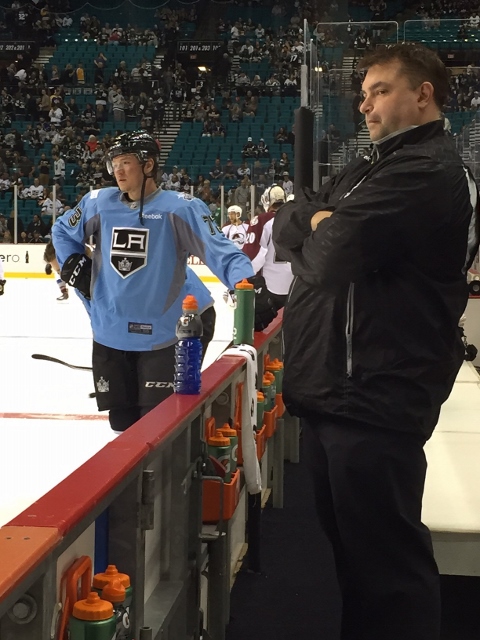 The Gauntlet is pro-blogger:

Here we go! @LAKings and @Avalanche getting set to square off in #FrozenFury 16 @MGMGrandGarden Arena. pic.twitter.com/a8Xk0CGtr1

— Dave Joseph (@davejosephla) October 5, 2014
Just finished #FrozenFury pre game organ set with #DepecheMode Enjoy The Silence @MGMGrandGarden #GoKingsGo pic.twitter.com/SkeLzjKCQS

— Dieter Ruehle (@DieterRuehle) October 5, 2014