Los Angeles Kings 4, San Jose Sharks 1
Final
SOG: LAK – 30; SJS – 24
PP: LAK – 1/3; SJS – 0/2
LAKings.com Box Score
KABC Radio Broadcast
LAK starters: G Jonathan Quick, D Jake Muzzin, D Drew Doughty, LW Jordan Nolan, C Anze Kopitar, RW Dustin Brown
SJS starters: G Antti Niemi, D Mirco Mueller, D Brent Burns, LW Patrick Marleau, C Logan Couture, RW Matt Nieto
Referees: #32 Tom Kowal, #37 Kyle Rehman
Linesmen: #91 Don Henderson, #57 Jay Sharrers
Attendance: 16,251
THIRD PERIOD
20:00 – Martin Jones is in for Jonathan Quick, who stopped 16 of 17 shots.
18:40 – Irwin fans on a pass attempting a breakout. The puck is intercepted and left for Richards on an odd-man rush. He attempts to deke around Niemi but is denied.
Nick and Darryl, doin' work: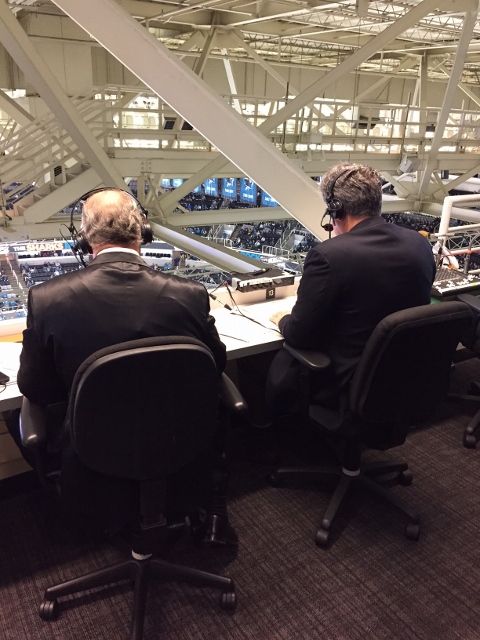 17:05 – Big open ice Cracknell hit on Mueller near the LA blue line.
7:52 – GOAL KINGS. 4-1. King (Williams, Muzzin), 12:08. Clearly inspired by the Royals' comeback, Dwight King snipes from a sharp-ish angle on an odd-man rush to make it 4-1.
3:24 – Heading downstairs. Talk soon.
SECOND PERIOD
20:00 – Let's do this.
19:16 – GOAL KINGS. 2-1. Brown (Kopitar, Nolan), 0:44. Three-on-two Kings rush. Jordan Nolan snaps a long pass towards a net-crashing Brown. It deflects off Kopitar, but still finds its way to Brown. He buries.
18:10 –
Good composure by Andreoff to carry the puck deep into SJ end. No one challenges him, cuts across the low slot, but his backhand is blocked.

— Jon Rosen (@lakingsinsider) October 1, 2014

17:21 – Right point Greene slapshot swallowed up by Niemi.
14:22 – PENALTY SJS. Slashing on Desjardins.
12:22 – Penalty over. Nothing going on the LA power play.
7:40 – Quick makes a strong save of a Nieto deflection. The puck's direction didn't change drastically.
Mirco Mueller checking in with almost 12 minutes of ice time so far. Only his partner Burns has more. He's played well #SJSharks

— Kevin Kurz (@KKurzCSN) October 1, 2014
6:40 – King denied from close range on a backhand. Fine feed from behind the net by Brown.
3:43 – GOAL KINGS. 3-1. Williams (King, Richards), 16:17. Williams does a good job spinning off Hannan in the low slot to create space. King drives behind the net before feeding Williams for the one-timer.
2:11 – Weal does a good job calming a play down. Faced with pressure ahead of him, he circles back into his own zone before dropping the puck off to his defenseman. Smart play.
0:00 – Period over. San Jose was pinned in their zone for the final four minutes of the period under heavy LA pressure. Awfully strong Kings forecheck disrupted the Sharks' attempts to exit the zone.
FIRST PERIOD
20:00 – And we're off.
19:XX – No running clocks at the moment in the arena. Nieto tests Quick with a wristshot from the left wing; Quick smothers the puck. No rebound.
19:01 – Clocks back up and running.
18:32 – SHARKS GOAL. 0-1 Thornton (Fedun, Hertl), 1:28. Off a cycle, Fedun works the puck to the front of the net. Thornton receives it, backhands it past a vulnerable Quick for an early lead.
14:25 –
Cracknell gets in on the forecheck, makes a nice hit on Fedun. Creates more zone time, leads to a Regehr slapshot that Niemi stops.

— Jon Rosen (@lakingsinsider) October 1, 2014

13:00 – Niemi makes three saves – nothing spectacular – after some consistent :A pressure. Was the King-Richards-Williams line. Regehr has two of the Kings' seven shots thus far.
11:43 – PENALTY SJS. Tommy Wingels whistled for hooking in the offensive zone
11:27 – GOAL KINGS. 1-1. Doughty (Williams, Kopitar), 8:43. Williams offers the puck on a soft little touch to Doughty on a zone entry. On a one-on-one, Doughty is afforded space, pulls the trigger. Snipes top shelf on a wristshot.
7:20 –
A Grade-A opportunity developed for San Jose, but Desjardins fanned on a centering pass on a two-on-two with some net to work with.

— Jon Rosen (@lakingsinsider) October 1, 2014

6:39 – PENALTY LAK. Hertl gains leverage on Cracknell while driving towards the Kings' slot. Cracknell takes him down with a hook.
4:50 – Martinez dives, turns a partial Marleau break into a contested break. No shot attempted.
4:39 – Penalty killed.
4:34 – Continued flurry of San Jose pressure, but Quick up to the challenge.
4:06 – PENALTY LAK. Matt Greene cross-checks Chris Tierney in the left wing corner in LA's zone. He'll sit.
1:00 –
Crazy sequence. 2-on-1, Kopitar tries to stickhandle, but Niemi holds his ground. Kopitar finds Nolan; shot stopped by Couture's backside.

— Jon Rosen (@lakingsinsider) October 1, 2014

0:00 – Period ends. Quick looked very good on SJ's power play and the ensuing 90 seconds or so.
PREGAME NOTES AND PHOTOS
-SJ Sharkie is leading the crowd in a "Beat LA" chant prior to the officials taking the ice.
-The crowd sand the national anthem!
-Dustin Brown is the captain. Anze Kopitar and Matt Greene are alternate captains.
Kings lines and pairings should look something like this:
Nolan – Kopitar – Brown
King – Richards – Williams
Clifford – Andreoff – Lewis
Pearson – Weal – Cracknell
Muzzin – Doughty
Regehr – Voynov
Martinez – Greene
Quick will start; Jones will back him up. Darryl Sutter, on Quick: "I just want to get him some minutes in. He'll tell me when he's had enough." San Jose's projected lineup can be found here.