2014-15 ARIZONA COYOTES SEASON PREVIEW
2013-14 record: 37-30-15, 89 points; 4th place, Pacific Division; 9th place, Western Conference
2014 Stanley Cup Playoffs: Did not qualify
Additions: C Sam Gagner, C Joe Vitale, RW B.J. Crombeen, G Devan Dubnyk
Subtractions: RW Radim Vrbata, C Mike Ribeiro, G Thomas Greiss, LW Tim Kennedy
Craig Morgan of FOX Sports joined LA Kings Insider for a Coyotes preview:

One off-season after reaching the Western Conference Final, the Coyotes continued to dig into their Glendale, Arizona footing under new ownership and the promise of immediate stability following years of league control and unsustainable losses in revenue. With more secure resources, an organization that had averaged 101 points under Dave Tippett between 2009 and 2012 and was held in high regard for its drafting and its identity surely appeared to be capable of maintaining its highly competitive play while building on its budding culture.
But that hasn't been the case, and the tight checking team that hardly ever ceded an inch has posted pedestrian defensive and penalty killing numbers over the last two years, averaging 2.60 goals against in 2012-13 and 2.73 in 2013-14. There's not much bite in a penalty kill that hasn't cracked 80% since 2012, and by averaging 31 shots against last season, their run of play may have gotten a little bit too slippery.
The Coyotes generally hold their own possession-wise, and if there's one area where there has been any remarkable deviation, it's in goaltending. While the shots against are down from the 2010-11 season, so is the save percentage. Mike Smith, who recorded a .930 save percentage in 2011-12, has posted a .913 save percentage in the two seasons since. Clearly any projection of the Coyotes earning a Pacific Division playoff spot uses a Mike Smith save percentage in his 2011-12 range as the crux of the argument. And that's a stretch – Smith has cracked .917 in save percentage only once in his eight seasons and has surpassed 45 games played only twice.
The penalty kill has been an awfully sore spot for Arizona, and changes are going to have to come from within following an off-season in which Sam Gagner, who ranked 12th on Edmonton in shorthanded ice time per game, was the club's biggest off-season acquisition. B.J. Crombeen should factor into the kill, though he's favored more for his hitting and sandpaper elements than serving as a power play specialist. It's probably realistic to think that nominal improvement could occur simply by staying healthy; Zbynek Michalek, who led the team in shorthanded ice time per game, was limited to just 59 games a season ago due to injury. Rising 21-year-old defenseman Connor Murphy, who stands 6-foot-4 and weighs 212 pounds, should also see an expanded role that includes more time on the penalty kill.
It's important that the Coyotes fix their defensive inconsistencies, because this was a team uncomfortable when playing from behind. Arizona was 22-2-2 when leading after the first period and 3-18-2 when trailing after the first a year ago, and the Kings-Coyotes series reflected the larger trend. Since a 4-2 win in Glendale on January 26, 2013 (LA scored the first goal), Arizona has won four straight home games against Los Angeles, scoring first each time.
The Coyotes' inconsistencies were even visible to Kings fans at the micro level; after posting a 4-3, come-from-behind win at Staples Center on March 17, they returned to the same spot with their season on the line two weeks later, only to put up 17 shots in an empty 4-0 loss.
If improvements in scoring are to be found, they're going to have to come from within. The Coyotes scored by committee a season ago; though no players cracked the 55-point barrier, eight players finished with between 40 and 53 points. They'll lose a combined 98 points from the departures of Radim Vrbata and Mike Ribeiro but should gain some of that back with the acquisition of Gagner, who profiles more as a secondary scorer and has not proven himself to be among a group of players known for possessing a complete, 200-foot game. It's going to be interesting to see how he fares in Dave Tippett's season. In any case, Gagner gives the Coyotes a healthy shot of skill.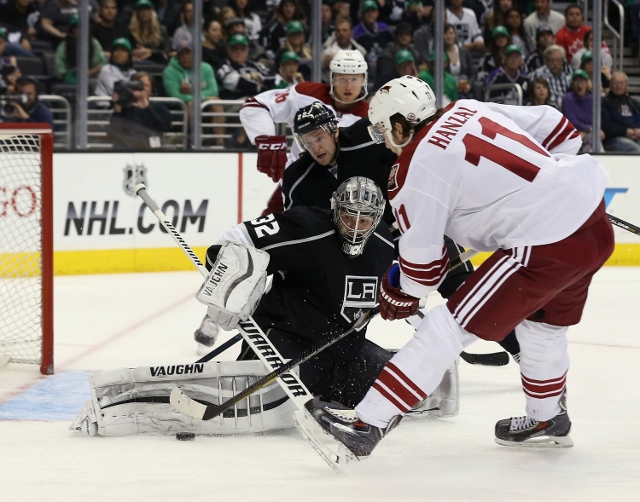 Martin Hanzal remains among the West's most difficult centers to play against and has a surprisingly soft set of hands for a player of his size. Enormous at six-foot-six and capable of ferocious if occasionally borderline hits, Hanzal set a career-high with 40 points a season ago and has the size and strength to be able to compete against Anze Kopitar, Ryan Getzlaf and Joe Thornton on a nightly basis. Interestingly, Kopitar's 50 career points (in 49 career games) against the Coyotes is his most against any team. If Gagner is capable of eating up minutes as a second line center, Arizona will boast strong depth down the middle with faceoff artist Antoine Vermette, who rode a 15.0% shooting percentage to 24 goals a season ago, serving as a strong and trustworthy 3C.
Shane Doan hopes to be healthier than he was last year. 19-year-old Max Domi, who was very good against L.A. in the preseason last year, has a chance at cracking the roster in a production role.
Murphy, a former U-18 and World Juniors gold medalist with the United States, was a 20-plus-minute player for much of December before his ice time was cut back during later appearances with the team. If the sturdy defender is able to grow into a special teams and well-rounded role with additional minutes, the Coyotes could boast a talented and deep defense in which the offense creators and puck movers (Keith Yandle, Oliver Ekman-Larsson) are paired with more sturdy, shutdown-types (Michalek, Murphy).
Keith Yandle led the team in scoring a year ago and is, while worthy of an argument, most likely the best and most important skater on the team. Of the top-four defensemen, he's the best at driving play towards the attacking end and is an outstanding distributor responsible for the team's elevated power play stats (Arizona's man advantage ranked fourth in the league at a shade under 20% a year ago). His minus-23 rating from a season ago is an anomaly. Oliver Ekman-Larsson has a heavy, accurate shot and also contributes to the club's power play success, though his possession stats haven't been as strong as Yandle's. He's still a dynamic, 23-year-old workhorse who led the club in game-winning goals a season ago.
Brandon Gormley will battle for a spot on the team and a larger role, joining a deep group that includes Michael Stone and David Schlemko, the latter of whom had an encouraging possession season a year ago in his career-high 48 games played.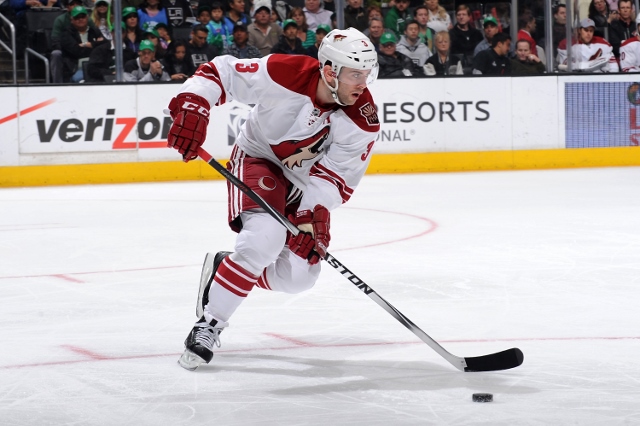 This hockey operations group, which saw assistant general manager Brad Treliving leave to become the GM of the Calgary Flames, had established a fine identity and too strong of a forward trajectory two years ago to fall too far back into the pack despite several questions about the offense and a clear-cut positive season needed in net from Smith. There also appear to be several interesting prospects on the cusp of making the NHL roster, which could use a continued infusion of skill and pure goal scoring. Knowing the expectations that Doan places on himself and his ability to raise the play of those around him, and knowing the success and the style Tippett has bred – the last two Coyotes teams are the only teams he's coached to miss the playoffs in consecutive seasons – all games against Arizona profile as dogfights, and the competitive level set by the players will attempt to off-set any slight shortage of skill. The Coyotes will remain an average-to-decent possession team, but it's hard to envision a scenario in which they make the playoffs in which Smith doesn't reestablish himself as one of the league's top goalies. Considering he experienced little longevity in that company to begin with, that might be a tall order.