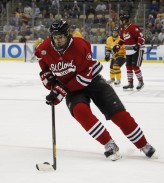 When the Los Angeles Kings signed a pair of college-based prospects in early April in Michael Mersch and Nic Dowd, there was one name somewhat conspicuously absent: Kevin Gravel.
Gravel (pronounced gruh-VELL), a 2010 fifth round draft pick who continued his stay-at-home tendencies and broke out with his finest offensive season as the senior captain of the 2013-14 St. Cloud State Huskies, signed an ATO with the Manchester Monarchs in April and ultimately appeared in five regular season AHL games after St. Cloud's season had ended with a second round loss to national runners up Minnesota. Instead of signing an entry level contract with Los Angeles at the time or later in the summer, he instead signed a one-year AHL contract with the Monarchs in early August.
Considering the Kings made a move to supplant their NHL defensive depth by trading for Brayden McNabb at the trading deadline, that Gravel – who stands 6-foot-4, weighs 198 pounds and is 22-years-old – was signed to an AHL contract and not an entry-level NHL contract was met with a few raised eyebrows by those who had followed his progress, which included a six-game, one-goal performance at the 2012 World Junior Championships.
As it turns out, the decision was based partially on confidence that Gravel would sign another AHL deal during a time when the Kings had to be mindful of nearing their limit of 50 professional contracts. Should he continue to grow into the professional game, his goal of signing an NHL contract with Los Angeles is still clearly attainable.
"That's anyone's goal," Gravel said. "You're out here, you get to know the development team and know the guys out here, and I went to Manch last year and got kind of comfortable there. Obviously everyone's goal is to sign an entry level contract, and if it happens to be with the Kings, that's perfect. I've been in this organization for…five years, and I'm very comfortable here, and they've obviously shown that they're incredibly good at what they do over the last couple years. Just to be able to work with these guys is something special."
There is patience and a comfort level between Gravel and the Kings, and he's aware of the success the organization has had in developing young players who fill important roles on the parent club.
"You look at the guys they have on the Kings now, the majority of them started in Manchester and worked their way up, and they're having a lot of success up there with Toff and Pearson and Muzzin and guys like that," he said. "It just kind of goes to show if you put your work in and work with the guys in this organization, they're going to put you on the right path to have success in the future."
Though there has been speculation that Gravel could still currently sign a contract with another NHL team, that is incorrect. The NHL honors contracts with teams in other leagues, and in order for another team to sign him, Los Angeles would have to release his Manchester rights. There is no reason the Kings would do that.
It's not really a murky situation – maybe mildly so – and Gravel wasn't following along any contractual news with white knuckles. This is a player who wants to eventually play in Los Angeles.
"Obviously I [was] in college and I don't really pay attention to that because I never really had to worry about that before. I just came up for development camp and went back to school for the year and then came out here the next year. So this is all new for me. I'm basically just kind of going through the process. Wherever they tell me to go, I'm going to go work hard and try to help whatever team I'm on and try to help and work to my best ability and just kind of go from there."
On St. Cloud State developing into a Kings minor league pipeline:
It is pretty cool. I know when I first got there my freshman year, Garrett Roe was part of this organization, and then Dowder was, too. He got drafted the year before me. And then I, of course, got drafted, and then we went a couple more years and Brodz (Jonny Brodzinski) got drafted. I think it just shows that they're doing something right at St. Cloud, where teams are kind of taking notice and taking their players and trusting the development process at St. Cloud. It's kind of cool that when you come up the development camps you have three guys that you know here, and can kind of go through it together and back at the hotel just kind of hang around with. So it makes the process easier.
On any intrinsic aspects to St. Cloud's success:
At least in my time…we had really good leadership, starting with guys my freshman year and working all the way down to this past year with the upperclassmen. It goes right on top to bottom. There's good character in the locker room. No one cares who's getting the goals and the spotlight, that kind of thing. So in order to win a couple of championships like we did, you've got to have guys like that and unselfish guys willing to play their role, and then guys who step up in the big moment, too.
On his own skill set:
I think first and foremost I like to take care of my defensive zone. I think if I'm ever going to make a living playing hockey, it's going to be as a defensive defenseman. If anyone watched my senior year, they probably noticed that I put up a few more points. But I think that kind of came with being a senior, getting more ice time, and getting put in spots I hadn't been put in in the past. I was on the power play a little bit this past year and kind of took advantage of that. I know, and LA has told me, if I really want to be successful at the next level, I've really got to focus on my defensive play and be able to make that first pass and really shut down the opposing teams' lines. So that's my main focus when I'm out there.