Rookie camp will open this Friday at Toyota Sports Center, with a morning on-ice session scheduled to take place from 10:00 a.m. to noon that day. Schedules for rookie camp, which is expected to extend through Monday before the players leave for Arizona on Tuesday, are not available, though in the past there have been two morning sessions, followed by off-ice workouts and a mid-afternoon session. Kings rookies will travel to Glendale, AZ to face Coyotes rookies on Tuesday, September 16 and Wednesday, September 17.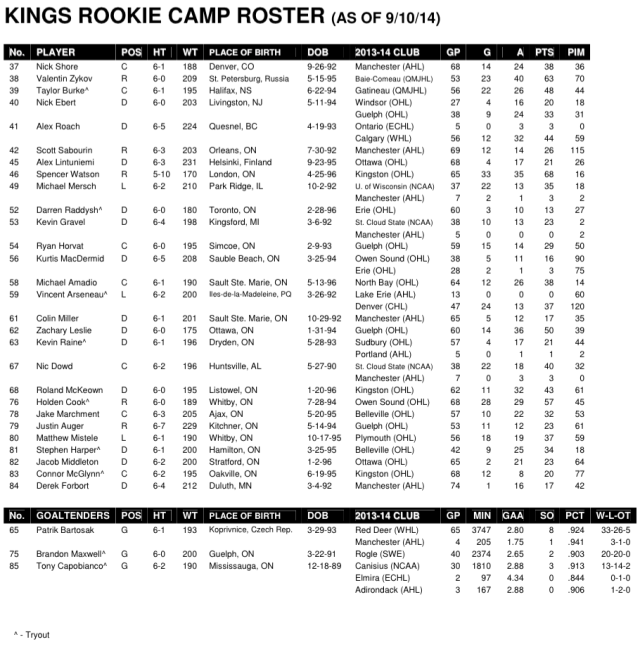 Several notes:
–As expected, 2014 first round pick Adrian Kempe will not attend training camp as he continues to fulfill the final year of his contract to MODO of the Swedish Hockey League, where he is expected to receive a wider opportunity than in 2013-14. Nikolai Prokhorkin, who has two assists through CSKA Moscow's first three games, will not attend camp, either.
-Of the nine players who received invitations to take part in July's development camp, Stephen Harper, Darren Raddysh, Kevin Raine, Taylor Burke, Holden Cook and Conor McGlynn will return for rookie camp.
-Want a confirmation of where the Kings' drafting preferences lie? 20 (!) of the 31 players attending camp played in the Ontario Hockey League.
-Ryan Horvat, signed to an AHL contract by Manchester last month, actually fought Scott Sabourin as a member of the Ducks rookies during last year's rookie game at Toyota Sports Center.
-While development camp goaltending invite Jordon Cooke wasn't invited to rookie camp, there will be two goaltenders attending camp on an invite. They are Brandon Maxwell, a 23-year-old who grew up in Florida who appeared with the United States Development Team's U-17 and U-18 teams and three OHL teams. A former sixth round draft pick by Colorado, he spent last season with Rogle BK in Sweden's second-tier HockeyAllsvenskan. 24-year-old Tony Capobianco, who played four years at ECAC-Canisius and logged five games between ECHL-Reading and AHL-Adirondack after his amateur eligibility ran out last year, will also attend camp.