2014-15 CALGARY FLAMES SEASON PREVIEW
2013-14 record: 35-40-7, 77 points; 6th place, Pacific Division; 13th place, Western Conference
2014 Stanley Cup Playoffs: Did not qualify
Additions: G Jonas Hiller, D Deryk Engelland, LW Mason Raymond, LW Brandon Bollig
Subtractions: G Joey MacDonald, D Shane O'Brien, D Chris Butler, D Derek Smith, LW TJ Galiardi, LW Mike Cammalleri, C Blair Jones, C Ben Street
Pat Steinberg of Sportsnet 960 The Fan joined LA Kings Insider for a Flames preview:

The results compiled by the 2013-14 Calgary Flames unforgivingly and maybe even inaccurately went into The Book as the 27th best body of work in the National Hockey League.
The Flames finished with about as encouraging of a season as could reasonably been imagined as the club ultimately decided to undertake a full-scale rebuild and changed hands with the ouster of general manager Jay Feaster in December and the hiring of former Coyotes assistant GM Brad Treliving in April. Treliving's assignment will be to continue what appears to be a solid if early upward trajectory of a team that finished the season by winning 19 of its final 32 games yet still occupied a prime spot in the draft, selecting skilled 18-year old Kingston Frontenacs forward Sam Bennett with the fourth overall pick. With other intriguing young prospects, including Sean Monahan, who finished second on the team in goals as a 19-year-old rookie, and Johnny Gaudreau, the reigning Hobey Baker Award winner and a 2013 World Juniors gold medalist and All-Star with the United States, Calgary appears to have found a more solid footing in its rebuild than their first overall pick-hoarding rivals to the north.
As one of the least skilled teams in the league, the Flames have relied on an outstanding work ethic under Bob Hartley, who will enter his third season as the club's head coach. Hartley should be under some scrutiny despite the team's overall positive direction as a fanbase that had been ready for the rebuild could grow wary with any prolonged stagnation given the team's late success in 2013-14. Though there is encouragement in where this team may be headed, it will struggle once again to consistently add points to its haul in 2014-15.
If modest progress is to be continued, there will need to be improvement in net. Needing to improve a save percentage that ranked 28th at .899, the Flames signed free agent goaltender Jonas Hiller, who has a career mark of .916. Last year wasn't exactly a career year for Hiller, who ultimately lost regular season starts to Frederik Andersen and started only two playoff games for the Ducks, both losses. He'll still be a worthy upgrade over the Ramo-Berra-Ortio consortium if he comes close to replicating his career save percentage, though Karri Ramo will also accumulate a good portion of starts, and Joni Ortio will factor into the competition (though he'll likely spend most of the year in the AHL).
In front of the crease, there are several talented defensemen to build around. The greatest impact in all areas is provided by captain Mark Giordano, who earned a first place Norris Trophy vote and ended up finishing 10th overall (and second in the Pacific Division) in voting. Giordano, who was in the black possession-wise on one of the league's worst possession teams, is a top-flight first pairing blue liner whose Corsi percentage relative to his teammates was +7.75 percent. With 14 goals, 47 points and a plus-12 rating in 64 games, Giordano produced a career year statistically and provides a nasty, competitive streak while anchoring the left side of the Flames blue line. Behind him is TJ Brodie, another quality possession-driving defenseman who finished with four goals, 31 points and a +6.49% Corsi-relative. Brodie turned 24 over the off-season and appears to be coming into his own as a reliable puck-mover. He has the reputation of someone who can help on the power play; despite averaging 1:46 per game on the man advantage (out of an impressive 24:03 total), he finished with just one power play goal and six power play assists. Combined with a shooting percentage that clocked in at just 3.8% a year ago, Brodie is a candidate to surpass his offensive numbers in the upcoming season. Dennis Wideman experienced injury issues a season ago but is a veteran puckmover capable of eating up minutes on the right side, Kris Russell averaged over seven minutes more than he had with St. Louis the year prior, and Deryk Engelland and Corey Potter were signed to join the stay-at-home Ladislav Smid as defensemen with size. Well-rounded 2011 second round pick Tyler Wotherspoon, who joined the club for 14 games at the end of last season, should also battle for a spot on the club as a 21-year-old.
Up front, there's simply not a great collection of skill or explosiveness. Michael Cammalleri departs after having totaled 13 goals and 24 points over his final 20 games as a Flames and contributing greatly to the team's late season success. That leaves a committee of forwards including Mikael Backlund, who posted a career-best 39 points as a 24-year-old, Curtis Glencross, who will turn 32 and was limited to 38 games last year, Jiri Hudler, who led the team with 54 points, Mason Raymond, who provides speed and posted 19 goals and 45 points with Toronto last season, and Monahan.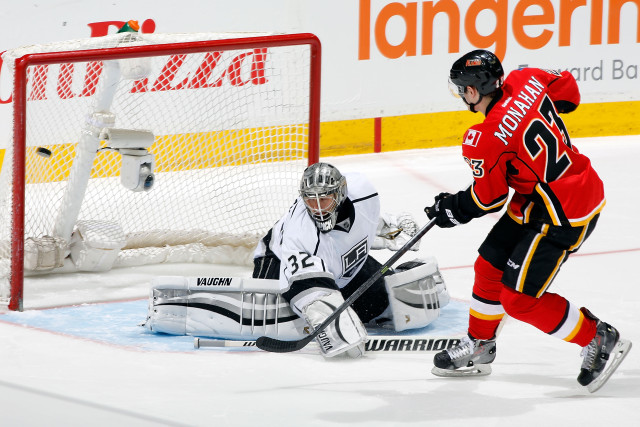 Monahan, who turns 20 the first week of the season, is part of a 2013 NHL draft class that has already begun to acquit itself well. Selected first was Nathan MacKinnon, who may be on his way to superstardom, followed in the fourth spot by Nashville's Seth Jones. Say what you will about the decision to start the clock on his entry level contract, but Monahan, who was selected two spots after Jones and finished second on Calgary with 22 goals as part of a 34-point season as a 19-year-old, showed very good hands and poise in front of the net against older competition and could profile as a pure goal scorer and 200-foot center as he matures. Averaging a shade under 16 minutes of action, Monahan, a former Ottawa 67's captain, has been praised for his mature and steady approach to the game. He also finished with a team-high 14.4% shooting percentage (on 140 shots), so he's most likely going to have to raise his shot total significantly if he's to improve upon his 22-goal season. It will be interesting to see how much time Monahan receives alongside Gaudreau, whom the Flames hope will form a significant portion of their young offensive core going forward.
Markus Granlund and Sven Baertschi will look to continue to progress in their young careers, while Brandon Bollig, Joe Colborne, Lance Bouma and Brian McGrattan will bring the truculence that Brian Burke prefers. Colborne, a former first round pick who totaled 28 points in his first full NHL season, was a nice find, though he may see more depth duty in 2014-15. Calgary's goal differential ranked 26th at minus-32 last year, and its Corsi-for percentage ranked 27th at 46.3%, so the skill/truculence ratio still could use some refinement.
With the rebuild underway, the Flames will now look to find roster stability a year after they used 40 skaters and four goaltenders. There's a quality core to build around – Monahan, Gaudreau, Grandlund and Brodie represent the future of the club, while the soon-to-be 31-year-old Giordano is clearly the present – and identifying valuable pieces to retain alongside that core will be among the stories to follow the Flames around this season. With Bennett waiting in the wings, and Burke saying "I think Calgary had the best draft of any team in the NHL" last September, the earliest indicators of the club's committed rebuild are positive. The Pacific Division isn't exactly a forgiving division, however, and that larger picture may become obscured in a season in which Calgary will again be challenged to find itself in the fight for a playoff spot.