Hello! LA Kings Insider has returned to full functionality and the such. A handful of major stories broke during my vacation last year – Ron Hextall left the organization, Rob Blake joined the organization, Dustin Brown signed an extension, Daniel Carcillo was acquired and the schedule was released – so I effectively learned to schedule my time off during August instead of July. There really wasn't much Kings news over the last two weeks, and really, this off-season has been for the most part low-key and the antithesis of the steady stream of eyebrow-lifting news coming from Los Angeles' Northern California rival.
As for Kings news, expect to have information on rookie camp and training camp at some point next week. The last I had heard, this year's rookie camp games will pit the Kings and Coyotes prospects against each other in Arizona. At this time, I don't have any date, time or venue information. For what it's worth, the Ducks and Sharks prospects will face each other on September 13th and 14th in Anaheim.
So, catching up. Bill Plaschke's report on Darryl Sutter and his family is outstanding, and if you haven't yet read it, you should stop what you're doing and read it now. Kudos to the Los Angeles Times columnist for making the trip to Viking, Alberta; have any other L.A.-based journalist/media types made the trip to the homestead other than Plaschke, Times photographer Robert Gauthier, and FOX Sports West's Jack Wilson over the last three years? And Jack, do you prefer "journalist" or "media type"? Blogger? Vlogger?
LATimes: Kings Coach Darryl Sutter is never down on the farm
-Make sure to follow the photo gallery to get a sense of the size of the homestead and the celebration in Viking, one hour and 45 minutes southeast of Edmonton.
* * * * *
There was some AHL news that related to the Kings. The AHL's "migration west," as NBC's Pro Hockey Talk described it, is expected to take place prior to the 2015-16 season. The story corroborates with what LA Kings Insider had learned off-hand through conversations over the past 18 months: Los Angeles' AHL affiliate appears headed for Ontario, Calif., Anaheim's top farm club is expected to move from Norfolk to San Diego, and Arizona will relocate the Portland Pirates to Prescott Valley, Ariz., where the Sundogs will be sitting out from CHL play this year. Also sitting out from CHL play in 2014-15: the Denver Cutthroats, the team guided by President Derek Armstrong, who LAKI wrote about earlier this month. If this original report by Gerry Cantlon of Howlings.net is correct – and it certainly holds up along with the many other reports and notes I've heard on the subject – the Avalanche will move their top affiliate from Cleveland to greater Denver beginning in 2015-16.
* * * * *
The biggest piece of league-wide news while LAKI was on vacation mode was the report that NHL expansion is on the horizon, and as many as four new teams (Las Vegas, Seattle, Quebec City and Toronto were markets specifically named) could join the league, per a pair of reports.
I can't speak on behalf of hypothetical franchises in Las Vegas, Quebec City and Toronto, but the Seattle bid for expansion is not as simple as finding an owner and placing a team there. At the moment, there is no suitable arena in Western Washington. Key Arena, which hosted Seattle Thunderbirds games until 2009, was built and renovated specifically for basketball so that the Sonics would not have to face competition for corporate dollars and tickets. The building has very poor sightlines, and a giant drape hangs behind one goal to cover an absence of seats and to hide event level traffic. For a temporary home, yes, Key Arena (which is in the beautiful and bar/nightlife-adorned Lower Queen Anne neighborhood) could support a team. But it is clear that a new arena must be in the process of being built for Seattle's expansion bid to hold weight. And despite the positive news that a prospective owner has emerged, there is one major civic barrier that stands in the way of construction.
While it's encouraging that Victor Coleman, the prospective owner of a Seattle NHL team, has reached a "non-binding" agreement with Chris Hansen, the potential NBA owner and the strongest driving force behind the construction of a new arena, there is no news here until Hansen, the city and county work to successfully amend the Memorandum of Understanding. Until that takes place, there is nothing of substance to report on the Seattle expansion front.
From Geoff Baker of the Seattle Times: NHL expansion in Seattle, Vegas? Why reports don't hold water
There is also the issue of changing a Memorandum of Understanding (MOU) between Hansen, the city and county. That MOU calls for up to $200 million in funds to be provided Hansen if he gets an NBA and NHL team for the arena; $120 million if it's NBA only.

But there is no apparent political will to change the MOU to an NHL-first scenario. And there has also been zero indication from Coleman that he would front the extra $120 million or $200 million to build the arena without public funding. Even if Coleman and Hansen foot the entire arena bill, the city and county still have to sign off. Only then could the NHL even bring an expansion proposal before its fractious 30-member board of governors.

Until that board approves it, the NHL isn't announcing expansion here. And without Seattle, the NHL likely isn't announcing expansion to Las Vegas or anyplace else.
No amended MOU? No NHL in Seattle. Keep in mind this is a city whose glacially slow civic process has its own Wikipedia page.
I wrote about the NHL-to-Seattle movement while with FOX Sports in 2012 (less than a year after I relocated from the corner of 45th and Wallingford) and predicted that the NHL would move into the Emerald City by the end of the decade, likely closer to 2020 than 2015.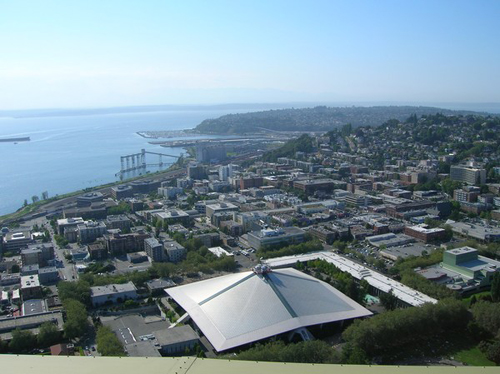 NOTES FROM THE BEST COAST…
Anaheim Ducks: Jean-Sebastien Giguere, the most recent player to win the Conn Smythe Trophy despite playing for the team that lost in the Stanley Cup Final, officially announced his retirement. With his retirement, there are now no active former Hartford Whalers in the league. Also: Jakob Silfverberg signed a one-year contract for $850,500, which leaves Devante Smith-Pelly – who was awfully good against Los Angeles in the second round – as the club's lone unsigned RFA.
Arizona Coyotes: If Arizona is going to make a stronger case for the playoffs, they're going to need to improve their dismal penalty kill, as Five for Howling's Alex Vanderlaan writes. The Coyotes were not good at playing from behind last year, going 22-2-2 when leading after the first period and 3-18-2 when trailing after the first. The numbers check out in the LA-AZ season series; since a 4-2 win in Glendale on January 26, 2013 (LA scored the first goal), the Coyotes have won four straight home games against the Kings, scoring first each time.
Calgary Flames: Sheldon Brookbank will report to Flames camp on a try-out. He's truculent, so he'll have a decent shot at a roster spot on the club that enters its second season of a concerted rebuild. Calgary also signed Devin Setoguchi, who had 11 goals and 27 points with Winnipeg a season ago.
Edmonton Oilers: Ralph Krueger, who coached Edmonton in 2012-13, is the chairman of Southampton F.C. in the Barclay's Premier League. The Saints experienced an "exodus" of players over the summer, causing Krueger to put his foot down. "We have controlled every deal we have made," Krueger told The Guardian. "We feel comfortable. People from the outside have labelled it a crisis but we don't see it as a crisis. A crisis would mean we are not in control." Out of one frying pan, into another. Promising offensive defenseman Justin Schultz signed a one-year, $3.675M contract, as reported earlier today. Former Sharks television color commentator Drew Remenda is joining the Oilers' TV team in a similar role.
Los Angeles Kings: The Everything's OK Alarm is working nicely.
San Jose Sharks: So the Sharks have caused some waves this summer. Ryan Lambert of Puck Daddy has called their off-season "baffling." Adam Gretz of SB Nation says that they've "lost their minds." "No official timeline" has been set for Raffi Torres' return after GM Doug Wilson announced that the veteran forward will be out indefinitely after undergoing a procedure on his surgically repaired right knee. This is a big year for Logan Couture, described by Kevin Kurz of CSNBayArea.com as a "cornerstone." The Sharks will open training camp with no captain or alternates. I'm still expecting this team to crack the 100-point barrier, because they're the Sharks and regular seasons still exist.
Vancouver Canucks: Vancouver and former Canucks forward Todd Bertuzzi appear to have reached a settlement with former Avalanche forward Steve Moore following the March, 2004 suckerpunch that left Moore with a concussion and three fractured vertebrae – though it is not yet finalized. The case would have gone to trial in September. "I still believe," says Kevin Bieksa.
All Pacific Division topics will be covered in greater depth in LAKI's Hello, Neighbors series. Enjoy your holiday weekend!