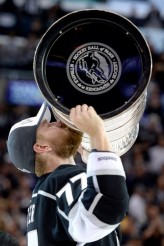 JEFF CARTER
This season: 72 games, 27 goals, 23 assists, 50 points, 44 penalty minutes, +8 rating, 18:57 time on ice
The good: So 2014 wasn't a bad year professionally for Jeff Carter. He won the Stanley Cup for the second time in his career, he made a terrific impression with his play in Sochi en route to capturing a gold medal with Canada, and he continued to serve as not only the Kings' purest goal scorer, but as a continually committed 200-foot player with a bevy of all-around attributes that go beyond the numbers compiled in box scores. He also makes those around him better. A sound model for those entering the National Hockey League, everything about Carter's training patterns and game preparation are worthy of replication and part of the reason why he has found such success in the postseason with Los Angeles. His regular seasons aren't bad, either. There was no way he was going to replicate his 26 goals in 48 games from a season prior – no, not with that 19.5% shooting percentage – and when the entire package is considered, his first 82-game season with the Kings was his best overall stretch of play in L.A., and he should've drawn some extra Conn Smythe recognition by virtue of an extraordinarily consistent 26-game, 25-point postseason. His .96 points per game average in the playoffs was the highest of his career, and there were zero dips in his play in the club's two-month playoff marathon. His powerful strides and excellent balance allow him to shoot the puck off the rush as well as any other player in the Western Conference, and his high top speed allows him to get back defensively in transition. Darryl Sutter's placement of Carter alongside Tanner Pearson and Tyler Toffoli was beneficial for all parties, and while the two rookies certainly reaped the rewards, don't overlook the energy that the two young forwards provided, and how well that youth served the versatile forward who all of a sudden will turn 30 on the first day of 2015. The trio produced the team's best possession stats in the postseason.
One commonly referenced observation about the Kings is that their best players are also their most responsible and defensively sturdy players. It's true with Anze Kopitar, and Dustin Brown, and Mike Richards, and it's certainly true with Carter, one of six forwards to average more than a minute of shorthanded ice time per game. He took 256 shots in the regular season, totaled four points (2-2=4) over three Game 7s and finished in the black possession-wise despite facing some of the toughest competition on the team. He finished with a 52.2% faceoff percentage. Even at top speed he's capable of showing off his quick wrists:
The bad: Not a ton, unless you're really into nitpicking. Carter's 7.8% even strength shooting percentage was his second lowest rate since 2007-08 and suggests that he could be in for an increase next season. He's capable of scoring goals in bunches, so there are the inevitable periods of going goalless. In 2013-14, he went at least five games without scoring a goal five different times. Again, not a big issue. He dealt with a broken foot early in the season and appeared to be playing through some pain in the playoffs.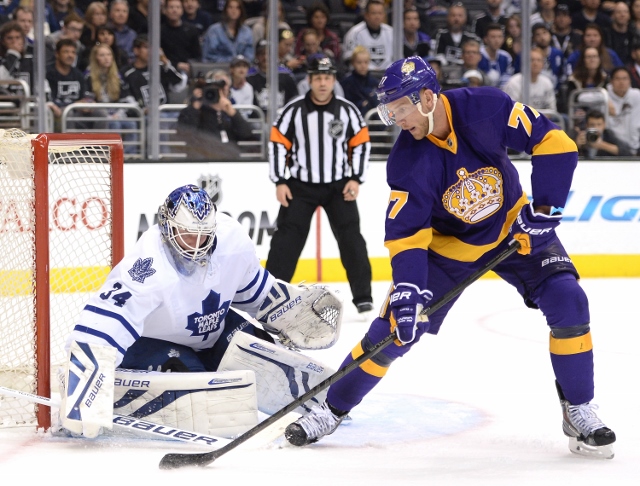 Going forward: As long as he ages gracefully, Carter's $5.27M cap hit will continue to provide the Kings a low-maintenance, low-risk and high-reward player who has consistently proven to be a winner – and should also provide excellent value through the 2021-22 season. His training regimen and game-day focus should greatly benefit the maintenance of his effectiveness as he ages, much like how (but perhaps not quite to the same term or degree) Jaromir Jagr's conditioning has kept him playing NHL hockey into his 40's. Though he frequently skated to the right of Anze Kopitar during five-on-five play, the acquisition of Marian Gaborik balanced out the Kings' lines and placed Carter alongside Mike Richards – and then ultimately Pearson and Toffoli. Though Carter played his best hockey as a center and alongside the rookies, one of the stories to pay attention to during the preseason revolves around whether Carter will remain in the center of the ice, or whether he'll return to right wing; Richards' performance will also influence this decision. Regardless, Carter knows his role well, and his skating and versatility will continue to serve as a major asset for a team that will once again contend for the Stanley Cup. Expect a similar season from number 77 – though one with perhaps another goal or two thrown in, given the potential for his shooting percentage to rise.
2013 Carter evaluation
2012 Carter evaluation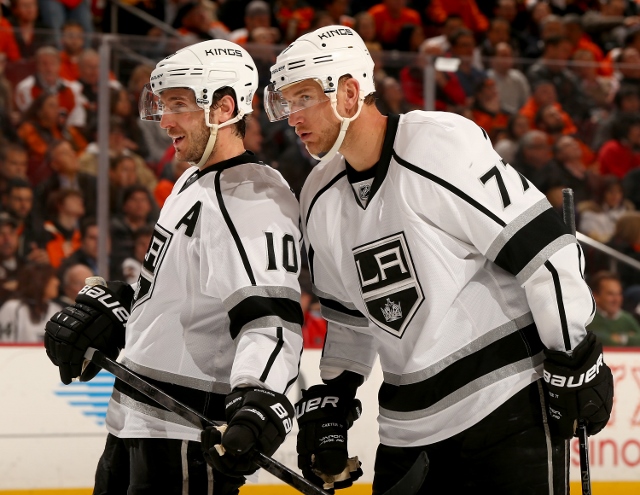 #2 – MATT GREENE | #6 – JAKE MUZZIN | #8 – DREW DOUGHTY | #10 – MIKE RICHARDS | #11 – ANZE KOPITAR | #12 – MARIAN GABORIK | # 13 – KYLE CLIFFORD | #14 – JUSTIN WILLIAMS | #22 – TREVOR LEWIS | #23 – DUSTIN BROWN | #24 – COLIN FRASER | #26 – SLAVA VOYNOV | #27 – ALEC MARTINEZ | #28 – JARRET STOLL | #31 – MARTIN JONES | #32 – JONATHAN QUICK | #33 – WILLIE MITCHELL | #44 – ROBYN REGEHR | #55 – JEFF SCHULTZ | #70 – TANNER PEARSON | #71 – JORDAN NOLAN | #73 – TYLER TOFFOLI | #74 – DWIGHT KING