Making good on an agreement that dates back to the second round of the playoffs – the mayor of the losing city in the Kings-Ducks series had to undertake a community initiative in the winning team's city – Los Angeles Mayor Eric Garcetti, Anaheim Mayor Tom Tait, the LA Kings Ice Crew, Bailey, and a collection of volunteers from civic organizations joined together on Saturday to clean up the Los Angeles River in the Elysian Valley near the intersection of the Golden State and Glendale freeways.
The video above features Garcetti continuing to endear himself to Kings fans (and perhaps one entertained blogger, who advises the mayor to continue to speak freely). Though his choice of syntax differed from when he addressed the Staples Center crowd in a Kings rally, he did rightfully acknowledge Southern California as the country's foremost taco proprietors.
"When I made a bet with Mayor Tait, we said 'Let's not just make the same old food bet,'" he said. "And, besides, the food between Anaheim and L.A. isn't that different. We're just going to be betting on different tacos from each place."
Other mayors should be wary of making hockey bets with Garcetti. New York City Mayor Bill de Blasio sang I Love L.A. on Jimmy Kimmel Live earlier this summer after the Kings' five-game Stanley Cup Final victory over the Rangers.
Eric Garcetti speaking today at the LA river clean up :) pic.twitter.com/9Zi66fWHoi

— Janel ♥ (@JanelGomezDiaz) August 9, 2014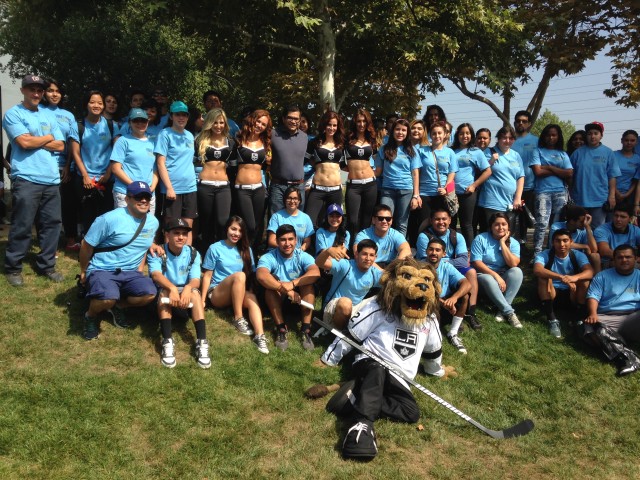 -Photo credit: Carrlyn Bathe