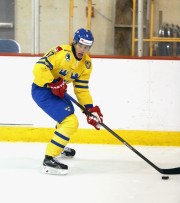 The annual summer evaluation camps for the World Junior Championships are underway, and in an exhibition between Sweden and a split squad United States team in Lake Placid on Monday, 2014 Kings first round draft pick Adrian Kempe (wearing #17) contributed a one-goal, two-point performance in a 6-2 Tre Kronor win over USA's Team Blue.
The highlights:
-0:08: Kempe wristshot goal (described as a "rocket")
-0:30: Kempe strong net drive finished off by Leon Bristedt
-0:52: Nice stickhandling, goal by Minnesota first rounder Alex Tuch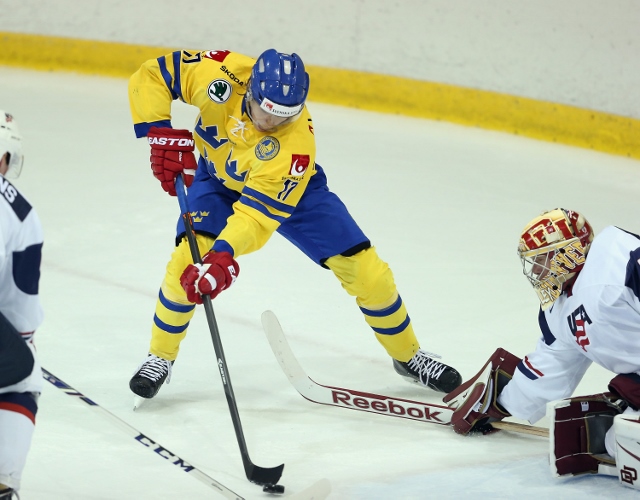 From Bill Meltzer of Hockey Buzz:
One day after downing Team USA White 4-3 in summer development camp action in Lake Placid, Sweden blew out Team USA Blue by a 6-2 count. As with the first game against the Americans, the most impressive line for Sweden was the trio of LA Kings 2014 first-round pick Adrian Kempe (1G, 1A), Detroit Red Wings prospect Axel Holmström and Flyers draftee Oskar Lindblom (1A). Kempe opened the scoring in the game midway through the first period with a tracer of a wrist shot from the left circle. Lindblom drew the lone assist on the goal.

Flyers defense prospect Robert Hägg continued to skate on the top pairing with Chicago Blackhawks prospect Robin Norell. Hägg, who was impressive in the opener against USA White, had a strong game for the first 35 minutes or so. Later, he was guilty of an unforced turnover and a pair of unnecessary penalties that did not result in any goals against.
Kempe drew an assist in Sweden's 4-3 win over USA's Team White on Sunday. Amidst practice days today and Thursday, Sweden will face USA's full camp team on Wednesday and Finland on Friday. Both games will begin at 1:00 p.m. PT; lineups and live stats can be found here.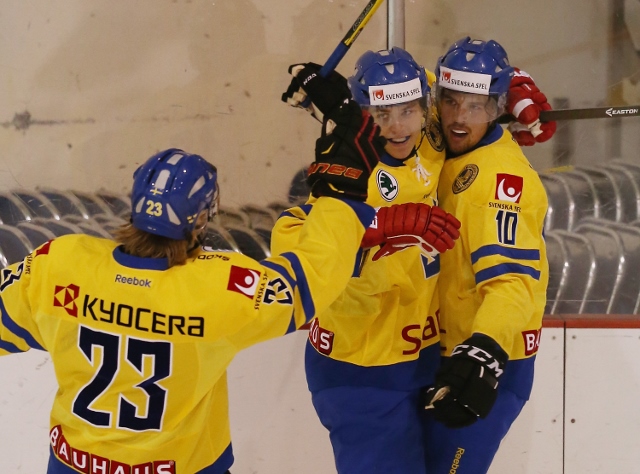 In Montreal, Roland McKeown (2014 / second round) and Canada will host the Czech Republic in their summer development camp exhibition opener at 4:00 p.m. PT this afternoon. As indicated by morning line rushes, McKeown be skating on a defensive pairing with Edmonton first rounder Darnell Nurse.
No McDavid for those attending RT @sarahjeanmaher: Group 1 will play tonight vs. Czech Republic: pic.twitter.com/bgvUIjE60T

— Jérôme Bérubé (@Jerome_Berube) August 5, 2014
Yesterday, Russia defeated the Czech Republic 5-0. It would have been helpful if the official scorers decided to, you know, keep score, but that wasn't the case. Instead, we turn our inquisitive eyes to you, Twitter.
Valentin Zykov, du @DrakkardeBaieCo, complète une belle pièce de jeu et c'est quatre à zéro pour la Russie. #LHJMQ #Drakkar

— Charles Lalande (@charles_19) August 5, 2014
Google Translate says: Valentin Zykov, the @DrakkardeBaieCo, complete a beautiful piece of game and it's four to zero for Russia.
La #LHJMQ est mise en valeur dans ce match. 4-0 Russie. Baldaev, Barbashev et Zykov ont trouvé le fond du filet.

— Parlons Junior (@Parlonsjunior) August 5, 2014
Google Translate says: The #QMJHL is highlighted in this game. Russia 4-0. Baldaev, Barbashev Zykov and found the back of the net.
Pendant un avantage numérique à la Russie, Valentin Zykov, du Drakkar, est puni.

— Charles Lalande (@charles_19) August 4, 2014
Google Translate says: During a powerplay Russia, Valentin Zykov, Drakkar is punished.
So, it appears that despite getting "punished," Zykov and the Quebec-based Russian juniors acquitted themselves quite well. If you'd like to watch the entire game, it's here.
The Russians have three games remaining in the development camp tournament; they'll face Canada on Wednesday and Thursday before welcoming the Swedes, who will travel up from Lake Placid to conclude the camp schedule.
Canada will face the Czechs for a second time on Friday. The full tournament schedule is here.
Official rosters will be announced in December. The 2015 World Junior Championships will be held in Toronto and Montreal between December 26 and January 5. Canada, the United States, Finland, Slovakia and Germany make up Group A, while Sweden, Russia, Denmark, Switzerland and the Czech Republic make up Group B.