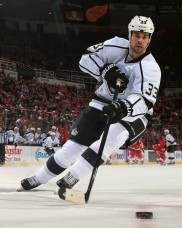 Told the Kings would not have enough cap space to accommodate his next contract during exit meetings, 37-year-old Willie Mitchell left Los Angeles after four years, 209 games, 11 goals, 46 points, one season lost to injury and two Stanley Cups having fulfilled his duty as a reliable stay-at-home presence on the blue line.
On the first day of free agency, Mitchell signed a two-year, 8.5-million dollar contract with the Florida Panthers, who added six players that will occupy 17.3 million dollars of cap space in the coming season. The move will bring Mitchell to an east coast team for the first time in his career since breaking in with the New Jersey Devils in 2000 and 2001.
Mitchell had joined the Kings after signing a two-year, seven-million dollar contract in August, 2010. He re-signed late in the 2011-12 season for the same terms, though he missed the entire 2012-13 season due to a pair of knee surgeries. The 4.25 average annual value of his new contract is the highest AAV of his career.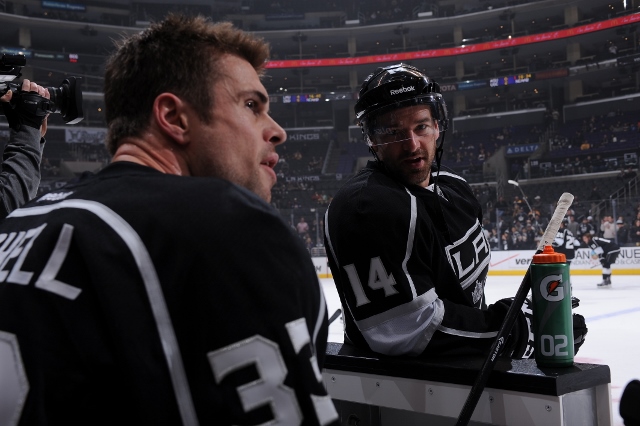 Mitchell consistently drew difficult assignments and in the 2014 playoffs began a higher percentage of shifts in the defensive zone than any other King. His 20:20 regular season time on ice average jumped up two full minutes in the playoffs, where he scored in Game 2 of the Stanley Cup Final and posted three assists as part of an 18-game, four-point, plus-five postseason. In four years (three seasons) with Los Angeles, he totaled 46 points and a plus-51 rating in 209 games.
Mitchell received the two year contract he sought and at an agreeable price that Los Angeles was unable to offer. Florida receives a great deal of experience, a big body capable of penalty killing and handling heavy defensive responsibilities, and an encouraging veteran in the dressing room that will be beneficial to the incubation of young stars Jonathan Huberdeau, Aleksander Barkov and the top pick of the 2014 NHL Draft, defenseman Aaron Ekblad.
It's tangentially related, but when I worked in the Western Hockey League, my team had a pair of Canucks prospects who were quick to point out that Mitchell went out of his way to make them feel welcome during training camp, even if the circles of senior team players and prospects don't always converge. With such a young Panthers roster, it's only natural to think that Mitchell's presence will be beneficial in the development of such skilled young players.
Also, he's teammates with this Roberto Luongo again.
Oh how I've missed your LONG stick bud! Great to be your teammate again @Willie_Mitch33 #Panthers

— Strombone (@strombone1) July 1, 2014
Mitchell was a crucially important presence on Los Angeles' blue line during the team's two Stanley Cup seasons. He partnered with young defenseman in Drew Doughty, Slava Voynov and Alec Martinez, and still should have plenty to offer as a rugged, if heavily tread, NHL defenseman.
Always approachable, the loquacious and jovial Mitchell was a favorite for reporters, broadcasters, those with close access to the team – and those looking for restaurant recommendations.
Florida will visit Staples Center on November 18, while Los Angeles will visit the BB&T Center on February 5.