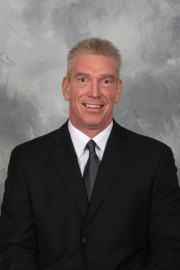 As noted by LA Kings Insider last week, the Los Angeles Kings have found a coach for AHL-Manchester in Mike Stothers.
Stothers, 52, posted a 91-97-13-15 record with WHL-Moose Jaw over the last three seasons and led the club to the 2012 Eastern Conference Final. Over the last two seasons, the Warriors undertook a concerted rebuild.
Stothers is familiar with Kings Vice President of Hockey Operations and Director of Player Personnel Michael Futa, whom he served under as OHL-Owen Sound's Head Coach from 2002-07 While Futa was General Manager, as well as Associate Coach John Stevens, whom he served alongside as assistant coaches with AHL-Philadelphia from 1998-00. Stevens was Philadelphia's captain in 1996-97 and played under Stothers with the Phantoms from 1996-99; the two played together with the Flyers and the Hershey Bears in the late 1980's.
Stothers, an NHL Assistant Coach with Philadelphia (2000-02) and Atlanta (2010-11), was the Head Coach of AHL-Grand Rapids in 2007-08, a year the Detroit Red Wings won the Stanley Cup. There's an interesting conversation on the Griffins website in which Stothers referred to Stevens as "the best captain I've ever had as far as hockey goes."
Mike Stothers on his coaching style, to GriffinsHockey.com in August, 2007:
Firm, but fair. I can be demanding. I put a lot of pressure on myself to perform, and I do the same with the players. But I think they recognize that all I ask is an honest effort. Sometimes you've got it and sometimes you don't, but certainly when the effort's there, they'll never have a problem with me. I try to show them that there's a human side to me with my humor, and I try to talk to them as individuals. I try not to have a situation where any one individual on the team doesn't know where he stands. There really isn't any grey area as to what your role is and what your job description is to help the team win. I like to think of myself as a teacher. I enjoy that part of the game, whether it's walking through things on the ice or going over things through video or individually. I don't know if you can say "he's a real player's coach" or whatever, but I think there's a fine line between being hard but fair and being a player's coach.
Michael Futa on Stothers, to the Regina Leader-Post in July 2011:
Mike is a tremendous person and leader. He has a tireless work ethic that he will demand from those around him including his players. He is an honest, straight shooter who will be firm but fair with his team. "His players will know exactly where they stand with him and they should be prepared to work hard each and every day.
A former defenseman, Stothers appeared in 672 regular season AHL games and 30 NHL games from 1982-92.
Stothers replaces Mark Morris, who guided the Monarchs to a 338-224-27-39 record and leaves the team as the most successful coach in club history. Morris' contract was not renewed in May.
Monarchs Head Coaches:
Bruce Boudreau: 2001-05
Jim Hughes: 2005-06
Mark Morris: 2006-14
Mike Stothers: 2014-
Mike Stothers' professional coaching experience:
Hershey Bears (AHL): Player/Assistant Coach (1991-92)
Hershey Bears (AHL): Assistant Coach (1992-96)
Philadelphia Phantoms (AHL): Assistant Coach (1996-00)
Philadelphia Flyers (NHL): Assistant Coach (2000-02)
Owen Sound Attack (OHL): Head Coach (2002-07)
Grand Rapids Griffins (AHL): Head Coach (2007-08)
Atlanta Thrashers (NHL): Assistant Coach (2010-11)
Moose Jaw Warriors (WHL): Head Coach (2011-14)