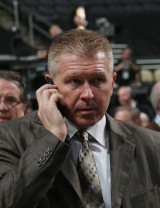 After last year's draft, I had an interesting conversation with former Assistant General Manager Ron Hextall, who mentioned that the club's scouts were "banging on the table" when Valentin Zykov fell to an area where the Kings were able to package some draft picks to be able to move up and snag the skilled Russian forward with the 37th overall pick.
As it turns out, that method of attracting the attention of executives in hockey operations was out of the ordinary.
"There's none of that," Director of Amateur Scouting Mark Yannetti said. "I know some teams, you bang on the table for your guy. Anybody here who sits up and bangs on the table for the guy, that means our list isn't right. All that 'banging on the table,' whatever, it's plain and simple. Guys present their case, a guy gets put on the list, a guy gets put in a spot."
And after nine months of scouring the continent (or, in the case of Director of European Scouting Christian Ruuttu and several others, an entirely different continent), there are players that the team does grow an attachment towards and envisions wearing a crowned chevron on their jersey.
"Now there are definitely guys that we target and want to come out of a draft with," Yannetti said. "If you just forget the first and second round, we wanted to get out of the draft with Shore and Andreoff one year. We just wanted those two guys. We wanted to make sure we had an opportunity to do it. Now, they may end up being the best two guys for our team…but it may just be 'we wanted Alec Martinez.' There's no pounding on the table. I really like that about our staff. We target guys. We have guys put on the list. If there's a guy we really want, we make sure he's in a spot where we can get him. But at the table, other than moving where things can become fluid, the decision on the player is already made."
Again, that's because of The List, a holy point of reference in which all draft-eligible prospects are listed and ranked. Generally the list is set in stone a week before the draft, but this year the final touches were made with less of a cushion.
"We showed them yesterday the final copy, and said 'OK, guys, talk now or forever hold your peace,'" Vice President of Hockey Operations and Director of Player Personnel Mike Futa said.
"It's kind of locked in the vault. Yank (Mark Yannetti) and I always take little peeks at it and look at different scenarios when Dean talks about 'If I have a chance to move this guy, we can get another pick here. What do you think?' … Literally every scenario is discussed to the point it's almost – It's like, "OK. OK.' But it's the way it is. There can't be any surprises. It's got to be, 'OK, if this happens at the draft, what do you want to do?' 'If I put this player on the line, and these picks?' So we identify. We put up the big grid with all the teams, where they're picking, and we say, 'OK, these are the areas we think we can hit the guy we want in here.' So then Dean gets on the phone, calls all those teams. And he's got all his notes down. 'This team's interested. This team's interested.'"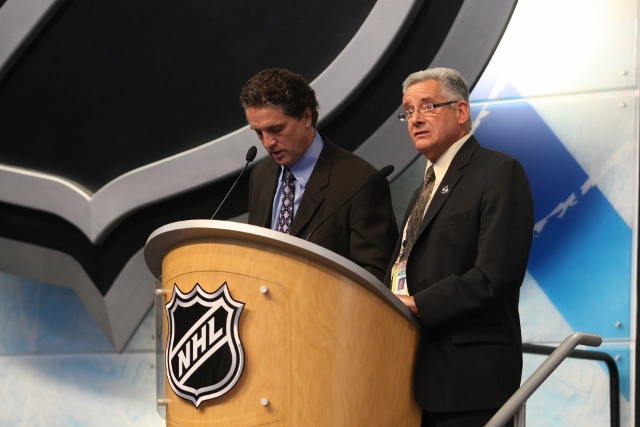 The team doesn't make "adjustments on the fly" or "jump guys," Yannetti said. The list is the list, and while the team has to be prepared for the inevitable trades of picks – the Kings have exchanged draft picks at all eight of the drafts General Manager Dean Lombardi has presided over – as well as trades by other teams, there is the ultimate faith in the list the team has compiled.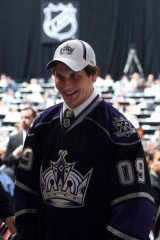 "Mike and I have discretion, and Dean has been really good about that," Yannetti said. "There will be three or four players on our list where that Mike and I have discretion, because I always find you get into trouble when you deviate from your list. Without saying it, the only two real mistakes we made in the draft, one was because we did something like that instead of taking the best player, instead of following the list, we deviated and went for need. Once again, it's a lesson learned."
"Other than that, there's a few players Mike and I have discretion with, and let's say there are only a few goalies in the draft. If we feel we need to fill that goalie spot, and we have a goalie that we have a discretionary pick – like (Patrick) Bartosak last year. Mike and I had the discretion to move him up and take him, or to go back, and we analyzed things. We thought that was the area we had to be, so we waited, and that was the area where we thought you can't wait any longer. But we didn't think we had to jump up, either. Things like that, Mike and I get discretion, but other than that, it's your list. Now, I guess if you're in a defense-heavy draft, and there's not a lot of centers, if you have a guy rated in the same exact spot as another guy, you could go 'there's not going to be any centers left,' or 'there's not going to be any D left.' Usually it's defensemaen. Everybody says the same thing. 'There's not enough defensemen in the world.' You could conceivably do it that way, but we try to go strictly by the list.
So, in other words, trust the list, and be prepared for the inevitable surprises on draft day.
"I think there might be a chance to do something before the draft to add some additional picks or shuffle some picks around, so we'll meet about that," Futa said. "And then, again, we'll have our list right there to talk about all the scenarios that unfold."