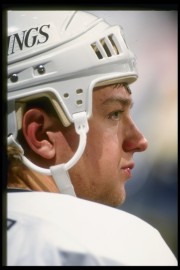 Rob Blake, who amassed 777 points in 1,270 games over 21 National Hockey League seasons with Los Angeles, Colorado and San Jose and won a Stanley Cup with the Avalanche in 2001, was announced as part of the 2014 Hockey Hall of Fame induction class on Monday along with Peter Forsberg, Dominik Hasek and Mike Modano. The late coach Pat Burns and referee Bill McCreary were also named to the class in the Builders category.
Blake, perhaps the most versatile top-tier defensemen of his generation, was known for the ferocity of his open ice hits, the heaviness and accuracy of his shot, and leadership intangibles that led him to serve as Los Angeles' and San Jose's team captain and as an alternate captain with Colorado. Having claimed the 1997-98 Norris Trophy – the only Norris Trophy won by a King – Blake also won a gold medal with Team Canada at the 2002 Winter Olympics and the 2014 Stanley Cup as Los Angeles' assistant general manager, earned his Hall of Fame nod in his second opportunity. Chris Chelios, Brendan Shanahan and Scott Niedermayer were the players inducted in the 2013 class.
"This is a tremendous honor," Blake told the Hockey Hall of Fame. "I am fortunate to have been around the game of hockey and have it be a key part of my life for as long as I can remember."
Rob Blake will be inducted into the Hockey Hall of Fame in November. A very special phone call from earlier today: pic.twitter.com/KLQh6U48X3

— Jon Rosen (@lakingsinsider) June 23, 2014
Blake is the all-time leader in games played, goals, assists and points by a Los Angeles defenseman.
"It's a great honor to be included in the group selected today and to join all the great players that reside in the Hockey Hall of Fame," Blake said in a Kings press release. "I feel fortunate and thankful as the game of hockey has been very good to me and my family over the past 25 years."
Los Angeles Kings President of Business Operations and a member of the 2009 Hall of Fame class, Luc Robitaille was one of 18 members of the Hall of Fame's Selection Committee, which votes on each year's inductees. Players are required to generate 14 votes for induction, with a maximum of four players inducted per year.
The induction weekend is scheduled for November 14-17 in Toronto, with the ceremony taking place on the 17th. USA Today reporter Kevin Allen, the recipient of the Elmer Ferguson Memorial Award, and Chicago Blackhawks play by play announcer Pat Foley, the recipient of the Foster Hewitt Memorial Award, are also a part of the 2014 class.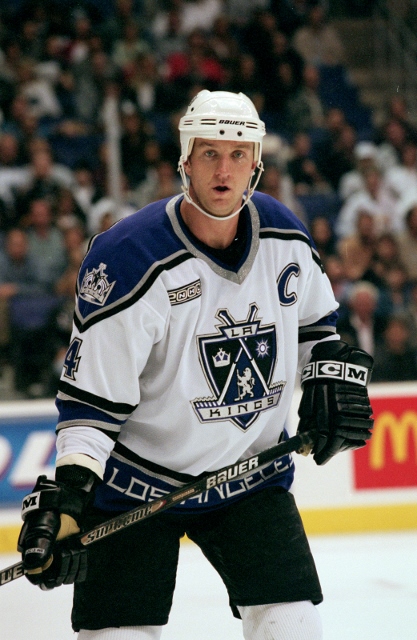 LOS ANGELES KINGS ACHIEVEMENTS
• 1st all-time among defensemen in games played (805), 4th overall
• 1st all-time among defensemen in goals (161), 13th overall
• 1st all-time among defensemen in assists (333), 8th overall
• 1st all-time among defensemen in points (494), 8th overall
• 1st all-time among defensemen in power play goals (92), 5th overall
• 1st all-time among defensemen in game-winning goals (29), 4th overall
• 1st all-time among defensemen in shots (2,468), 3rd overall
• 3rd all-time among defensemen in penalty minutes (1,231), 4th overall
• Led all defensemen in scoring six times (1992-93, 1993-94, 1996-97, 1997-98, 1998-99 and 1999-00)
• Recorded 12 power-play goals in 1999-00, the most-ever scored in one season by a defenseman
• Recorded six game-winning goals in 1993-94, the most-ever scored in one season by a defenseman
• Attempted 327 shots on goal in 1999-00, the most-ever attempted in one season by a defenseman
• His 23 goals in 1997-98 rank 2nd all-time among defensemen
• His 68 points (20-48=68) in 1993-94 rank 3rd all-time among defensemen
• Scored a career-high five points (3-2=5) and notched his only career hat trick vs. the New York Rangers on December 14, 2000
• Served as the Kings captain from 1996-01 and again from 2007-08 (six seasons)
• Two-time winner of the Kings Most Valuable Player "Bill Libby Memorial Award" (1997-98 and 1999-00)
• Six-time winner of the Kings Outstanding Defenseman Award (1990-91, 1991-92, 1992-93, 1993-94, 1997-98 and 1999-00)
• Winner of the Most Popular Player Award (1997-98)
• Winner of the Most Inspirational "Ace Bailey Memorial Award" (1997-98)
• Three-time winner of the Kings Community Service Award (1995-96, 1998-99 and 1900-00)
• Named to NHL All-Rookie Team in 1991
• Norris Trophy Winner in 1998
• Named to NHL First All-Star Team in 1998
• Named to NHL Second All-Star Team in 2000 and 2001 (2002 with Colorado)
• Four-time NHL All-Star with the Kings (six total)
LOS ANGELES KINGS PLAYOFF ACHIEVEMENTS
• 6th all-time in games played among defensemen (57)
• 4th all-time among defensemen in goals (8)
• T-4th all-time among defensemen in assists (16)
• 4th all-time among defensemen in points (24)
• 3rd all-time among defensemen in penalty minutes (98)
• T-3rd all-time among defensemen in power play goals (3)
• One of only two Kings defensemen to score a short-handed goal
• Member of the 1993 Kings team that reached the Stanley Cup Final
NATIONAL HOCKEY LEAGUE ACHIEVEMENTS
• 21st all-time among defensemen in games played (1,270)
• 11th all-time among defensemen in goals (240)
• 24th all-time among defensemen in assists (537)
• 19th all-time among defensemen in points (777)
• 3rd all-time among defensemen in power play goals (136)
• 6th all-time among defensemen in game-winning goals (41)
• 4th all-time among defensemen in shots (3,896)
NATIONAL HOCKEY LEAGUE PLAYOFF ACHIEVEMENTS
• 2001 Stanley Cup Champion with Colorado
• T-13th all-time among defensemen in goals (26)
• 25th all-time among defensemen in points (73)
INTERNATIONAL ACHIEVEMENTS
• Represented Canada at three Winter Olympic Games: 1998 (named top defenseman of tournament), 2002 (gold medal) and 2006
• Represented Canada at the World Championships five times: 1991 (silver medal), 1994 (gold medal), 1997 (gold medal, named best defensemen of tournament), 1998 and 1999
• Represented Canada at the World Cup of Hockey in 1996 and 2004 (DNP due to injury)