(3) Los Angeles Kings (15-10) vs (2) New York Rangers (13-11)
Friday, June 13, 2014, 5:00 p.m. PT
Staples Center, Los Angeles, CA
Referees: #40 Steve Kozari, #23 Brad Watson
Linesmen: #55 Steve Driscoll, #55 Shane Heyer
NBC, CBC, RDS, KEIB 1150 AM
Los Angeles Projected Starting Goaltender – Jonathan Quick
2013-14 Playoffs: 25 GP (25 GS) /15-10 record / 2.66 GAA / .910 Sv% / 2 SHO
Career, Playoffs: 75 (75) / 44-31 / 2.24 / .923 / 9
2013-14 Playoffs, Home: 11 (11) / 7-4 / 2.37 / .904 / 0
New York Projected Starting Goaltender – Henrik Lundqvist
2013-14 Playoffs: 24 GP (24 GS) / 13-10 record / 2.15 GAA / .926 Sv% / 1 SHO
Career, Playoffs: 91 (91) / 43-47 / 2.25 / .922 / 9
2013-14 Playoffs, Home: 12 (12) / 6-2 / 2.38 / .928 / 0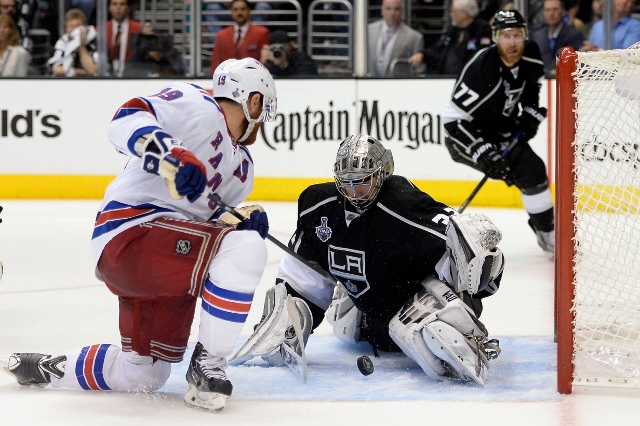 2013-14 Los Angeles Leaders
Total Points: Anze Kopitar (5-21=26)
Goals: Marian Gaborik (13-8=21)
Assists: Anze Kopitar (5-21=26)
Plus/Minus: Justin Williams (+13; 8-16=24)
Penalty Minutes: Kyle Clifford (37; 1-5=6)
Time On Ice: Drew Doughty (28:14; 5-12=17)

2013-14 New York Leaders
Total Points: Ryan McDonagh (4-12=16)
Goals: Martin St. Louis (8-7=15)
Assists: Ryan McDonagh (4-12=16)
Plus/Minus: Benoit Pouliot (+9; 5-5=10)
Penalty Minutes: Benoit Pouliot (24; 5-5=10)
Time On Ice: Ryan McDonagh (26:10; 4-12=16)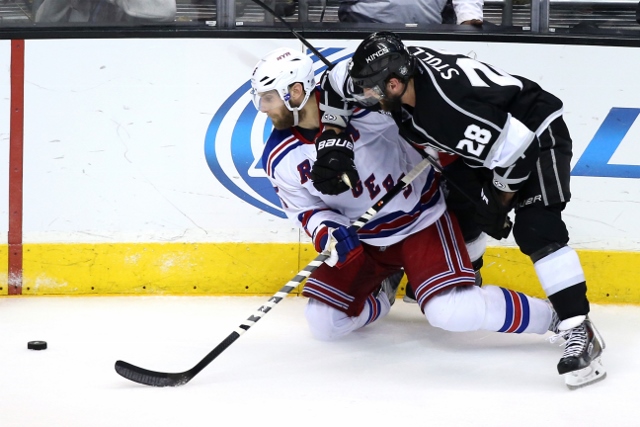 Rankings and Statistics
Goals/Game: LAK – 1 / 3.40; NYR – 11 / 2.58
Goals Against/Game: LAK – 7 / 2.72; NYR – 2 / 2.38
Power Play: LAK – 6 / 23.5%; NYR – 12 / 12.2%
Penalty Kill: LAK – 9 / 83.5%; NYR – 2 / 85.9%
Shots/Game: LAK – 6 / 31.5; NYR – t-10 / 29.3
Shots Against/Game: LAK – 7 / 30.1; NYR – 5 / 29.3
Faceoffs: LAK – 2 / 53.0%; NYR – 12 / 47.2%
Save Percentage: LAK – 7 / .910; NYR – 2 / .919
Los Angeles Projected Lines
Marian Gaborik – Anze Kopitar – Dustin Brown
Tanner Pearson – Jeff Carter – Tyler Toffoli
Dwight King – Jarret Stoll – Justin Williams
Kyle Clifford – Mike Richards – Trevor Lewis
Jake Muzzin – Drew Doughty
Willie Mitchell – Slava Voynov
Alec Martinez – Matt Greene
Jonathan Quick
Martin Jones
Level of confidence in projected lines: A-. The Kings didn't hold a full-team skate this morning. It's the playoffs; changes are always possible.
Notes and milestones: Los Angeles is 109-136 all-time in the playoffs, a record that includes a home mark of 61-55. … The Kings are 4-6 all-time against the Rangers in the playoffs (3-2 home, 1-4 road). … Los Angeles is 17-15 all-time and 1-2 this postseason in Game 5s. When winning Game 5, the Kings have won 11 of 17 series. When losing Game 5, they have won six of 15 series. … Los Angeles has won all five series in which it has held a three-one lead. … Tonight the Kings will set an NHL record by playing its 64th playoff game over a three-year span. They will also tie an NHL record held by the 1987 Flyers and 2004 Flames by playing their 26th game of the 2014 Stanley Cup Playoffs. Both the Flyers and Flames dropped seven-game series in the Final. Game 5 marks the league-record 93rd game of the playoffs, surpassing the previous high of 92 set in 1991. … Los Angeles has scored in 22 of the last 29 regulation periods. … The Kings are 16-5 at home in the playoffs, dating back to June 11, 2012. … Los Angeles is 9-1 in the last 10 playoff series. … Justin Williams has 13 points (3-10=13) in the last 10 games. … Jeff Carter has 15 points (7-8=15) in the last 12 games. … With 13 goals, Marian Gaborik trails Wayne Gretzky's club record of 15 goals recorded in one postseason by two goals. …Dustin Brown has eight points (4-4=8) in the last eight games. … Tyler Toffoli's seven goals this postseason is a Kings rookie record, while his 13 points ties the rookie record held by Warren Rychel (1993) and Daryl Evans (1982). … 17 players on Los Angeles' current roster played for the club during its 2012 Cup run. … Teams with a chance to win the Stanley Cup on home ice are 41-20 (.672) since the best-of-seven format was introduced in 1939, but just 7-8 (.467) since 2000. … In their 1581:20 of playing time in these playoffs, the Kings have led 504:52 (or 32% of the time), have been tied 541:39 (34%) and have trailed 534:49 (34%).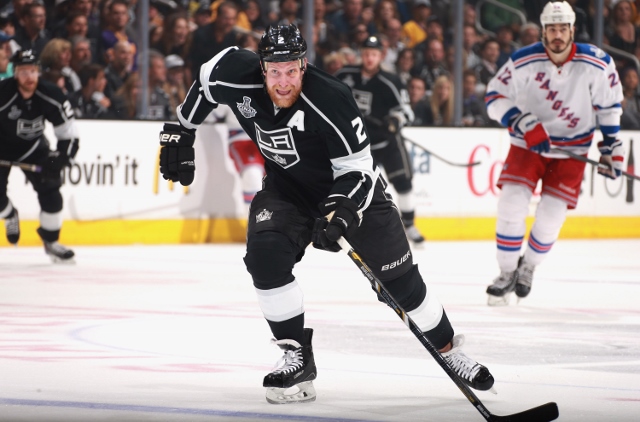 New York Projected Lines
Chris Kreider – Derek Stepan – Rick Nash
Carl Hagelin – Brad Richards – Martin St. Louis
Benoit Pouliot – Derick Brassard – Mats Zuccarello
Brian Boyle – Dominic Moore – Derek Dorsett
Ryan McDonagh – Dan Girardi
Marc Staal – Anton Stralman
John Moore – Kevin Klein
Henrik Lundqvist
David Leneveu
Notes and milestones: With one more loss, the Rangers would become the first team in Stanley Cup Playoffs history to lose 12 games. With 11 losses, they have tied the 1987 Flyers and 2004 Flames for the most losses in one postseason. … New York has outscored opponents 26-12 in first periods this postseason. The +14 goal differential is the best by any team in any period in the playoffs. … The Rangers are 11-2 in their last 13 games when facing elimination, dating back to Game 6 against Ottawa of the 2012 Eastern Conference Quarterfinals. They are 5-0 this postseason when facing elimination. … Of teams to have faced a three-nothing series deficit, 20 lost in four games, three lost in five games, one team lost in six games (New Jersey in 2012 vs Los Angeles), one team lost in seven games (Detroit in 1945 vs Toronto) and one team won in seven games (Toronto in 1942 vs Detroit). … Henrik Lundqvist is 11-2 with a 1.30 goals-against average, .959 save percentage and two shutouts when facing elimination. … In their 1485:22 of playing time in the playoffs, the Rangers have been ahead 617:33 (42%), tied 540:15 (36%) and have trailed 327:34 (22%).