(3) Los Angeles Kings (11-9) at (3) Chicago Blackhawks (11-7)
Sunday, June 1, 2014, 5:00 p.m. PT
United Center, Chicago, IL
Referees: #13 Dan O'Halloran, #4 Wes McCauley
Linesmen: #68 Scott Driscoll, #55 Shane Heyer
NBCSN, CBC, RDS, KEIB 1150 AM
Los Angeles Projected Starting Goaltender – Jonathan Quick
2013-14 Playoffs: 20 GP (20 GS) /11-9 record / 2.82 GAA / .906 Sv% / 1 SHO
Career, Playoffs: 70 (70) / 40-30 / 2.25 / .923 / 8
2013-14 Playoffs, Away: 11 (11) / 6-5 / 2.87 / .909 / 1
Chicago Projected Starting Goaltender – Corey Crawford
2013-14 Playoffs: 18 GP (18 GS) / 11-7 record / 2.41 GAA / .916 Sv% / 1 SHO
Career, Playoffs: 55 (54) / 32-22 / 2.17 / .921 / 3
2013-14 Playoffs, Home: 9 (9) / 8-1 / 1.89 / .936 / 1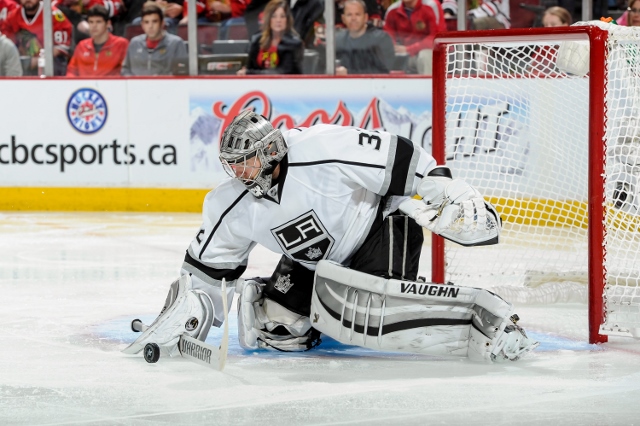 2013-14 Los Angeles Leaders
Total Points: Anze Kopitar (5-18=23)
Goals: Marian Gaborik (11-7=18)
Assists: Anze Kopitar (5-18=23)
Plus/Minus: Anze Kopitar (+10; 5-18=23), Tanner Pearson (+10; 4-8=12)
Penalty Minutes: Kyle Clifford (37; 0-3=3)
Time On Ice: Drew Doughty (27:45; 4-12=16)
2013-14 Chicago Leaders
Total Points: Patrick Kane (8-10=18)
Goals: Patrick Kane (8-10=18), Jonathan Toews (8-7=15)
Assists: Marian Hossa (2-12=14)
Plus/Minus: Brandon Saad (+10; 5-9=14)
Penalty Minutes: Brent Seabrook (19; 3-11=14)
Time On Ice: Duncan Keith (27:34; 4-7=11)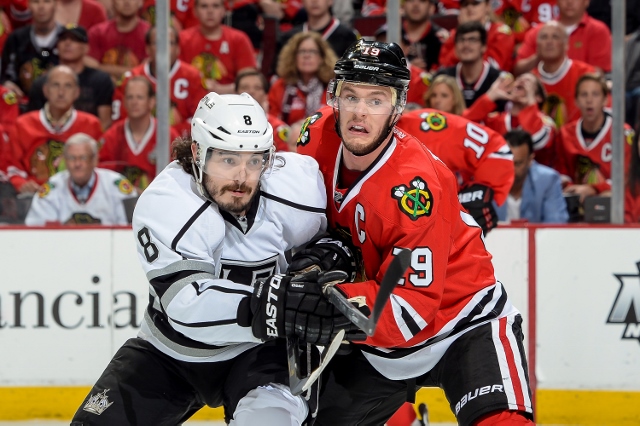 Rankings and Statistics
Goals/Game: LAK – 1 / 3.40; CHI – t-3 / 3.00
Goals Against/Game: LAK – t-8 / 2.80; CHI – 7 / 2.78
Power Play: LAK – 4 / 26.2%; CHI – 8 / 19.2%
Penalty Kill: LAK – 9 / 82.7%; CHI – 8 / 84.1%
Shots/Game: LAK – 6 / 30.6; CHI – 12 / 27.2
Shots Against/Game: LAK – 7 / 29.8; CHI – 10 / 31.2
Faceoffs: LAK – 2 / 53.2%; CHI – 10 / 49.5%
Save Percentage: LAK – t-8 / .906; CHI – 7 / .911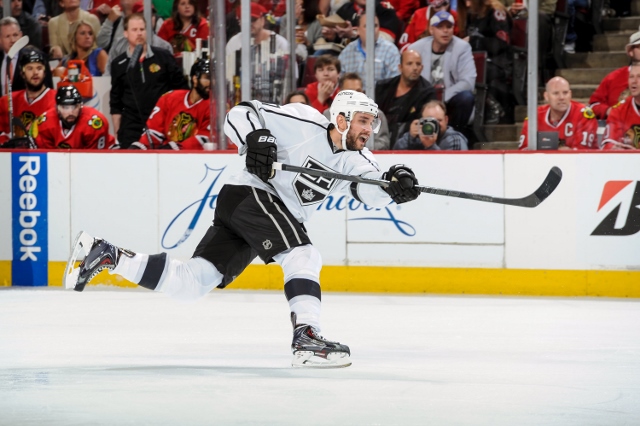 Los Angeles Projected Lines
Marian Gaborik – Anze Kopitar – Dustin Brown
Tanner Pearson – Jeff Carter – Tyler Toffoli
Dwight King – Jarret Stoll – Justin Williams
Kyle Clifford – Mike Richards – Trevor Lewis
Jake Muzzin – Drew Doughty
Willie Mitchell – Slava Voynov
Alec Martinez – Matt Greene
Jonathan Quick
Martin Jones
Level of confidence in projected lines: B+. If there will be changes to Los Angeles' lineup, Darryl Sutter wasn't tipping his hand at the morning skate, where the line rushes showed the same alignment used in the last two games. Robyn Regehr is "doubtful," as Sutter noted yesterday. As always, this is the playoffs and surprises are possible.
Notes and milestones: Los Angeles is 105-135 all-time in the playoffs, a record that includes an away mark of 46-80. The Kings are 5-11 all-time against the Blackhawks in the playoffs (4-3 home, 1-8 road). … Los Angeles is 6-4 all-time and 2-0 this postseason in Game 7s. … Darryl Sutter is 6-3 all-time in Game 7s. … Current Kings have a combined 70-7 record of Game 7 experience; Justin Williams, Marian Gaborik and Mike Richards are 6-0 in NHL Game 7s. … Los Angeles skaters who have averaged better than a point per Game 7 include Drew Doughty (3 GP; 1-2=3), Anze Kopitar (3 GP; 2-3=5), Justin Williams (6 GP; 6-6=12), Slava Voynov (3 GP; 0-3=3) and Tanner Pearson (2 GP; 2-1=3). … Jonathan Quick is 3-0 with a 1.33 goals-against average and .957 save percentage in Game 7s. … The Kings are 4-0 in playoff series in which they held a three to one series lead. … Los Angeles is the third team in history to play every possible game through three rounds. The 1993 Toronto Maple Leafs and 2002 Colorado Avalanche also played 21 games through the Conference Final. Toronto lost at home to Los Angeles in 1993 and Colorado lost at Detroit in 2002. … The Kings lead all NHL teams with an average of 3.40 goals per game in the postseason. … Los Angeles has scored in 12 of the last 14 regulation periods. … The Kings are 6-0 when facing elimination this postseason. … Los Angeles is 24-27 all-time in overtime (11-11 home, 13-16 road), though they have never reached overtime of a Game 7. … With 23 points (5-18=23), Anze Kopitar trails Wayne Gretzky's 40 points and Tomas Sandstrom's 25 points in 1993 on the list of the highest scoring postseasons in Kings history. … Tyler Toffoli has 11 points (6-5=11), a plus-seven rating and a 56.5% Corsi percentage (173 CF; 133 CA) in 14 career regular season and playoff games against Chicago. … Drew Doughty has seven points (3-4=7) in the last five games. His 16 points (4-12=16) ties his 2012 club postseason record for most points by a defenseman. … Jeff Carter has 12 points (5-7=12) in the last seven games. … Marian Gaborik has 18 points (11-7=18) in the last 18 games. His 11 playoff goals are a career high; only Wayne Gretzky (15 / 1993) and Luc Robitaille (12 / 1991) have scored more goals in a single Los Angeles postseason. … Tanner Pearson has seven points (3-4=7) in the last seven games.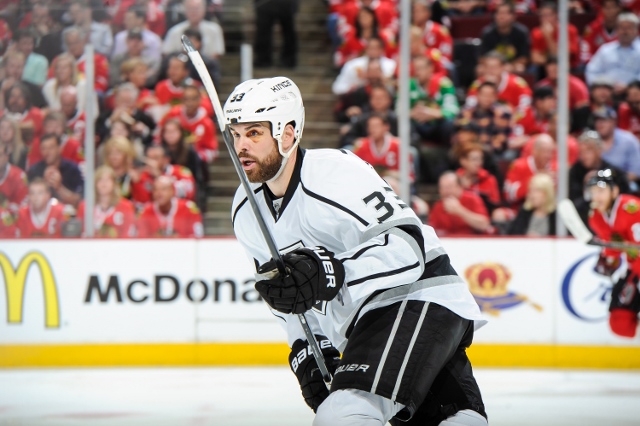 Chicago Projected Lines
Bryan Bickell – Jonathan Toews – Marian Hossa
Brandon Saad – Andrew Shaw – Patrick Kane
Patrick Sharp – Marcus Kruger – Ben Smith
Brandon Bollig – Michal Handzus – Kris Versteeg
Duncan Keith – Niklas Hjalmarsson
Nick Leddy – Brent Seabrook
Johnny Oduya – Michal Rozsival
Corey Crawford
Antti Raanta
Notes and milestones: Chicago is 13-0 in Games 5-7 and 5-0 when facing elimination over the last two playoffs. … Corey Crawford is 9-2 when facing elimination. … Patrick Kane is the first player since 1992 to notch three-plus points in consecutive elimination games. He has eight points (2-6=8) during a three-game point streak and along with Jonathan Toews shares the NHL lead with four game-winning goals. … Duncan Keith's four playoff goals ties a career high. … Nicklas Hjalmarsson leads all skaters with 52 blocked shots. … Ben Smith has goals in back-to-back games and has recorded a postseason career-high four goals and six points through 18 games. … Jonathan Toews has recorded five points (2-3=5) over a four-game point streak. … Brandon Saad has recorded five points (2-3=5) over a three-game point streak. … Chicago is 4-2 in overtime this postseason, having won four straight games.