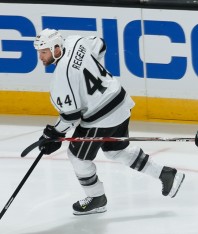 Robyn Regehr may not have played since the first period of Game 1 of the Anaheim series, but he certainly has the look of someone six weeks into the Stanley Cup Playoffs. With Dustin Penner out of the equation, he's running unopposed in the competition for the most voluminous playoff beard.
Suffering what was described as a knee injury in a collision with Devante Smith-Pelly of the Ducks on May 3, Regehr ruled himself out of tonight's Game 6 against the Chicago Blackhawks.
"Not ready yet," the veteran defenseman said. "Still got some work to do – on ice conditioning now, getting up to speed as best I can, things like that, taking some contact, doing one-on-ones."
He took part in line rushes with Jeff Schultz in what represented his full return to practices and morning skates. He had previously taken the ice midway through the Kings' full-team sessions.
"Feels good," he said. "It's a lot better than doing them by yourself."
Also better: the ability to join his teammates in on-ice jocularity and perhaps respond to a chirp or two in his direction.
"Well, you can chirp back, though," he said. "The only one you could do before is looking at your reflection in the glass, and that's no fun."
Regehr has traveled with the team since the outset of the series.
"Just being around the guys again, practicing with them, it feels good," he said. "It's difficult when you're injured because you're on a different schedule and program than a lot of the normal guys, the playing guys, so you kind of feel you're a little bit of a hobbit sometimes, so it's nice to be back around the guys. It started with traveling with them to Chicago and things like that, but it's been a slow progression, more and more."
Regehr has been cleared for contact, but he'll still need more of it to get back up to the level of competition and speed of Stanley Cup Playoff hockey.
"I did a few little battle drills down low, two-on-ones, things like that," he said. "But I need more of that. I need one-on-one contact and things like that before I'm ready to roll."
The Kings are expected to ice the same lineup as they did in Chicago for Game 5.