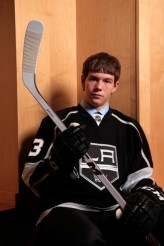 Montreal-based journalist Renaud Lavoie of TVA Sports reported earlier today that Valentin Zykov has signed a three-year entry level contract worth 2.21 million, a signing that has been confirmed by the Kings. Zykov followed up his 40-goal, 17-year-old season from 2012-13 with the Baie-Comeau Drakkar with a 63-point (23-40=63), 53-game regular season as an 18-year-old. He posted 22 points (7-15=22) in 22 playoff games before the Drakkar's title hopes were crushed by an Anthony Mantha goal with 52 seconds remaining in Game 7 of the QMJHL Championship that clinched the title for the Val-d'Or Foreurs.
Selected 37th overall, Zykov was the Kings' highest selection at the 2013 NHL Entry Draft.
Vice President of Hockey Operations and Director of Player Personnel Michael Futa was encouraged by Zykov's 18-year-old season, which also included a seven-game performance at the World Junior Championships in which the forward was held without a point.
"It was good. It had highs and lows, and stuff like that," Futa said about Zykov's sophomore season.
Because Zykov will be 19 years old next season, if he doesn't make the Kings out of training camp, the agreement between the NHL and the Canadian Hockey Leagues dictates that Zykov would have to go back to the QMJHL.
Because of the depth on the Los Angeles roster and several players capable of earning spots on the team that spent much or all of 2013-14 in Manchester, it should be considered a significant longshot for Zykov to earn a permanent spot on next year's club.
There is also some thought in the organization that the best incubation for Zykov's development is at the professional level.
"It's the old Bobby Ryan," Futa said, referencing one of his players from the Ontario Hockey League's Owen Sound Attack.
Ryan, who followed up a productive 18-year-old season with eight points in 19 games during the Portland Pirates' American Hockey League playoff run in 2006, did not make Anaheim's roster during training camp in 2006 and was caught in the position in which he was too good for junior hockey and unable to play professionally in North America. Ryan ultimately returned to Owen Sound, where he posted 102 points in 63 games.
That's not to say that Zykov is at the same level developmentally as Ryan was, or that he's on a similar career trajectory as the Ottawa Senators' sniper. But there is a discussion – which may be moot, given the agreement between the NHL and the CHL – as to whether his development would be best served by returning to the QMJHL, where he has totaled 138 points (63-75=138) in 120 regular season games.
Keep in mind the Kings were faced with a similar situation in 2010 with Brayden Schenn, who played eight games with Los Angeles in 2010-11 before he was assigned to Manchester as part of a "conditioning loan," as per Article 13.8 of the Collective Bargaining Agreement.
13.8 Conditioning Loan
Unless a Player consents, he shall not be Loaned on a Conditioning Loan to a minor league club. Such Conditioning Loan shall not extend for more than fourteen (14) consecutive days. The Commissioner may take whatever steps he deems necessary to investigate the circumstances under which a Player is Loaned on a Conditioning Loan. If the Commissioner has reason to believe or determines that the Club has used the Conditioning Loan to evade Waivers, or otherwise Circumvent any provision of this Agreement, he may take such disciplinary action against the Club, as he deems appropriate. The Player shall continue, during the period of such Conditioning Loan, to receive the same Paragraph 1 NHL Salary, and be entitled to the same benefits, that he would have received had he continued to play with the Club.
Schenn posted seven points in seven games with Manchester before he was eventually returned to Brandon of the Western Hockey League. After returning from a seven-game,18-point World Juniors performance, he finished the season with WHL-Saskatoon before returning to Manchester for the playoffs.
It remains unclear whether the Kings would opt for a similar path for Zykov in 2013-14.
"We've got to find something that is good for him, because if he's not with the big team next year, you really have to go back to junior hockey," Futa said.
As for now, the plan is for the talented forward to take advantage of a break in his virtual year-round schedule before he returns to Southern California for Development Camp.
"I spoke to his agent [on May 15], and I think the biggest thing for Z right now is to go home, and we're going to give him a few weeks," Futa said. "He hasn't been home. It's been training, training, training schedule, World Junior, World Junior, so I think he needs a good decompress time and just get his wits about him, and we'll talk about the plan with the development guys of getting him back over here."