Are the Kings one win away from the Stanley Cup Final, or do they have three chances to win a game against the defending champs? Considering the pace at which they've advanced the puck, the rate at which their power play is clicking, and the statistical authority they've maintained since Game 3 against San Jose, the former is the more accurate outlook. But it's a very tall task to emerge from the United Center with a win at any time of the year, and given the improvement of the Blackhawks' five-on-five play in Game 4, the championship will embedded in their psyche and their dominance on home ice throughout the last two postseasons, it's not a stretch to imagine that Los Angeles' most difficult game to this point of the postseason lies directly in front of them.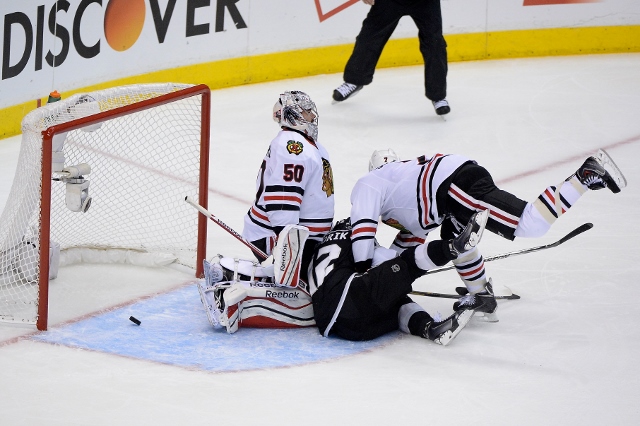 The Kings won Game 4 because they won the special teams battle. They killed a pair of penalties (really, a penalty and a half given Marian Hossa's goaltender interference penalty during a Blackhawk power play), and when presented with opportunities to seize a first period lead, they did just that. A man advantage that ranked 28th in the league on January 30 cashed in on Jake Muzzin and Dustin Brown first period goals to push the needle of postseason power play success up to 26.7%. In case you missed it, Chicago entered this series with an NHL-leading 91.3% penalty killing rate.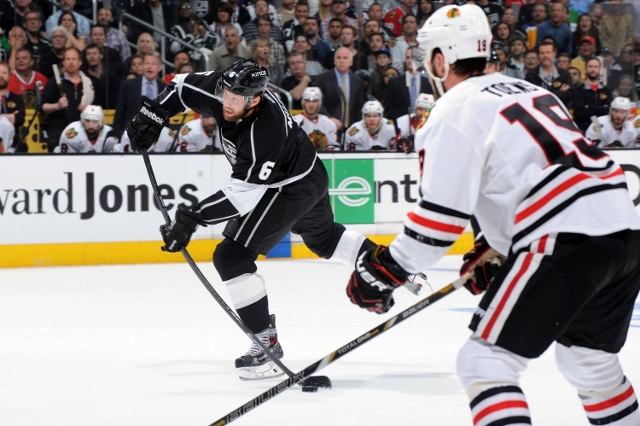 The Kings have been very good in getting bodies and pucks to the front of the net, and all four non-empty net goals were aided by the presence of black jerseys in front of Corey Crawford. Jeff Carter had an important screen on Muzzin's goal, Marian Gaborik paid the price for getting to the net to redirect Anze Kopitar's pass after the Kings' Selke candidate stripped the puck from the Blackhawks' Norris candidate, and Justin Williams did a fine job to deflecting the puck towards Dustin Brown above the goalmouth as Los Angeles built up a three-nothing lead. Williams and King also provided screens on the Chicago goaltender during Drew Doughty's second period strike. At some point, though, Crawford is going to have to make saves for his team. After an excellent first game, he has posted an .841 save percentage in Games 2 through 4. It's tough to place more than one or two goals specifically on him, especially when Los Angeles' power play is 5-for-10 over that span, but at this time he's not making any game-breaking saves that absorb momentum for his team.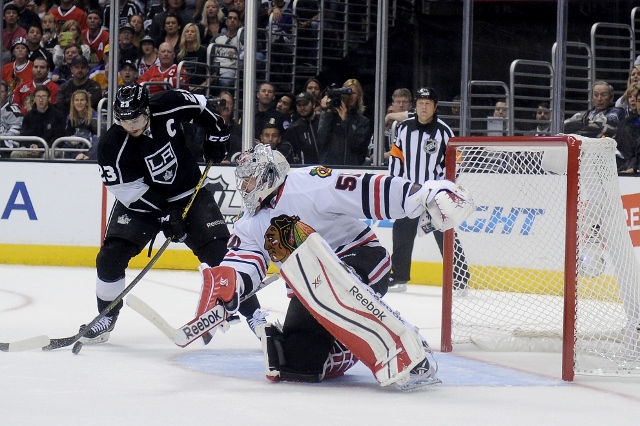 The Blackhawks are allowing too many pucks to get to Crawford, and only one shot was blocked by a Chicago forward in Game 4. In the two games at Staples Center, 83 of 105 Kings shot attempts were unblocked (79.0%), while 81 of 120 Blackhawks shot attempts were unblocked (67.5%). Los Angeles was excellent in using sticks and bodies to get in passing and shooting lanes, and the success the Kings have had in getting in front of attempts while getting their own attempts through correlates with their profound special teams advantage in this series.