(3) Los Angeles Kings (10-7) vs (3) Chicago Blackhawks (9-6)
Monday, May 26, 2014, 6:00 p.m. PT
Staples Center, Los Angeles, CA
Referees: #13 Dan O'Halloran, #4 Wes McCauley
Linesmen: #75 Derek Arnell, #71 Brad Kovachik
NBCSN, TSN, RDS, KEIB 1150 AM
Los Angeles Projected Starting Goaltender – Jonathan Quick
2013-14 Playoffs: 17 GP (17 GS) / 10-7 record / 2.72 GAA / .911 Sv% / 1 SHO
Career, Playoffs: 67 (67) / 39-28 / 2.19 / .924 / 8
2013-14 Playoffs, Home: 7 (7) / 4-3 / 2.65 / .909 / 0
Chicago Projected Starting Goaltender – Corey Crawford
2013-14 Playoffs: 15 GP (15 GS) / 9-6 record / 2.23 GAA / .923 Sv% / 1 SHO
Career, Playoffs: 52 (51) / 30-21 / 2.10 / .924 / 3
2013-14 Playoffs, Away: 7 (7) / 2-5 / 2.76 / .903 / 0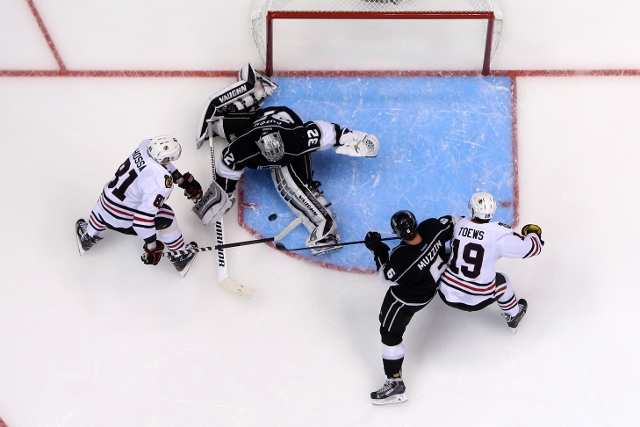 2013-14 Los Angeles Leaders
Total Points: Anze Kopitar (5-15=20)
Goals: Marian Gaborik (9-6=15)
Assists: Anze Kopitar (5-15=20)
Plus/Minus: Tanner Pearson (+9; 2-8=10)
Penalty Minutes: Kyle Clifford (37; 0-3=3)
Time On Ice: Drew Doughty (27:25; 2-10=12)
2013-14 Chicago Leaders
Total Points: Marian Hossa (2-12=14)
Goals: Jonathan Toews (8-5=13)
Assists: Marian Hossa (2-12=14)
Plus/Minus: Four players tied with +5 rating
Penalty Minutes: Brent Seabrook (17; 2-9=11)
Time On Ice: Duncan Keith (27:25; 3-7=10)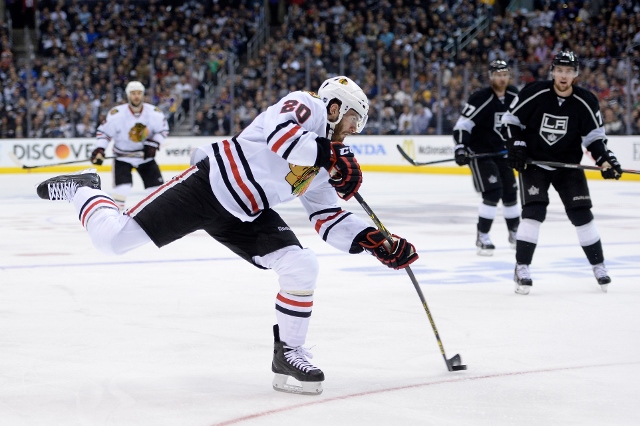 Rankings and Statistics
Goals/Game: LAK – 1 / 3.29; CHI – 6 / 2.87
Goals Against/Game: LAK – 5 / 2.65; CHI – 3 / 2.53
Power Play: LAK – 5 / 24.6%; CHI – 8 / 18.6%
Penalty Kill: LAK – 9 / 83.3%; CHI – 2 / 87.3%
Shots/Game: LAK – t-6 / 30.5; CHI – 13 / 26.4
Shots Against/Game: LAK – 6 / 29.5; CHI – 10 / 31.1
Faceoffs: LAK – 2 / 53.1%; CHI – 9 / 50.0%
Save Percentage: LAK – 8 / .910; CHI – 3 / .919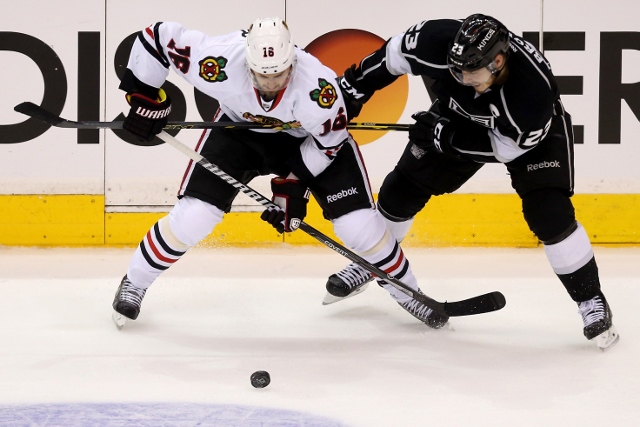 Los Angeles Projected Lines
Marian Gaborik – Anze Kopitar – Dustin Brown
Tanner Pearson – Jeff Carter – Tyler Toffoli
Dwight King – Mike Richards – Justin Williams
Kyle Clifford – Jarret Stoll – Trevor Lewis
Jake Muzzin – Drew Doughty
Willie Mitchell – Slava Voynov
Alec Martinez – Matt Greene
Jonathan Quick
Martin Jones
Level of confidence in projected lines: A-. Robyn Regehr has resumed skating, though there remains no timetable for his return. Expect Colin Fraser and Jeff Schultz to take warm-ups with the team as they did prior to Game 3. As always, this is the playoffs, and unforeseen changes are always a possibility.
Notes and milestones: Los Angeles is 104-133 all-time in the playoffs, a record that includes a home mark of 58-54. The Kings are 4-9 all-time against the Blackhawks in the playoffs (3-2 home, 1-7 road). … Los Angeles is 11-28 all-time and 1-1 this postseason in Game 4s. When winning Game 4, the Kings have won 8 of 11 series. When losing Game 4, they have won nine of 28 series. … When holding a 2-1 best-of-seven series lead, Los Angeles has won five of eight series. … The Kings are 14-for-53 (26.4%) on the power play in the last 15 games, dating back to Game 3 versus San Jose. … Since dropping the first three games of the San Jose series the Kings have gone 10-4, outscoring their opponents 48-28 over that span. … The Kings lead all NHL teams with an average of 3.29 goals per game in the postseason. Anze Kopitar leads all scorers with 20 points (5-15=20), while Jeff Carter (8-11=19) ranks second with 19 points. … Carter has points in four straight games (5-5=10) and seven points in the last two games (4-3=7). … Tanner Pearson has points in four straight games (1-4=5). … Tyler Toffoli has points in four straight games (3-1=4). He has 10 points (6-4=10), a plus-eight rating and a 54.8% Corsi percentage (119 CF; 98 CA) in 11 career regular season and playoff games against Chicago. … Justin Williams has 13 points (6-7=13) in the last 14 games. … Los Angeles is 13-4 in the last 17 playoff games at Staples Center, dating back to June 11, 2012. … Tonight will mark that Kings' 116th consecutive sellout dating back to December 3, 2011.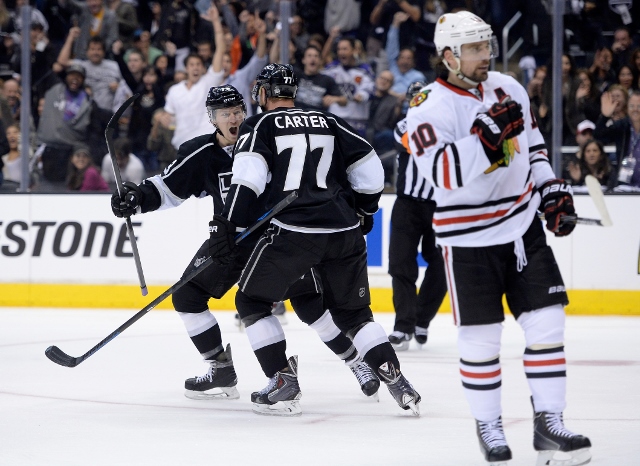 Chicago Projected Lines
Bryan Bickell – Jonathan Toews – Marian Hossa
Brandon Saad – Andrew Shaw – Patrick Kane
Patrick Sharp – Michal Handzus – Kris Versteeg
Peter Regin – Marcus Kruger – Ben Smith
Duncan Keith – Brent Seabrook
Johnny Oduya – Niklas Hjalmarsson
Nick Leddy – Michal Rozsival
Corey Crawford
Antti Raanta
Notes and milestones: Chicago did not hold a morning skate today, so bear with some variances in the projected lines. … Since 2010, the Blackhawks are 19-20 in Games 1-3 and 27-7 in Games 4-7 of playoff series. … Jonathan Toews is tied with Jeff Carter for second place in NHL postseason goal scoring with eight goals. Marian Gaborik leads all skaters with nine. … Since the 2009 postseason, Patrick Kane and Patrick Sharp have scored an NHL-high 35 playoff goals. … Chicago has one power play goal in its last 21 opportunities. … The Blackhawks have outscored opponents 14-8 in first periods but have been outscored 30-29 throughout the second period, third period and overtime. … Chicago has outshot opponents 126-122 in the first period but has been outshot 345-270 throughout the second period, third period and overtime.