-After several early swings of momentum and a strong Chicago push to open the second period, Jonathan Quick denied Patrick Kane on a pair of Grade-A opportunities, the Kings killed a Blackhawk power play without allowing as much as a sniff at the net, and turned the game around on a dime when Tanner Pearson's competition behind the opposing net led to a pass to Jeff Carter, who beat Corey Crawford from close range to tie a mostly even game at two. From that point forward, Los Angeles tilted the ice towards Crawford and capitalized on a surge of momentum that led up only sporadically. Again proving that the best defense is a good offense, the Kings iced the game by outshooting the Blackhawks 18-7 during a third period in which they dominated puck possession and the run of play.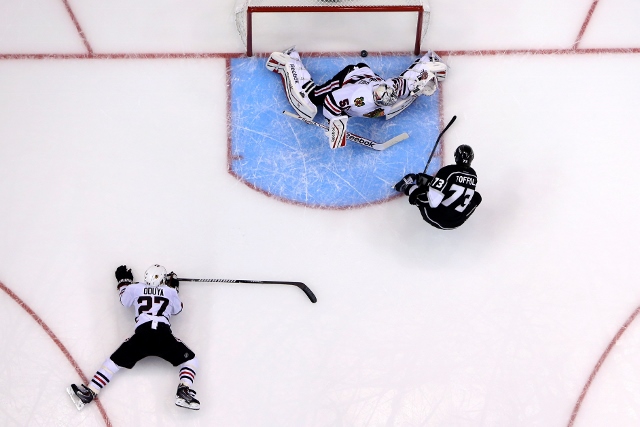 -Jeff Carter was excellent, and for the one thousandth time in Waking up with the Kings, is so much more than a goal scorer. His backchecking and 200-foot intelligence make him such a valuable component of Los Angeles' efforts, and aside from his three-point performance – he now has seven points over the last two games – he broke up a developing high quality Chicago zone entry with a takeaway in the first period and drew a hooking penalty on Nick Leddy early in the third that allowed the Kings to continue to build momentum in their favor over the final 20 minutes. He slipped between a slow-to-react Michal Handzus and Johnny Oduya in receiving the puck from Tanner Pearson before snapping off a quick shot from close range for an important goal and continues to provide match-up difficulties when the Anze Kopitar and Jonathan Toews lines are off the ice. After recording only 14 shots in the 10 games that began with Game 5 against San Jose and continued through the end of the Anaheim series, Carter has produced eight points and 13 shots on goal against Chicago, with Games 2 and 3 qualifying as among his best games as a King.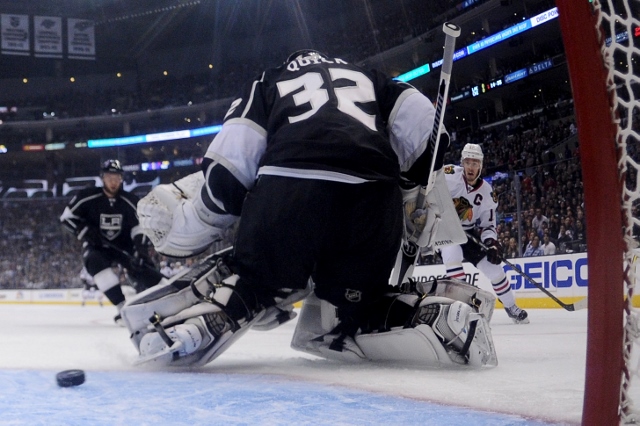 -Jarret Stoll took 28 faceoffs yesterday and won 16 of them. Only three other players took faceoffs for the Kings, with Anze Kopitar finishing with the second most draws on the team with 17. For so many important faceoffs, it was Stoll that was called upon by Darryl Sutter, and the veteran center had his hands all over Drew Doughty's insurance marker, which came off a keeping-it-simple faceoff win in which Justin Williams pushed the puck back to Jake Muzzin, who found Doughty creeping towards the top of the right circle. Stoll also logged 3:08 of shorthanded time as part of 16:51 on the ice, so it's not exactly a stretch to say that he had a hand in the team win.
Love the makeup of #LAKings Stoll as a penalty killer. Great positionally, closes fast, aggressive (but smart), blocks shots and wins draws

— Andrew Knoll (@AndrewKnollNHL) May 25, 2014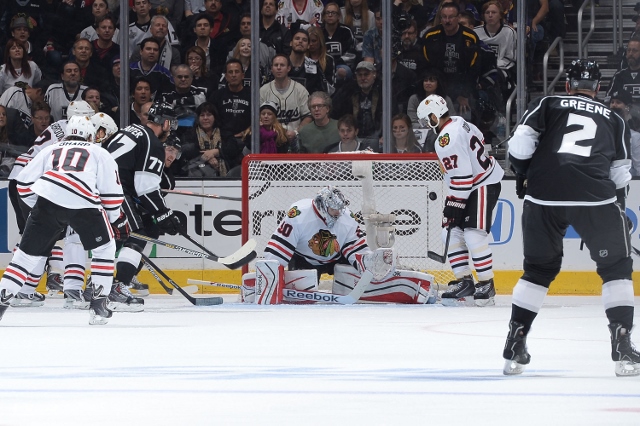 -Kyle Clifford has done a lot this postseason without having scored a goal, and for much of Saturday evening he was dangerous around the Chicago net. He may not have the skill level that will allow him to score semi-consistently in those one-on-one situations against a deep defensive corps and defensive-minded centers, but he maintained control of the puck for stretches of play in the offensive zone as his linemates vied for space in front of Crawford. Clifford still doesn't have a playoff goal since his three-goal performance against San Jose in 2011 – and was injured for much of the 2011-12 run – but he appears to be on the verge of getting on the scoreboard as his forechecking and work in the offensive zone has improved since the Olympic break.