(3) Los Angeles Kings (9-7) vs (3) Chicago Blackhawks (9-5)
Saturday, May 24, 2014, 5:00 p.m. PT
Staples Center, Los Angeles, CA
Referees: #23 Brad Watson, #40 Steve Kozari
Linesmen: #59 Steve Barton, #65 Pierre Racicot
NBC, CBC, RDS, KEIB 1150 AM
-Kings Live to follow NBC's broadcast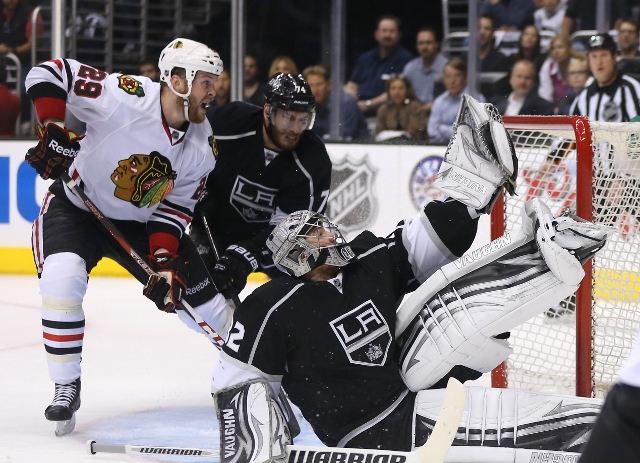 Los Angeles Projected Starting Goaltender – Jonathan Quick
2013-14 Playoffs: 16 GP (16 GS) / 9-7 record / 2.70 GAA / .912 Sv% / 1 SHO
Career, Playoffs: 65 (65) / 38-28 / 2.18 / .925 / 8
2013-14 Playoffs, Home: 6 (6) / 3-3 / 2.59 / .913 / 0
Chicago Projected Starting Goaltender – Corey Crawford
2013-14 Playoffs: 14 GP (14 GS) / 9-5 record / 2.11 GAA / .926 Sv% / 1 SHO
Career, Playoffs: 51 (50) / 30-20 / 2.06 / .925 / 3
2013-14 Playoffs, Away: 6 (6) / 2-4 / 2.57 / .908 / 0
2013-14 Los Angeles Leaders
Total Points: Anze Kopitar (5-15=20)
Goals: Marian Gaborik (9-6=15)
Assists: Anze Kopitar (5-15=20)
Plus/Minus: Justin Williams (+9; 6-6=12)
Penalty Minutes: Kyle Clifford (37; 0-3=3)
Time On Ice: Drew Doughty (27:21; 1-9=10)
2013-14 Chicago Leaders
Total Points: Marian Hossa (2-11=13)
Goals: Jonathan Toews (6-5=11), Patrick Kane (6-4=10), Bryan Bickell (6-3=9)
Assists: Marian Hossa (2-11=13)
Plus/Minus: Duncan Keith (+5; 3-7=10)
Penalty Minutes: Brent Seabrook (17; 2-9=11)
Time On Ice: Duncan Keith (27:26; 3-7=10)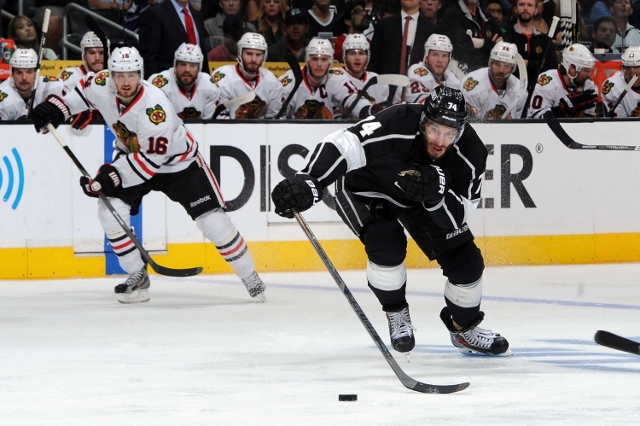 Rankings and Statistics
Goals/Game: LAK – 1 / 3.25; CHI – t-6 / 2.86
Goals Against/Game: LAK – 5 / 2.62; CHI – 3 / 2.43
Power Play: LAK – 5 / 24.1%; CHI – 8 / 20.5%
Penalty Kill: LAK – 9 / 82.3%; CHI – 2 / 88.5%
Shots/Game: LAK – t-7 / 30.4; CHI – 13 / 26.4
Shots Against/Game: LAK – 6 / 29.6; CHI – 10 / 31.1
Faceoffs: LAK – 2 / 53.2%; CHI – 9 / 50.2%
Save Percentage: LAK – 8 / .911; CHI – 3 / .922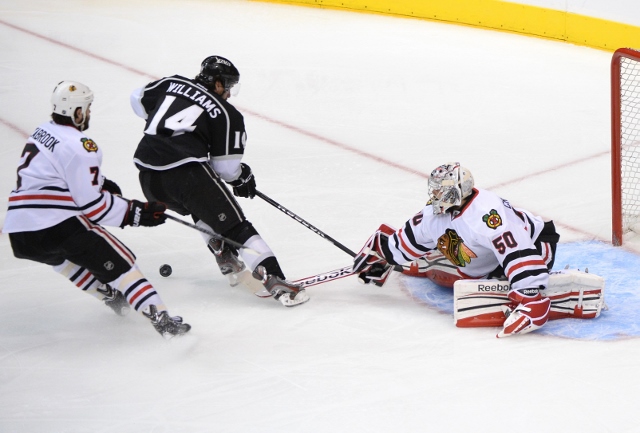 Los Angeles Projected Lines
Marian Gaborik – Anze Kopitar – Dustin Brown
Tanner Pearson – Jeff Carter – Tyler Toffoli
Dwight King – Mike Richards – Justin Williams
Kyle Clifford – Jarret Stoll – Trevor Lewis
Jake Muzzin – Drew Doughty
Willie Mitchell – Slava Voynov
Alec Martinez – Matt Greene
Jonathan Quick
Martin Jones
Level of confidence in projected lines: A-. Today's morning skate was optional; these were the lines and defensive pairings that Darryl Sutter used during Friday's practice. Robyn Regehr has not resumed skating.
Notes and milestones: Los Angeles is 103-133 all-time in the playoffs, a record that includes a home mark of 57-54. The Kings are 3-9 all-time against the Blackhawks in the playoffs (2-2 home, 1-7 road). The teams also met in the 1974 quarterfinals, with Chicago winning in five games. … Los Angeles is 16-26 all-time in Game 3s. When winning Game 3, the Kings have won 11 of 16 series. When losing Game 3, they have won seven of 26 series. Los Angeles is 0-2 in Game 3s this postseason. … The Kings lead all NHL teams with an average of 3.25 goals per game in the postseason. Anze Kopitar leads all scorers with 19 points (5-14=19), while Marian Gaborik (9-7=16) and Jeff Carter (7-9=16) are tied for second with 16 points. … Kopitar has points in 14 of 16 playoff games (5-15=20) and 17 of the last 19 games (9-16=25), dating back to the regular season. … Gaborik has 16 points (9-7=16) in the last 14 games. … Carter has seven points (4-3=7) in the last three games. … Tyler Toffoli has nine points (5-4=9), a plus-six rating and a 56.1% Corsi percentage (105 CF; 82 CA) in 10 career regular season and playoff games against Chicago. … The Kings are 13-for-50 (26.0%) on the power play in the last 14 games, dating back to Game 3 versus San Jose. … Los Angeles has a combined 1,383 games of postseason experience, led by Mike Richards (114), Justin Williams (105) and Jeff Carter (101).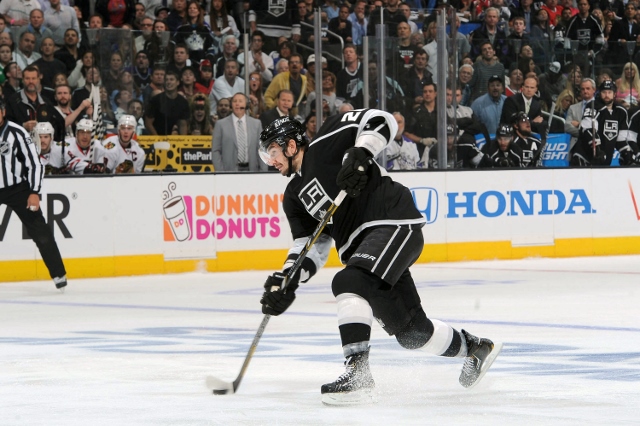 Chicago Projected Lines
Bryan Bickell – Jonathan Toews – Marian Hossa
Brandon Saad – Michal Handzus – Patrick Kane
Patrick Sharp – Andrew Shaw – Kris Versteeg
Brandon Bollig – Marcus Kruger – Ben Smith
Duncan Keith – Brent Seabrook
Johnny Oduya – Niklas Hjalmarsson
Nick Leddy – Sheldon Brookbank
Corey Crawford
Antti Raanta
Notes and milestones: Marian Hossa ranks second amongst active players with 126 points (45-81=126) in 166 career playoff games. … Patrick Kane leads all active U.S.-born skaters with 35 playoff goals. He ranks tied for fourth all-time with four playoff overtime goals. … Jonathan Toews leads the NHL with four game-winning goals this postseason. His 10 career postseason game-winning goals are the most in Blackhawks history. … Niklas Hjalmarsson ranks second amongst postseason skaters with 43 blocked shots. … Corey Crawford is 30-20 with a 2.06 goals-against average, .925 save percentage and three shutouts in 51 career playoff games.