What a bizarre hockey game Game 2 turned out to be – not that Kings fans are complaining. It isn't often that you really see a game turn on a dime, and Joel Quenneville's comment that "I thought we played perfect for 38 minutes" is a bold and mostly accurate statement. The Blackhawks drew penalties and set up in the offensive zone for much of the first period and generated quality rush attempts in the second before Justin Williams drove to the net and willed a grease-covered puck off a Mike Richards feed behind Corey Crawford. After that, Los Angeles displayed a champion caliber characteristic that was similar to the lifeblood behind Chicago's Game 1 win. When presented an opportunity, they strangled the life out of it, stomped on it, and beat the dead corpse into a pulp (HYPERBOLE!). The Kings' power play has been excellent all postseason – it now hums along at 24.1% (!) – and even when unable to score on the man advantage in the first period, potent puck movement generated several quality looks. The game got a bit out of hand late as Chicago halted play without hearing a whistle during an unexpected sequence – credit Tanner Pearson for tracking the puck as it passed through a cumulus cloud and having an innate sense of where Tyler Toffoli would be – before the Blackhawks pressed for offense late in the game, triggering more Los Angeles rush chances. Perhaps lost in the third period onslaught? That little Pearson deft touch in the defensive zone to propel Jeff Carter up the ice for the fifth goal was an outstanding play made by a rookie who is earning a name for himself this postseason.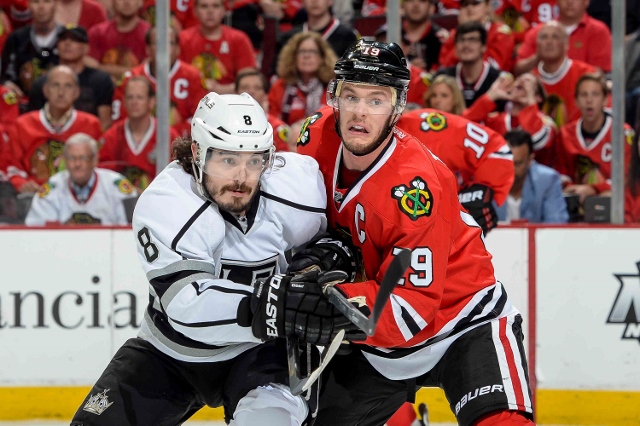 Offense, offense, offense. The Kings now lead all 16 playoff qualifiers with 3.25 goals per game. Good. Great. Grand. Wonderful. Let's talk defense. The Kings were able to win Game 2 because they held the Blackhawks' top players in check. Jonathan Toews struggled to break free from Anze Kopitar and lost 14-of-25 faceoffs while finishing with zeroes across the board in hits, blocked shots and shot attempts as part of a minus-two performance. Patrick Kane is yet to record a point in this series, though when we tugged on Superman's cape with similar observations during last year's series, he erupted for a net-driving game-tying goal in Game 4 and iced the series with a hat trick and double overtime game-winner in Game 5. Los Angeles has limited Chicago to 45 shots on goal through two games, a mark well below the defending champs' 33.1 regular season SOG average. Expect the visitors to make a concerted push to increase its shot output and netfront presence on Saturday night – which isn't exactly stepping out on a limb at this time of the year.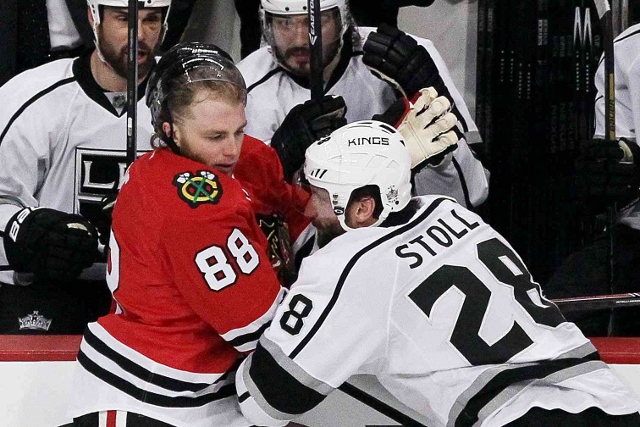 Darryl Sutter alluded to there being "probably lots" of turning points throughout the game, but Jonathan Quick's two-on-one Brent Seabrook denial was obviously a pivotal moment. It's not that easy to envision a Kings comeback from a three-goal deficit, never mind the five third period goals. Quick was excellent in keeping Los Angeles within striking distance before the visitors illustrated that two-goal leads are not safe in any building in the playoffs this postseason.
Your almost daily dose of Jake Muzzin propaganda: The Kings' second year defenseman played 21:46 on a top pairing, saw heavy usage against the Jonathan Toews line, blocked four shots, had the poise to delay his power play attempt for long enough to find out exactly where he wanted to put it, and he nailed that opening with a hard, rising his shot like a yeoman for the game-winner. Here's a reminder that Los Angeles got a top-pairing defenseman on a Western Conference Final team for nothing and is paying him $1M per year through 2015. Muzzin critics, I don't get you.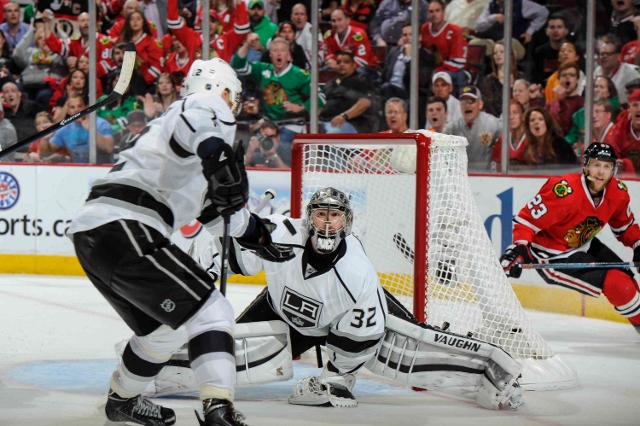 Credit the Kings for adhering to what they do well – they're among the best NHL teams at believing in their systems and avoiding stark deviation from the game plan. Mike Richards said of the team's Game 1 loss at Tuesday's practice that "It just seemed like we were waiting to see what they did instead of going out there and playing our game." That was the opposite of the team's efforts as Game 3 quickly turned. By the three-quarters pole of the second period, they began dictating the play against another excellent possession team, and though they cashed in on their special teams opportunities, were able to establish an excellent five-on-five rhythm in the game's third act.