(3) Los Angeles Kings (8-7) at (3) Chicago Blakhawks (9-4)
Wednesday, May 21, 2014, 5:00 p.m. PT
United Center, Chicago, IL
Referees: #8 Dave Jackson, #9 Dan O'Rourke
Linesmen: #55 Shane Heyer, #95 Jonny Murray
NBCSN, TSN, RDS, KEIB 1150 AM
Los Angeles Projected Starting Goaltender – Jonathan Quick
2013-14 Playoffs: 15 GP (15 GS) / 8-7 record / 2.75 GAA / .912 Sv% / 1 SHO
Career, Playoffs: 65 (65) / 37-28 / 2.18 / .925 / 8
2013-14 Playoffs, Away: 9 (9) / 5-4 / 2.85 / .911 / 1
Chicago Projected Starting Goaltender – Corey Crawford
2013-14 Playoffs: 13 GP (13 GS) / 9-4 record / 1.90 GAA / .933 Sv% / 1 SHO
Career, Playoffs: 50 (49) / 30-19 / 2.01 / .927 / 3
2013-14 Playoffs, Home: 7 (7) / 7-0 / 1.25 / .957 / 1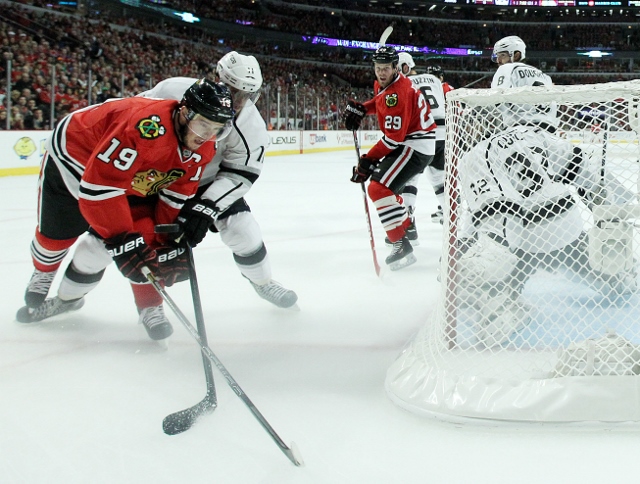 2013-14 Los Angeles Leaders
Total Points: Anze Kopitar (5-14=19)
Goals: Marian Gaborik (9-6=15)
Assists: Anze Kopitar (5-14=19)
Plus/Minus: Anze Kopitar (+7; 5-14=19), Justin Williams (+7; 5-6=11)
Penalty Minutes: Kyle Clifford (37; 0-3=3)
Time On Ice: Drew Doughty (27:20; 1-8=9)
2013-14 Chicago Leaders
Total Points: Marian Hossa (2-11=13)
Goals: Jonathan Toews (6-5=11), Patrick Kane(6-4=10), Bryan Bickell (6-3=9)
Assists: Marian Hossa (2-11=13)
Plus/Minus: Jonathan Toews (+6; 6-5=11), Patrick Kane (+6; 6-4=10), Duncan Keith (+6; 3-6=9)
Penalty Minutes: Brent Seabrook (17; 2-9=11)
Time On Ice: Duncan Keith (27:35; 3-6=9)
Rankings and Statistics
Goals/Game: LAK – 2 / 3.07; CHI – 6 / 2.92
Goals Against/Game: LAK – 5 / 2.67; CHI – 2 / 2.15
Power Play: LAK – 7 / 22.0%; CHI – 8 / 20.0%
Penalty Kill: LAK – 9 / 82.8%; CHI – 1 / 91.7%
Shots/Game: LAK – t-8 / 30.4; CHI – 13 / 26.5
Shots Against/Game: LAK – 7 / 29.9; CHI – 10 / 31.1
Faceoffs: LAK – t-2 / 52.6%; CHI – 9 / 51.1%
Save Percentage: LAK – 7 / .911; CHI – 1 / .931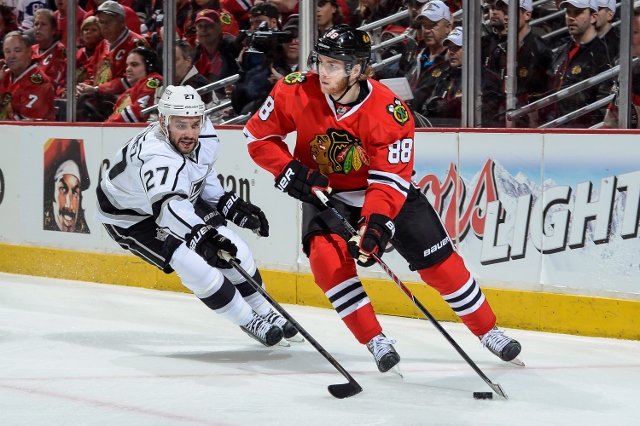 Los Angeles Projected Lines
Marian Gaborik – Anze Kopitar – Dustin Brown
Tanner Pearson – Jeff Carter – Tyler Toffoli
Kyle Clifford – Jarret Stoll – Justin Williams
Dwight King – Mike Richards – Trevor Lewis
Jake Muzzin – Drew Doughty
Willie Mitchell – Slava Voynov
Alec Martinez – Matt Greene
Jonathan Quick
Martin Jones
Level of confidence of projected lines: B-. Will Matt Greene play tonight, or won't he? During line rushes yesterday, Jeff Schultz skated with Slava Voynov, and Alec Martinez skated with Willie Mitchell. There wasn't a full contingent of players on the ice today, but Greene took a rush or two with Martinez, and both Greene and Schultz left the ice at the same time. No other potential changes are expected in the lineup, though Robyn Regehr appears to be getting closer to skating.
Notes and milestones: Los Angeles is 102-133 all-time in the playoffs, a record that includes a road mark of 45-79. The Kings are 2-9 all-time in the playoffs against Chicago (2-2 home, 0-7 road). … Los Angeles is 19-26 all-time in Game 2s. When winning a Game 2, the Kings have won 13 of 19 series. When losing a Game 2, they have won six of 26 series. Los Angeles is 1-1 in Game 2s this postseason (L @ SJ; W @ ANA) and 8-3 in Game 2s, dating back to 2010. … Anze Kopitar has points in 13 of 15 playoff games (5-14=19) and 16 of the last 18 games (9-15=24), dating back to the regular season. His 19 postseason points lead all skaters. … Marian Gaborik has 15 points (9-6=15) in the last 13 games. His nine postseason goals lead all skaters. … Tyler Toffoli has eight points (4-4=8), a plus-five rating and a 55.2% Corsi percentage in nine career regular season and playoff games against Chicago. … In the last 12 games, Jonathan Quick is 8-4 with a 2.02 goals-against average and .931 save percentage. Since the 2012 playoffs, he is 33-20 with a 1.92 GAA and .932 Sv% in the postseason. … Los Angeles is the first team to advance to Western Conference Final for three straight years since Detroit from 2007-09. … This series is the first Western Conference Final rematch since Colorado and Dallas met in the third round in 1999 and 2000. … This is the Kings' league leading 53rd playoff game since 2012.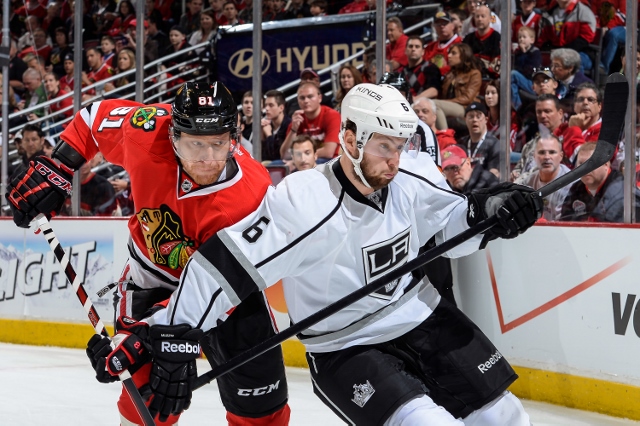 Chicago Projected Lines
Bryan Bickell – Jonathan Toews – Marian Hossa
Brandon Saad – Michal Handzus – Patrick Kane
Patrick Sharp – Peter Regin – Kris Versteeg
Brandon Bollig – Marcus Kruger – Ben Smith
Duncan Keith – Brent Seabrook
Johnny Oduya – Niklas Hjalmarsson
Nick Leddy – Sheldon Brookbank
Corey Crawford
Antti Raanta
Notes and milestones: Andrew Shaw (lower body) will not play tonight. "He wanted to play today, but we felt it was in everybody's best interest to shoot for Saturday," Joel Quenneville said this morning. … Chicago has won six straight regular season and playoff games against Los Angeles, dating back to Game 4 of the 2013 Western Conference Final. Including playoff games, the Blackhawks are 10-2 in the last 12 meetings against the Kings. L.A.'s last win in the United Center was a 5-4 win on March 25, 2013. … Chicago is 7-0 at home in the postseason and 18-2 in the last 20 playoff home games. … Patrick Kane leads all active U.S.-born skaters with 35 playoff goals. He ranks tied for fourth all-time with four playoff overtime goals. … Jonathan Toews leads the NHL with four game-winning goals this postseason. His 10 career postseason game-winning goals are the most in Blackhawks history. … Marian Hossa ranks second amongst active players with 126 playoff points (45-81=165). … Joel Quenneville's 97 career playoff wins rank fourth all time and lead all active coaches. He is 55-33 in the postseason with Chicago; his .625 postseason winning percentage is the best in franchise history. … Corey Crawford is 30-19 in the playoffs with a 2.01 goals-against average, .927 save percentage and three shutouts. His 30 playoff wins rank fourth all-time in club history.
Joel Quenneville, on whether the Kings are underrated offensively:

Patrick Sharp, on the Kings and Drew Doughty: