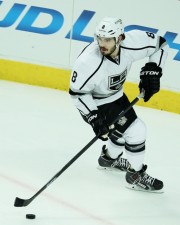 While a story yesterday was devoted to Tyler Toffoli's career success against the Chicago Blackhawks, on the other end of the spectrum is Drew Doughty, whose career stats against the Kings' Western Conference Final foes are among the least distinguished of those against any National Hockey League opponent.
He acknowledged this last year, saying that "It's a tough rink to play in. It's not one of my favorites, that's for sure," and when asked to expand, noted "I just don't like it. Never had a good vibe, myself. Not with the team or anything – just myself. Haven't had a good vibe in it, but I'm pretty determined to change it."
To be fair, Doughty's stats against Chicago are weighted down by an ankle injury that he played through during last year's five-game series. But he is yet to record a point in six career playoff games against the Blackhawks, and in 27 career regular season and postseason outings he has nine points (2-7=9) and a minus-13 rating.
The dearth of production has had no effect on how the opposition views his play.
"He's a tremendous player," Joel Quenneville said. "He's one of those defensemen, he can defend so well, just that quick transition he can turn it into offense and it becomes a great scoring chance, an odd-man break. His patience holding the offensive blueline is as good as there is in the game. You like to have him where he's in his own zone as opposed to your zone because he can do a lot of things. He's a good defender, as well. But hopefully that's where we can have him spend more time than our end."
Patrick Sharp was already well familiar with Doughty by the time they won a gold medal with Team Canada in Sochi but noted that he was impressed by the Los Angeles' defenseman's "easy going" nature and ability to roll with any challenges.
"If he makes a mistake – which is an "if" – he just lets it roll off his back, and he continues to do whatever he wants out there," Sharp said.
Those mistakes have decreased in frequency as he has grown more accustomed to playing the Blackhawks.
"I feel like in the past I haven't played my best hockey against this team, but I think lately I've been a lot better," Doughty said. "Especially last game, I thought me and Muzz were really, really good…We obviously gave up a goal against on the three-on-one there. Besides that, we only had one opportunity against the whole game. That's really good, especially playing against a line like Toews' line."
"I think early on in my career I tried to take too many chances against this team and I got dinged for that. I tried to play too much offense and I was always against that Toews line and they're so good in both directions. I think I've learned how to play against them and I've learned their strengths and weaknesses and I've gotten better. But I could still be better, too."
Muzzin was also complimentary of their Game 1 play, in which he logged heavy minutes against Jonathan Toews, Marian Hossa and a heavy contingent of Chicago's top players. Doughty drew 26:20 of ice time and Muzzin drew 22:10 in the 3-1 loss.
"I thought we were good, minus the late goal. I tried to push up and create something," Muzzin said. "I thought we were pretty good at getting pucks out and being clean in our zone."
Any statistical struggles against the Blackhawks are traceable back to the challenging assignments he regularly faces against one of the NHL's premier offensive teams.
"I think this team is – like a lot of other teams are – better at home," Doughty said. "They get a lot of energy from their crowd. They have one of the best crowds in the league. They're just good at home. They're a good team and they're tough to shut down. They have so much firepower both on the backend and upfront and they score goals at will. It's a tough team to play against and we've got to make it tougher for them tonight. We made it too easy last game."