Both the Kings and Ducks have suffered injuries to key players in this series, and it has been the Ducks' ability to weather the inevitable player attrition with superior options. That's not a knock against the Kings – Tanner Pearson has shown to be a quality option more heavily relied upon as the playoffs have progressed. But Anaheim has a top-three NHL prospect crop according to Hockey's Future, and a case could be made that the reinforcements used in this series were better than their original options. Frederik Andersen goes down, and there's John Gibson to step in for him seamlessly. Matt Beleskey is injured, and Devante Smith-Pelly steps in, scoring three times in two games since being promoted to the top line while leading all skaters with seven hits in Game 5. Mark Fistric was replaced by Sami Vatanen, who has averaged 20 minutes a game on the third defensive pairing and has shown an ability to efficiently counter Los Angeles' forecheck. The Kings are down two defensemen, and their lack of options and an overstretched blueline didn't work in their favor in the Game 5 loss.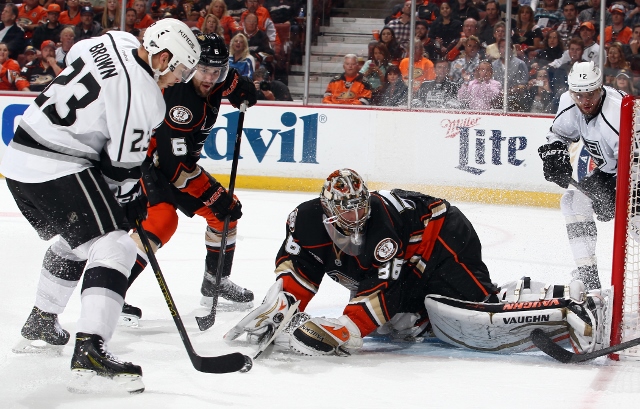 Though injuries have certainly played a part, there have been defensive inconsistencies for a team that has established itself as the model of puck possession, limiting quality opportunities and intelligence in its own end. Darryl Sutter's "six, seven, four, three, zero, one," reference to goals against prior to Game 7 in the San Jose series is relevant; though they've allowed more than two goals only twice in the Anaheim series, they allowed four on Monday and have averaged an un-Kingly 2.83 goals against per game in the postseason. Injuries to key penalty killers have hurt, and it's not a coincidence that the Ducks are 5-for-12 on the power play in the four games without both Willie Mitchell and Robyn Regehr. After stopping 61 of 65 power play shots over his first eight playoff games, Quick has stopped only 11 of the 16 power play shots he has faced in the four games in which neither Mitchell nor Regehr took part. At even strength, the home team generated more quality looks than the Kings are accustomed to yielding; by the time Nick Bonino beat Quick 2:15 into the game, Anaheim had already produced two quality opportunities that Los Angeles managed to keep out of the net.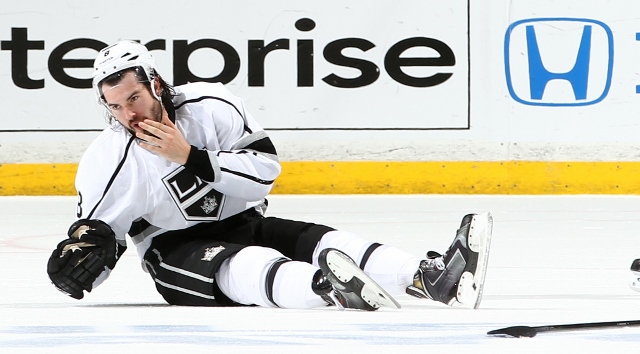 On the opposite end of the ice, the Kings graded well in their efforts to get bodies and traffic towards Gibson, who was faced with a heavier proportion of deflections, redirections and dirty looks. Trevor Lewis used Bryan Allen as a screen on the first goal, Marian Gaborik went to the low slot in a high scoring area for the second goal, and the third goal was the result of a puck tossed towards the net by Dustin Brown that deflected off both Gaborik and Vatanen. For the other 39 shots Gibson faced, he was awfully good, however.