The Kings compiled a near two-to-one shot attempt advantage against the Ducks in Game 4, out-chanced the visitors and dominated the run of play over the final 40 minutes but lost 2-0 as a result of costly first period gaps in their game. Similar to Game 2 of this series, it may have been a fortunate result for the away side, but credit Anaheim for cashing in on the game's first goal after Los Angeles was unable to score after applying heavy pressure in the first five minutes. John Gibson was able to get into a good rhythm early after denying Marian Gaborik on a two-on-one and turned away several chances off cycles before the Kings were awarded a power play that didn't result in any Grade-A-type opportunities. Los Angeles applied less pressure on its second power play, a development that seemed to shift momentum towards the away team as Anaheim played its best hockey in the final half of the first period. A skilled, no-look pass from Corey Perry found Devante Smith-Pelly in a dangerous spot; after he cashed in on five-on-five, the Kings were unable to kill off a crucially important late man advantage as Ryan Getzlaf banked the puck off Jonathan Quick to establish an important two-goal lead.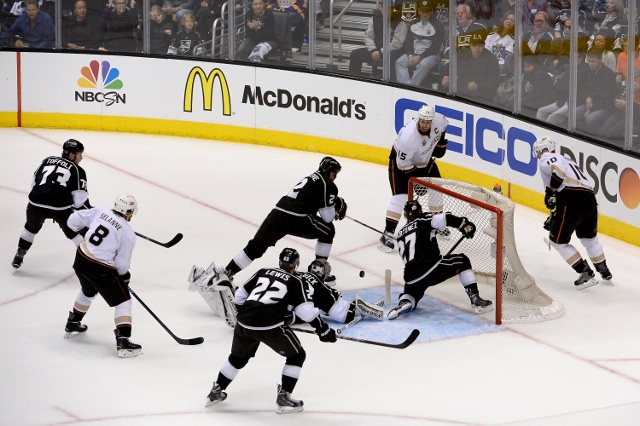 Similar to the regular season series between these teams, the Ducks aren't giving the Kings a whole lot to work with. Los Angeles' premier players are mostly being kept to the perimeter, while Anaheim has found success in crowding shooting lanes. In the nine games between these teams this season, the only even strength goal scored by an L.A. defenseman was Alec Martinez' game-winning goal from Game 2. On Saturday night, there were multiple bodies between the puck and the net when Los Angeles had possession on the perimeter, and quality shot blockers Bryan Allen, Francois Beauchemin and Ben Lovejoy contributed with their signature performance as the away team blocked a 25 of a total of 71 attempts at the net. "The way they kind of play as a defense, point shots have generally got to go through three Ducks the way they layer their D-system," Dustin Brown said after the game. Though the Kings haven't been getting fortunate bounces, they haven't been getting any greasy goals or multiple second opportunities, either.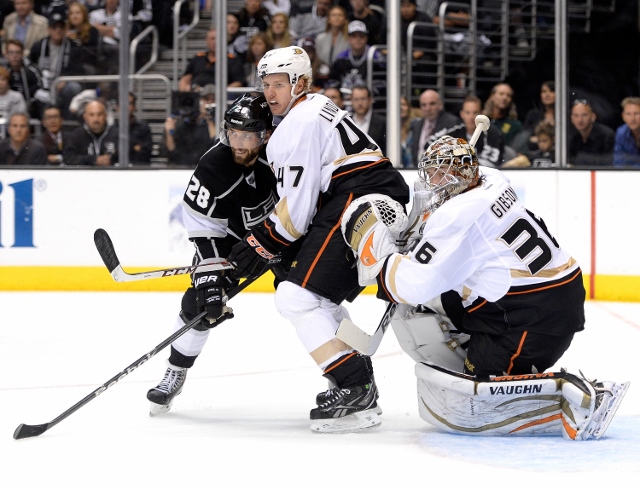 Credit Anaheim's depth for allowing Bruce Boudreau to make the necessary adjustments and find the right combination of players in the wake of injuries to Mathieu Perreault, Matt Beleskey and Frederik Andersen. Devante Smith-Pelly, who had an encouraging 19-year-old season two years ago before falling victim to the numbers game since, stepped in seamlessly alongside Ryan Getzlaf and Corey Perry. All four of his shots got through – on of which beat Jonathan Quick and served as the game-winner – as he continued Beleskey's forechecking tendencies with a four hits and a quality pressure game. John Gibson was obviously very good; even though many of the Kings' opportunities gravitated towards the outside, he still made excellent saves on Gaborik and Dustin Brown, and on Jake Muzzin and Tyler Toffoli late. Sami Vatanen plays very well with the puck and is someone capable of controlling the game's pace; though Anaheim wasn't in control of the puck for much of Game 4, he was able to fire the puck deep on Getzlaf's goal and earned a secondary assist after Perry's impressive assist. He was on the ice for both goals in the game.