Three and a half minutes into the game, the Los Angeles Kings were outshooting the Anaheim Ducks 5-1, with the visitors' only shot on goal a 40-foot Ryan Getzlaf attempt. They had cycled through their four lines, enjoyed quality zone time and had peppered Frederik Andersen, who had drawn back into a game for the first time since the first round, and were enjoying a fine start. A Trevor Lewis interference penalty and a subsequent Corey Perry power play goal off some crisp puck movement put Anaheim up 1-0 and was followed by undesirable elements sneaking into the team's game during the first 20 minutes. For the rest of the first period, the Ducks took advantage of six credited Kings giveaways, navigated the neutral zone with impunity, and created quality opportunities off rush chances. The Kings were not judicious with the puck early in this game, and Jonathan Quick kept the team within one goal by making several important saves, including one with his glove on a fine Mathieu Perrault attempt.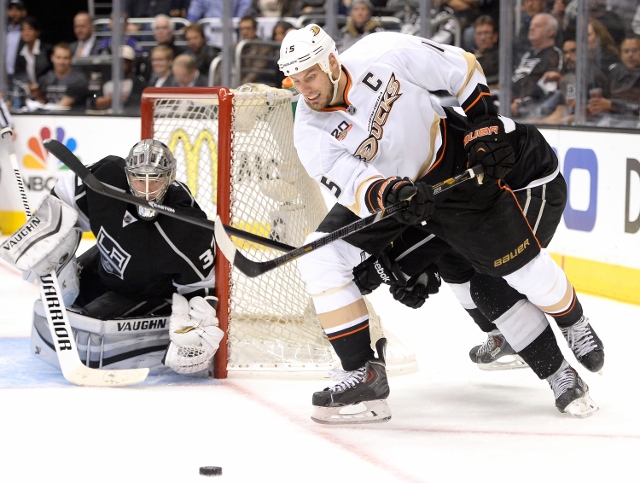 The game didn't stray sharply off-course from the seven previous games the teams had played since December. Through the season series, all of the games have been virtual coin flips, with one team cashing in on opportunities and receiving the goaltending necessary to win. Anaheim held a slight scoring chance lead Thursday night, but Los Angeles was still within striking distance and was tilting the ice towards the opposing end in the third period when Ben Lovejoy picked Drew Doughty's pocket and converted on a two-on-one rush with less than three minutes to go.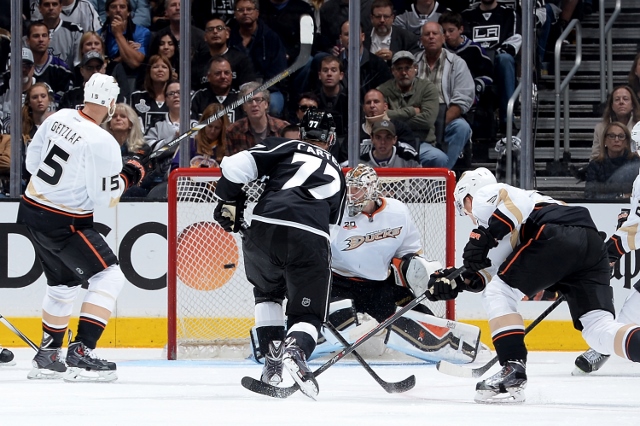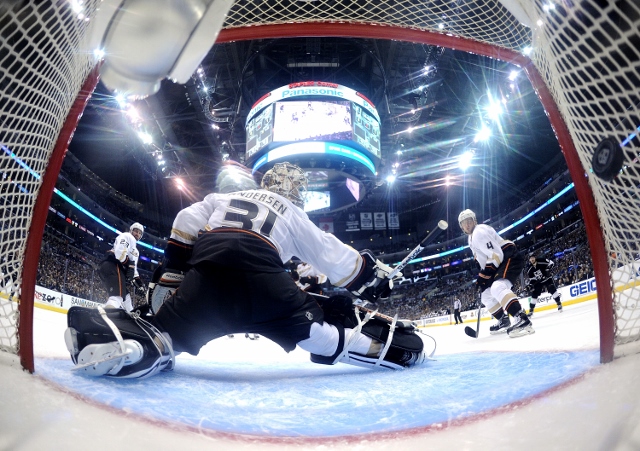 In looking at Los Angeles' ice times, it appears as though minutes were being spread around to give additional opportunities to the Carter line and the Richards line, which where the two lines that developed the best rhythms. Wingers Kyle Clifford (14:01), Trevor Lewis (13:52), Tanner Pearson (13:26) and Tyler Toffoli (14:31) earned more ice time than Dustin Brown (13:00) and Dwight King (12:53), and Justin Williams (13:51) finished with less ice time than Clifford, Lewis and Toffoli. Darryl Sutter rolled four lines through the entirety of the game, and for the second consecutive game Anze Kopitar finished with less ice time than he had logged during any game in the regular season. Though Kopitar extended his point streak, his line wasn't as noticeable as it had been earlier in the series.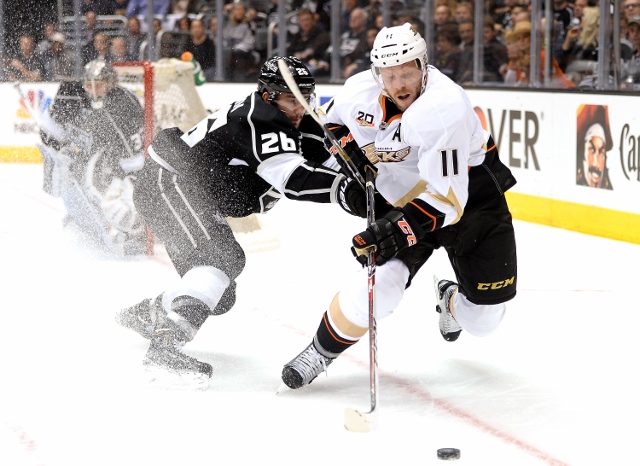 Also not as noticeable? Jeff Schultz, and that's a good thing. From Robert P., managing editor of Jewels from the Crown:
Lowest event hockey being played with Jeff Schultz on ice, lowest attempts per 60 for both teams when he's been on.

— Robert P. (@RobertJFTC) May 9, 2014
Most exciting player of the game: Hampus Lindholm. On ice for 131 ev attempts per 60. Least Exciting: Jeff Schultz (surprise!), 79.5 per 60

— Robert P. (@RobertJFTC) May 9, 2014
Schultz finished third on the team 19:53 of ice time. He was on the ice for Perry's power play goal, but was very good in the 1:40 of ice time he logged during Drew Doughty's penalty and had already left the ice when Teemu Selanne cashed in with three seconds remaining on the man advantage.