Last night's Kings win wasn't a Cup-clinching 6-1 win on home ice, nor was it an overtime win to propel the team into the Stanley Cup Final. But for a first round playoff game, the raised stakes of a Game 7 against the team's chief rival, on the road, in reversing a three-nothing series deficit, places the events inside the SAP Center – err, excuse me, The Cage – last night among the storied moments of a franchise that over the past two years has drafted blueprints to expand its trophy case.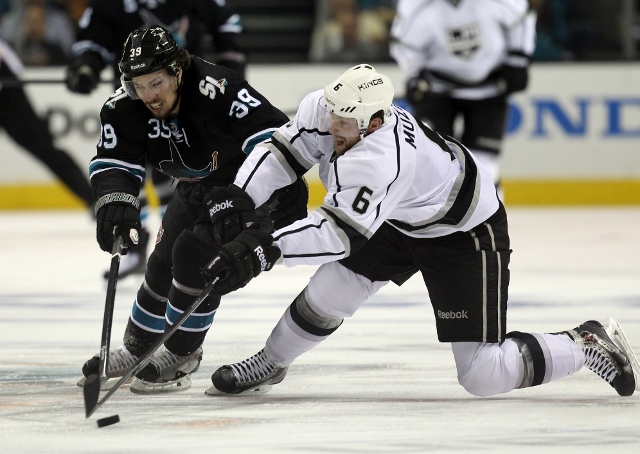 There are championship aspects embedded in the Kings' identity that are foreign to the Sharks. Whatever intangible can be applied here – 'Park and Ride' isn't an abstract noun, is it? – was shown over the past week by a Kings team that had clearly turned the corner in Game 3. They lost that game, but as Dustin Brown said last year (and has been repeated once or twice on this page), "Sometimes you say at the end of losing streaks and at the end of winning streaks sometimes you're losing games you shouldn't, and sometimes you're winning games you shouldn't, as well." One of the staples of Darryl Sutter's leadership is that win or lose, the team immediately moves past any result. There are those who recycle the "one game at a time" refrain, and there are those who demonstrate it. There was, on one hand, the one-to-two percent probability of emerging from a three-nothing series hole, and there was, on the other hand, a Sutter-coached team trained for such a challenge.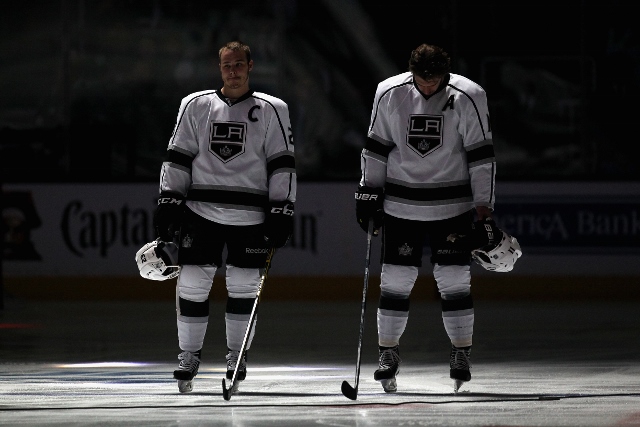 And before this game story delves too far into the abstract, it's time to acknowledge how they got to this point. Last year's Game 7 began like a middle school dance, with the Kings in one corner and the Sharks in another, with the tension and danger of being the first team to make a mistake permeating through a Staples Center that was practically too paralyzed to move. Last night, these teams didn't waste any time getting at it. San Jose attempted four or five stretch passes in the first 10 minutes, and both teams had high quality chances as part of a period in which the teams combined for 23 shots 11 months after combining for eight shots in the first period of last year's Game 7. Mike Richards, who had the best chance in the scoreless frame, was excellent, if not opportunistic, in an eight-shot performance.
In looking at the teams' top players, in one corner there's Anze Kopitar and Drew Doughty, who combined for three points in the decisive victory, and Jonathan Quick, who stopped 39 of 40 shots. In the other corner, there's Joe Thornton, Joe Pavelski, Logan Couture, Brent Burns and Patrick Marleau, who combined for three points – and a minus-26 rating – in San Jose's four opportunities to finish the Kings off.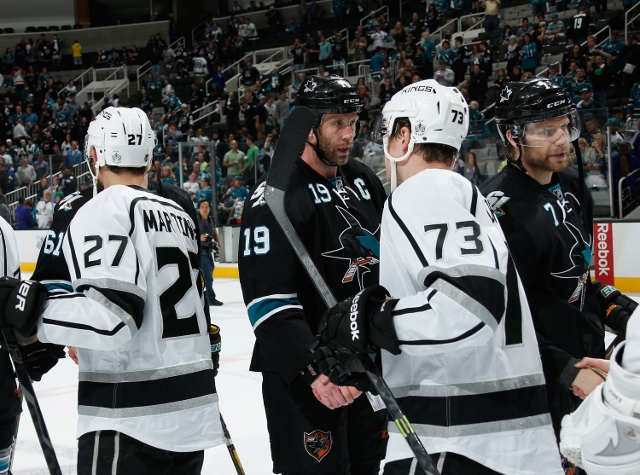 In addition to top players, goaltending, special teams and discipline, Sutter's Law also relies on unsung heroes to make a postseason impact. While Jarret Stoll had an outstanding series, it's debatable whether he's "unsung," whatever the interpretation of the label may be. Instead, there are three players who deserve recognitions for the improvement shown during this first round series: Tyler Toffoli, Tanner Pearson and Jake Muzzin. Toffoli potted three goals in seven games and supplied the third period dagger last night on a wicked release from a sharp angle. Pearson made the most in his limited minutes throughout the series, showing legs and finishing with three points and setting up Toffoli for a pair of vicious road strikes. Muzzin, whose performance represented a night-and-day difference from his first playoff go-around in 2013, was on the ice for only one goal against throughout the entire series. When asked to maximize his skill set, he did just that, showing poise, confidence and an ability to win battles against a team with size, puck possession instincts, and excellent offensive depth.
It's 90 degrees on the first day of May, and the Los Angeles Kings and Anaheim Ducks are about to open the first all-Southern California playoffs series. Park and ride, and blast the A/C.